Tilburg students show little enthusiasm for protest
So far 637 students signed up for a protest demonstration against the budget cuts in higher education today at 12.00 in The Hague. Or at least that is the number of notifications the special protests Facebook Page has received.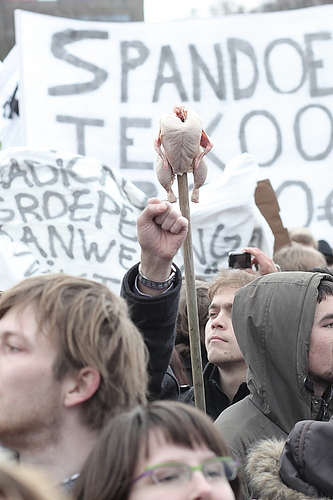 Whether Tilburg students will go to protest in The Hague is unknown. After asking around at the university, it becomes clear that enthusiasm for the protest action is not great.
The demonstration is organized by committee 'Students in Action' with the support of the National Students Union, FNV jong and a large number of political youth organizations.
The students are angry about the plan of state secretary of Education Halbe Zijlstra to impose a 3000-euros fine to students that do not finish their studies in time. They are also angry about 200 million euros cutbacks in education. A previous demonstration on January 21 attracted thousands of students. It was the biggest protest action since the 80s. [TvN/transl. YV]
What: Demonstration against Higher Education cuts
Where: Het Plein, The Hague
When: April 12, 2011, from 12 hours.