Taking obstacles on campus
'Car Wash', 'Have you already voted?', 'Do you like football?', "Are you familiar with Shot?' and 'Can I ask you something?'. This week the campus turned into an obstacle course, where you have to zigzag your way around people trying to give you information.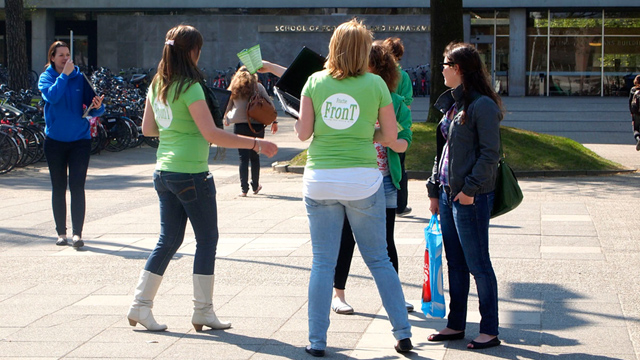 There is no escape, the students, dressed in green and blue, are running for their prey with a small laptop; you just have to vote!. They try to win your vote with bottled water and candy. 'Green' and 'Blue' are representatives of student parties Front and Sam, and they both try to become the largest student party in the university council of Tilburg University.
Student association Asset have car washers, they raise money for charity. Coming summer, 21 students, under the name The Thailand Experience, are going to Thailand for three weeks to teach English and to learn about another culture. Those interested could have their car washed for 10 euros at the parking lot between campus and the Warandebos.
In addition to all this, soccer players from TSVV Merlijn and hockey players from TSHV Shot were all over campus asking questions.
After two days of campaigning, 35 percent of the students have voted in the university council elections. Two more days to go. [MW/transl. YV]