Levelt: 'Fraud by Stapel shockingly high'
Professor Diederik Stapel wrote at least 30 publications with fabricated data. This appears from the interim report of the committee Levelt that investigated the Stapel affair. It was presented today.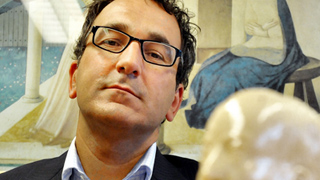 According to the interim report regarding breach of scientific integrity by Prof. Stapel the infected scientific articles are often published in recognized international journals. In addition to this preliminary list of publications, there are serious suspicions that another dozens of publications are infected. "The committee fell from one surprise in the other," chairman of the committee Pim Levelt  said.
Research method
It is especially Stapels's research method that is remarkable. He drew up a theory and hypothesis with a young researcher. The experiment was prepared in detail and the young researcher prepared questionnaires, pictures, awards and the like. Stapel would then drive, with his stuff in the back of the car, to a school, saying he had 'exclusive contact with' this school.
The junior researcher would receive the data, was allowed to make the initial analysis and write a first article. Levelt: " Stapel was ruthless in the way he has treated young, ambitious people. He has used them for his own glory. Promoter Stapel has lied to them and they now have to remove most of their research articles from their resumes."
Social psychology has suffered a major damage, said Levelt. "It would do the united social psychologist honour to conduct self-examination in the short term."
Recommendations
The committee made three recommendations based on its research. To handle this scientific misconduct, Tilburg failed to adhere to the LOWI, the National Board of Scientific Integrity, guideline. Moreover, better attention should be paid to archiving research data: it must be stored for five years. Stapel rarely did so, the committee said. The third recommendation is: Tilburg University should report this forgery / fraud case to the police.
The Levelt committee is still investigating whether Stapel's doctorate, which he earned in Amsterdam, can be taken away from him. This depends on fraud in his doctoral research. It is still unclear how much longer it will take the commission to finish the investigation into Stapel's research. Levelt thinks that it takes another month or three. It also depends on the extent of Stapel's cooperation with the investigation.
Background
Early September former professor Stapel became news when Tilburg University found out that he had made up research results. The Levelt committee was established on September 9.
Its mission: to map out the nature, extent and duration of his fraud, and to investigate the research methods and research culture that have facilitated this fraud. Publications and research data were examined, and interviews with PhD students and whistleblowers were held.
Prior to his appointment at Tilburg University, Stapel worked at the University of Groningen (RUG) and the University of Amsterdam (UvA). His research conducted in these institutions was also examined.