Language teacher for refugees in 3 hours
Students and refugees met in the Academia building on Tuesday. Within three hours, 22 students were transformed into language teachers. After a workshop organized by Language Center, they are ready to provide Dutch lessons for our refugee neighbors from the Cobbenhagenlaan. "What parts can you understand?" asks Nadine Timmermans, teacher NT2 Language Center, after showing a Japanse animation video on Tuesday morning. One of her 22 students receives a compliment when he answers: "They introduced themselves to each other." Timmermans then takes it to the next level and asks what words the class understands. Most do not get further than hai (meaning yes). That does not matter though, because whoever thinks Timmermans is training the students to be Japanese speakers, is wrong. By confrontation with an unfamiliar language, she shows how difficult it is to learn foreign words.
The language volunteers are no replacement for a real language teacher, but they get taught the basics of language lessons during the three-hour workshop. Most of them have no experience in teaching. "There is a lot to it", says Willemijn Cauberg (22), governance fraction SAM. "For example: I did not realize the way I talk is probably really fast for someone who is unfamiliar with Dutch." Michiel Hoornick (21), Liberal Arts & Sciences, adds: "We learn about the construction of the Dutch language. I knew that the Germans use feminine, masculine and neutral nouns. Apparently we use them too in Dutch."
"Every day I walk from the shelter to the university. It is my dream to study here"
Savings stamps
Videos, brainstorm sessions and advice are alternated during the workshop. For example, the students think about the importance of language in the supermarket. One student mentions the weighing of fruits and vegetables. Another one thinks of cashiers offering supermarket stamps. Timmermans writes all the answers down on the board. Visualization is important when passing on knowledge, she explains.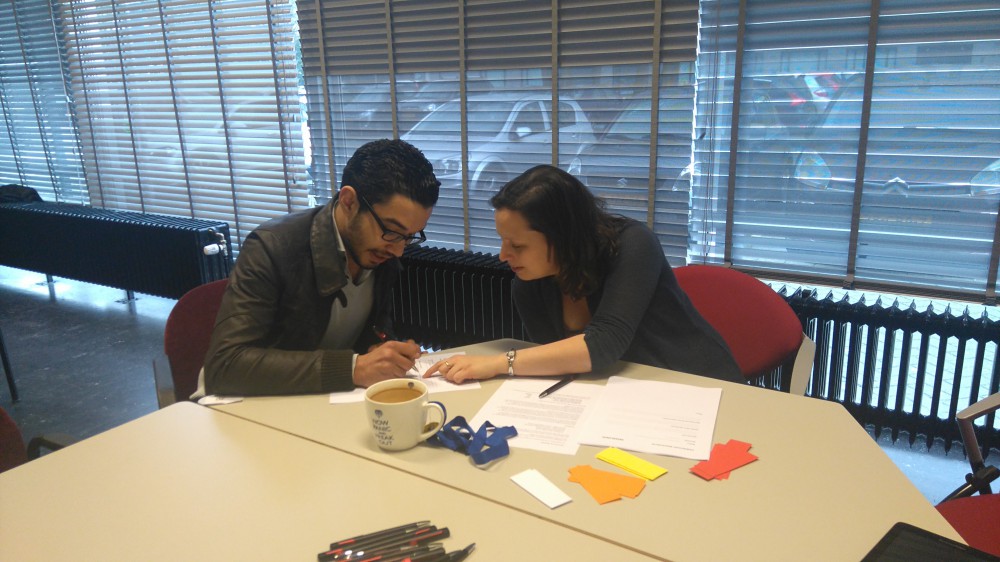 Language Center only runs the workshop once, tells teacher Patty van Bielder."Language Classes are our expertise and therefore we wanted to organize a workshop for the volunteers." The mastermind behind the voluntary language classes for refugees is organization Horizons International Refugee Project. Khalid Amezoug (24), president, explains what they aim for: "We want to promote intercultural dialogue between students and refugees from Tilburg. And very practical: we want refugees to know basic Dutch as soon as possible." Therefore the association does not want the students to work with grammar books.
"Education should not only be offered to those who can afford it; it should be for everyone"
Colors
During a meet and greet after the workshop the students meet their fifty students from the Cobbenhagenlaan. Fifty men and women, between 18 and 25 years old and from different countries, are present. Before they are matched with the volunteers, they go into a classroom for an intake. There they receive a paper with some Dutch and English questions on it. Based on the answers, Language Center determines everyone's individual language level. The four different levels are divided by colors. Teacher Van Bielder: "The test is to see if they are able to write and if they know the Latin alphabet. It is also possible that they are only literate in Arabic. In the latter case you partially have to proceed as if they were illiterate, even though they are not."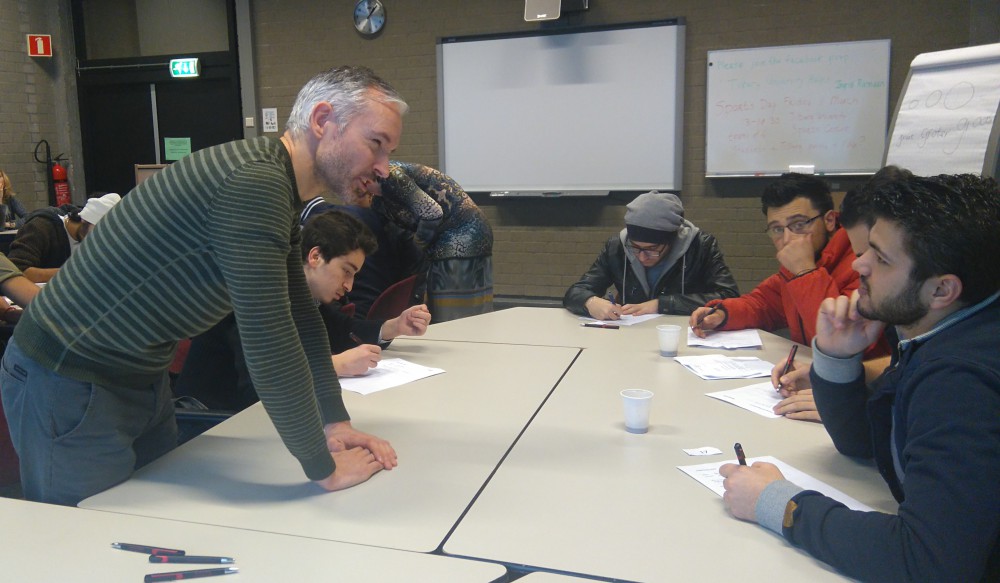 Fadi (23) from Syria is in an orange group; he speaks English and some Dutch. "There is not much to do in the refugee shelter, so it is great that I can start with Dutch lessons. Also I would like to have normal conversations with the Dutch. On the market, in the library, but for example also at the university." Homa (24) from Afghanistan also speaks a little Dutch. She taught herself at night because her four year old son is too active during the day. "I am very happy that I can learn Dutch," she says with tears in her eyes. "Every day I walk from the shelter to the university. It is my dream to study here. First I want to speak Dutch well and then I want to study to be a lawyer."
The students of Tilburg University do not want Fadi, Homa and the rest of the group to wait for months before they can participate in language classes. Volunteer Willemijn: "Education should not only be offered to those who can afford it; it should be for everyone."This is the first major project at Tilburg University with language lessons for the neighbors from the Cobbenhagenlaan. Refugees and students can get in contact through a Facebook page. New activities are also posted there.