Nice to read you
Visitors of yesterday's Human Library could pick one of 25 books to read. Those 25 books were actually people with a remarkable story, and the visitors could 'read' them in a one-on-one conversation. Academic Forum, Library Midden-Brabant and study associations Animo and Complex organized the second Human Library Tilburg yesterday, and a lot of people showed up.Rector Emile Aarts gets the first book pick today at the second Human Library in Tilburg. In his opening speech he mentions the slogan of Tilburg University, understanding society, and his hope that we can also advance society. "And it is impossible to advance society without understanding it," he says. "That is why an initiative like this is so valuable, we learn to understand each other better." After that, he chooses the book 'Veteran' to talk to. A tall man with a chest full of medals walks up to him and they shake hands.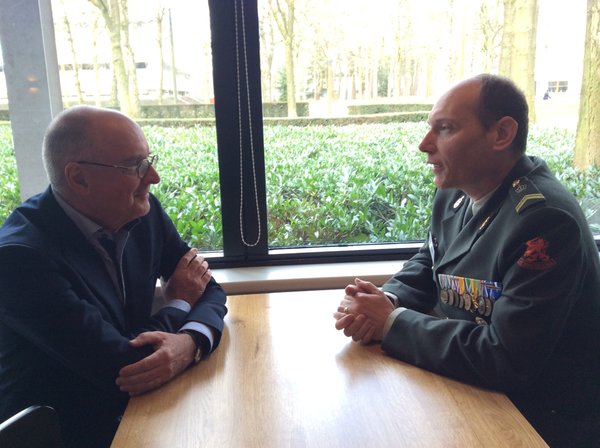 Tilburg's Alderman for Culture, Marcelle Hendrickx, is the next person to give a speech about today. She says that in her work as an Alderman for the city of Tilburg, asking questions is one of the most important things. "And you should not just assume that you know the answer," she adds. She chooses the book 'Borderline' to read, because she knows very little about that, she says.
Sad, small child
When somebody chooses a book, they sit down at a table together, with the book's 'buddy'. The buddy makes sure that everything goes well, and checks if somebody gets too emotional or needs to take a break. This might well be possible, because some books come with intense stories. There is a book 'Victim of prostitution' and another one with 'Bipolar disorder'.
The readers then get 20 minutes to ask the book questions about their story. After the first round of talks, Esther, one of the visitors, stands in the hallway. She is moved by her conversation with the person behind the book 'Orphan', she says: "When you hear the word 'orphan', you are inclined to think of a sad, small child. But I had a very strong, happy person sitting in front of me." She also learned that every child experiences this differently. "She had a good youth, but not all her brothers and sisters felt that way."
Esther came to Human Library because she likes people. "I really wanted to make time for this, because I am very interested in people's stories. I am going to see if I can talk to another person now." One of the organizers, Kim Ardon, says that the event might even be bigger next year: "We even have people applying as 'book' on our Facebook page. Today is a big success, so we will definitely try to move on from here."