Meet the international candidates for SAM and Front
It's election week at Tilburg University. For student factions SAM and Front, the race for the university council is on. Here's a closer look at the international representatives in this year's elections for student participation.
Although international students are eligible to vote, the candidate lists of SAM and Front have long been marked by a striking lack of international representatives. But all that seems to be changing. This year, both student factions have international candidates on the list, and SAM even has an international board member.
Stan Wäger from Tunisia (SAM), Lovisa Yrbäck from Sweden (Front), Carla Grigoras from Romania (SAM) and Eva Cece from Albania (SAM) explain why they decided to represent the unrepresented.
Stan Wäger, Tunisia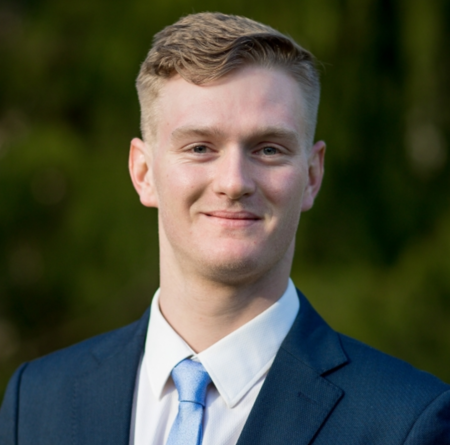 #7 on the list of SAM
"I'm originally German, but I never actually lived there. I was born in the south of France, and I grew up in Tunisia. As an international, I believe that I can give SAM another perspective on the necessities of international students in Tilburg. I've been through some of the challenges an international faces when coming to a new country – and in my case even a new continent – and I'd like to start raising awareness about those issues within the university council.
"Most students are not aware of the large influence we can have on university policies"
I joined SAM because I was approached by one of the current board members. Before that, I didn't know anything about the student representation in the university council. But when all the details and involvements were explained to me, I understood the magnitude of the personal impact and positive change I could have within our university. Most students are not aware of the large influence we can have on university policies through the council, which leads to many issues being unnoticed and thus unresolved. I would love to improve the visibility of student parties on campus, and turn the factions into an open office for students to approach when facing challenges within their studies.
My main goal within SAM, and hopefully within the university council, is to improve the student facilities for every student, especially to improve the Student Desk for international students for a smoother transition period. Improving the quality of education also is a big goal I want to achieve, since I strongly believe that every lecturer should be qualified and have an adequate level of English for international courses.
Even though I'm one of the few international candidates of SAM, I don't feel any differences between me and the other candidates, whom I consider more as friends than anything else. SAM is very welcoming to internationals. Nationality doesn't make a difference, we work towards improving our university and the only language we communicate in is English. A fun fact is that whenever someone makes the 'mistake' of speaking a little Dutch, it's always a Dutch candidate who gets annoyed and asks that person to speak English – even before I have the time to demand so."
Lovisa Yrbäck, Sweden
#18 on the list of Front
"I'm from Sweden, from a city called Uppsala. I'm currently in my second year of Global Law at Tilburg University. I decided to become involved in student participation because I believe it's important to take advantage of every opportunity that comes along, to be involved in things that surround you in your everyday life. This is how we learn from others, while at the same time taking charge of our own reality. Front was the obvious choice for me, as they emphasize the importance of being active – especially as a student.
I see it as a great opportunity and honor to be the only international candidate for Front. It's essential to provide international students with help in many different areas, and I believe it's a great signal for international students to see more than just Dutch candidates. Front is such a progressive party that I fully believe that they will go the extra mile to include every international student and to help them with whatever issue they come across, but international students may relate more to me. I'm an international student, I've lived in different countries and I speak multiple langauges. I'm also the president of a highly international Tilburg University student association, ELSA, which is the largest law student association in the world. I'm very used to cultural diversity and I welcome every new language and culture.
"I see it as a great opportunity and honor to be the only international candidate for Front"
Front has a large network and internationalization is one of the party's pillars, which is very relevant for me as an international student. Front has improved the level of English amongst the employees, put in an effort to create outdoor workplaces and taken the initiative to make sure that the TiU-app will be a tool to immediately reach all students in case of an emergency. These are improvements in education, health and safety, which can benefit every student on campus. I want Front to continue achieving accomplishments like these, and as an international student I believe I can be a valuable asset to the party in doing so."
Carla Grigoras, Romania
#9 on the list of SAM
"I found SAM by mistake, actually. It was recommended to me by one of the board members, Amber, who was working as a student assistant at the HR department when I applied there for a part time role. I really liked SAM, because they had an international board member and they gave me the feeling they are serious and take an active role in listening to international students' issues as well.
"I want to help make sure that all students are well-prepared when they enter the labor market"
What I'd like to achieve with SAM? As an international student and as a Human Recourses student, I would like to help in making sure all students, Dutch and non-Dutch, are well-prepared when they enter the labor market. I also hope that SAM will influence study and sport associations, encouraging them to include even more international students in their activities. I'm not talking about creating activities exclusively for international students here, but about offering existing and new activities in English for example. I think this would be beneficial for the associations, as well as for the students.
I do think that as an international student I can understand the issues that international students usually face a little bit better. I've most likely had to deal with them myself. I think I can now provide a different view on how to tackle them and help other international students find solutions."
Eva Cece, Albania
Current SAM board member
"Being raised in a different country and coming from a somewhat different culture, I wanted to make the best out of my experience in the Netherlands, and I thought the best way to do this was by getting involved in the different activities this university has to offer. I believe student participation is an important factor in making the most out of your student life. It offers great insights and an opportunity to learn more about yourself. I believe it also adds great diversity to your university life, apart from your study. I was an active member of I*ESN for a long time, and I decided to further develop myself by getting involved as a board member of SAM. Being the only non-Dutch student on the board sounded overwhelming at first, but I experienced almost no difficulties. All communication within SAM is in English, including informal conversations on WhatsApp. Everyone was very nice and welcoming.
"Internationalization shouldn't just be about getting more students from abroad on campus"
SAM is there for the ambitious student, and I believe that the ambitious student is not necessarily a Dutch student. There are plenty of international students who work hard for their degree and who want to achieve the best quality education possible. Therefore, my aim this year as the International Officer of SAM is to represent non-Dutch students and their interests. The interests of Dutch and non-Dutch students are the same for the most part, but international students are not quite represented to the same extent. When you talk about 'internationalization', it shouldn't just mean getting more students from abroad on campus. You should also make sure that the necessary support is there. For this reason, SAM would like to focus on making English the main language at university, on providing more housing support, and on providing more support upon arrival. We'd also like to stress the importance of information about future career opportunities – not just for Dutch students, but for internationals as well.
We strongly believe that giving the opportunity to do a board year to non-Dutch students is an important step when it comes to integration. For this reason, after a successful experience from this year, we've put together for the first time ever an election list of Dutch, international and internationally-minded students who are currently on exchange. We believe in better representation by getting everyone involved."