Housing help for homeless internationals, but with strings attached
Tilburg University has made arrangements for new internationals who are left homeless due to the student housing shortage. But the university's housing help comes with serious strings attached. Students are not allowed to switch to another accommodation before the end of a 6-week or 48-week term, and in some cases they must pay more than €1300 for a mandatory hotel stay that is "part of the deal".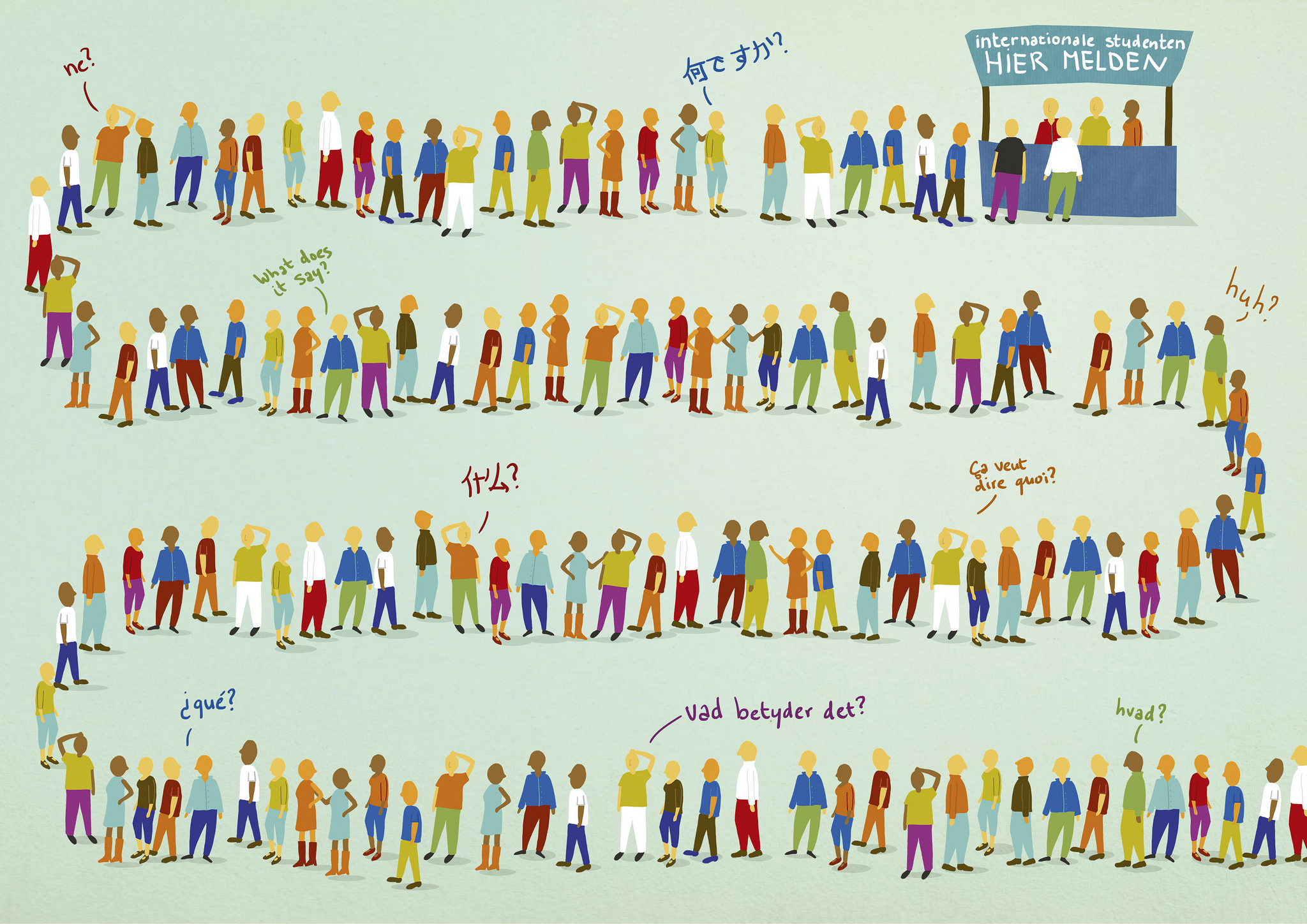 On Tuesday, an email popped into the inbox of international students who are starting their studies at Tilburg University this semester.
The email informed the students about two housing options offered to them by the university's International Office: a 6-week stay at a hostel or a holiday park for €80 to €175 per week (option 1), or a 48-week stay at a hostel or hotel and an unspecified faculty building on campus for €60 to €90 per week (option 2).
With approximately 150 incoming internationals still desperately searching for a place to stay in Tilburg, housing help is much needed. But the helping hand extended by the university comes with a few conditions.
In the email sent by the International Office, those conditions are clearly defined. Students were informed that they had until Friday morning to choose one or both options, after which the university would allocate them to the available accommodations on a first-come, first-serve basis. While registering for a housing option gave students no guarantees regarding placement, it did place them under obligation to accept any offer they might get, for the full term of either 6 or 48 weeks. No cancellations allowed.
Panicking students
Concerned and confused messages immediately started pouring into a large WhatsApp group named "Tilburg Housing", in which new international students share tips and info on housing. "A lot of students were really panicking," says third-year Tilburg University student and I.S.A.T. founder Max Frambach, who created the WhatsApp group.
"The email provided practically no information about the accommodation, so students had no idea what they'd be committing to for six weeks or even a whole year," Frambach says. "With only two days to accept, and under the added pressure of a first-come first-serve policy, students were not given reasonable time and information to make such an important decision."
In the WhatsApp group, another cause of confusion was that some international students did not receive the email in the first place. With no information about the housing offer to be found on the university's website, these students did not know whether or how they were able to accept the housing offer.
Flexible
On Wednesday, Frambach called the university's newly appointed housing officer, Marlous Swinkels, to get answers to some of the students' most pressing questions. Why didn't students get more information about the accommodations on offer? In which campus building will students opting for the 48-week option be housed? What if students want to move to another accommodation before the end of the 48-week term? And how can students who did not receive the email sent by the International Office register for the housing options?
Frambach did not get the answers he was hoping for. "I was informed that the housing offer is only available to degree-seeking students, not to exchange students, which is why only some students received the email. I'm surprised that exchange students are being excluded, since they have just as much trouble finding a room in Tilburg," he says. "In addition, I was told that students who are not 'flexible' regarding their placement and the conditions attached to the offer should simply not register."
No details
Swinkels confirmed to Univers that the offer is only available to degree-seeking students and that registration is binding, obligating students to accept the accommodation offered to them for the full term of either 6 or 48 weeks without the possibility of viewing the room before accepting it.
"We decided not to share all the details with the students because that would be too complex"
According to Swinkels, the university "has done everything possible" to arrange temporary and long-term accommodation for new internationals. The email detailing the two housing options provided limited but sufficient information, she says.
"We decided not to share all the details with the students because that would be too complex, since the accommodations we have arranged include a hostel, hotels, a holiday park and a campus building. However, we did provide the information that is most important to students—the price range, the type of accommodation and the maximum distance between the accommodation and campus."
16 hours for a change of mind
On Friday, students who had registered before the deadline received another email from the International Office, informing them about their placement. They received payment details and information about the accommodation they were allocated to.
While the initial email sent by the International Office stated that registered students were obligated to accept their placement offer, they were now given an additional 16 hours to reject it if they were unhappy with their placement.
Frambach says the extra time and details were "a big relief" for students. "It allowed them to make a more informed decision."
Prisma building
There were, however, some unexpected costs for students who opted for the 48-week housing option. These students were informed that they will be housed in the Prisma building on campus. But first, they will be housed at a temporary location—which can be costly.
The Prisma building is currently not ready for residential use. Built as a temporary construction in 1970, Prisma served as extra office and lecture space. Now that the building is vacant, it will be used by Camelot Europe as a student housing facility. Until the students can move into the Prisma building, the International Office has arranged temporary accommodation for them at hostel Roots, holiday park Beekse Bergen or, in some cases, the 3-star Ibis hotel or the pricy 4-star Mercure hotel.
Mandatory hotel stay
As a result, students who were expecting to pay €60 to €90 per week in rent for a room on campus face costs that can be as high as €1335, which buys them a stay in a shared hotel room from 15 August until 13 September.
The hotel stay is not optional, it's part of the deal. Emails shared with Univers reveal that students who only wish to accept the student room on campus—and not the hotel room—are told that they 'have to accept everything, so the hotel and the room on campus'.
According to Frambach, it's "absurd" that students are not allowed to make other arrangements as they wait for their room on campus to become available. If students can't afford to stay at a hotel, Frambach says, they should be given the possibility to temporarily crash at a friend's house, for example, or join the 25-day summer camp that I.S.A.T. is setting up in Tilburg's city center from 15 August until 8 September. "If the goal is to help international students find a place to stay, the university should be increasing students' options—not limiting them."
Legal termination period
Despite the strings that are attached to the university's housing help, students' response was high. There are still a few spots left, but both the 6-week accommodations and the 48-week accommodations are almost fully booked.
Frambach is not surprised. "The housing shortage forces international students to take whatever they can get. They have little choice but to go along with the conditions set by the university."
In practice, one of those conditions seems impossible to uphold. "Under Dutch law, you always have the right to terminate a rental agreement," Frambach says. "I don't believe students can be forced to rent an accommodation for the full term of 48 weeks if they want to leave sooner."
"The university should be increasing students' options—not limiting them"
Interestingly, the right to end a rental contract is also mentioned on the Tilburg University website. On an informational web page about Dutch rental law, the university states that students have the right to end their rental contract, 'even if there is a specific end date'. The termination period is always equal to one payment period. For students renting a room in the Prisma building, rent will be paid monthly to Camelot Europe. As the university's web page reads: 'This is the legal termination period, even if your contract states otherwise.'
Fixing the housing shortage
What is also true is that it is not the responsibility of universities to provide housing for students. This, too, is stated on the Tilburg University website. Swinkels stresses that the university's housing offer is merely an attempt to help new international students find accommodation in Tilburg's tight housing market. "We're not forcing anyone to take our help. It's up to students to decide whether they want to accept the offer. But this offer is the best we could come up with given the time pressure and the availability."
Frambach understands the difficulties of creating housing options for the hundreds of new international students that flock to Tilburg each semester. "The student housing shortage is a difficult problem to fix, and I know that a lot is being done by all parties involved, including the university," he says. "It's my understanding that the construction of a large new student building for international students in Tilburg has been delayed, so I think that has put additional pressure on the university to come up with another solution for this semester."
Still, Frambach remains critical of the approach taken by the university to tackle this year's housing problems. "What worries me is that the university's housing arrangements seem to serve the financial interests of hotelkeepers and other third parties rather than the needs of students," he says. "I'm all for working together and building alliances with local partners in an attempt to fix the housing problem. But we have to make sure those partnerships benefit the students, not the businesses that are treating the housing shortage as a money-making opportunity."Dilyana Gerenska (19) from Bulgaria is among the students who received the university's housing offer. She shares her experience.
"When I was accepted to study IBA at Tilburg University, I was so happy and excited. I started searching for accommodation at the start of June, registering at all the housing agencies and looking for rooms in every Facebook group. Unfortunately, my efforts have been unsuccessful so far, partly because most of the housing ads are only available to Dutch students.
Last week, I received an email from the university offering two housing options. The email mentioned some reservations at local hostels and hotels and the preparation of a faculty building for the long-term option, but it did not provide any other information or photos of the accommodation.
After a lot of hesitation, I decided not to select any of the offers as I didn't know what exactly I would have to pay for. I'm guessing I was not the only one, because the next day the university sent us another email saying that there are still spots open and that we would be getting 16 hours to accept or decline the offer. Knowing that I would have the right to reject the offer, I decided to express my interest in both options.
"As happy as I was to come to Tilburg, I now feel quite tired and disappointed"
I was offered the 6-week housing option, because the long-term option was not available to me as it was on first-come, first-serve basis. I would have to share a hotel room with one roommate from 15 August until 30 August for €900 per person, after which I would be staying in a shared chalet at holiday park Beekse Bergen from 2 September until 11 October for €445.
Because €900 for fifteen days in a shared hotel room is a lot of money and I would already have lectures and exams during my stay at the holiday park, which is on a 10-kilometer distance from campus, I had to decline the offer.
As happy as I was to come to Tilburg, I now feel quite tired and disappointed. The housing situation in Tilburg is a real nightmare right now, putting a lot of pressure and stress on the students looking for housing. Instead of preparing for university and lectures, students have to worry about having a place to live. I really hope that the housing problem will be resolved soon, so that everyone will be able to start their academic year without so much stress!"