Ingrid (27): "We had to build our own kitchen"
Last July, the National Student Union announced in its report 'Best Student Room City 2019' that Tilburg is at the bottom of the list in terms of housing policy for students. The city cannot keep up with its fast-growing higher education. Univers assesses the living conditions of Tilburg students one year later. In the series 'Student Rooms in Tilburg' six students talk about their living conditions. Today: Ingrid Mayline dos Santos (27), master student International Law and Global Governance at Tilburg University.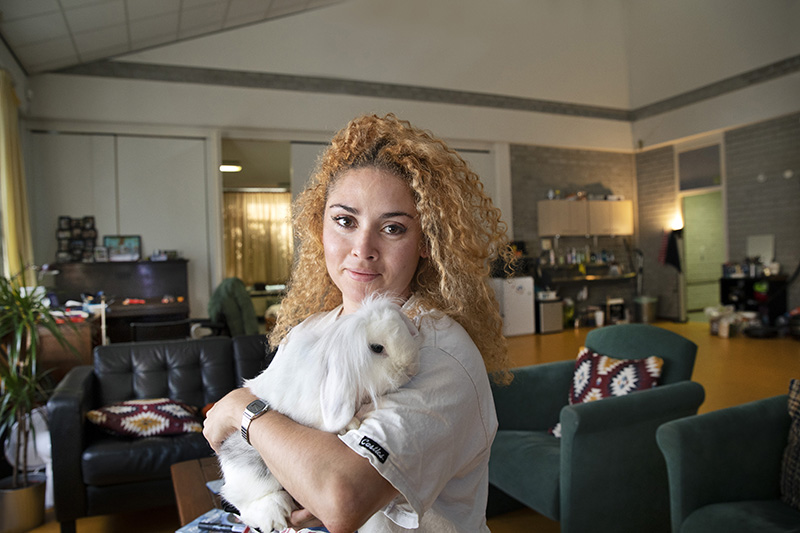 What does your current living situation look like?
"I am living in an old school building located on the Pastoriestraat, together with my boyfriend and my bunny. We live in the school's former gym classroom to be precise. This way of living is called anti-squatting (in Dutch: antikraak). It is a policy of the government that prevents actual squatting, which is illegal in The Netherlands. Me and my boyfriend get to live here until the building is demolished or reused."
How much rent do you pay per month?
"We pay 350 euros per month, which is not super cheap. Usually anti-squatting is cheaper."
What do you get in return?
"For that amount we get water, gas, electricity, and a space of 125 square meters. Yes, this is quite big for two persons but we enjoy it a lot. Neither internet nor furniture is included. You have to arrange all that yourself. This means we had to build our own kitchen. Luckily there are lavatories and showers within this building we can make use of."
For how long have you been living here?
"We have been living here since February 2020. Unfortunately, the landlord already told us that we have to leave before October 23rd. So in total we will be living here for only 9 months. This is a disappointment, but we were aware of this risk."
How easy was it to get this room?
"We were lucky. A good friend of my boyfriend heard about this offer and gathered all of his friends to live in this building."
What are the advantages of this room?
"What I think I appreciate most about this room is that it is so spacious. It gives me the feeling of freedom, I like that. There is also a relaxed atmosphere in this building, since our friends are living here as well. If you come here, a party is guaranteed, corona-proof obviously."
What are the downsides of this room?
"Like I said before, normally the rental price of anti-squatting is lower. Even though we have 125 square meters, I think we pay too much for this room. I also think this neighborhood is a bit shabby. I am regularly startled by drunk Polish men breaking bottles of alcohol. That can be quite frightening. Lastly, I am not very satisfied with the location; it is far out of the center. And due to a lack of public transport it is hard to get to other places."
Why did you opt for a room in Tilburg?
"Because Tilburg has some good masters. The one I am doing, International Law and Global Governance, is unique in its kind. Reason enough for me to move to Tilburg."
Is it worth living in a student room in times of corona?
"Absolutely, especially as an international student. The whole point of living abroad is the international experience, away from your parents and out of your comfort zone. It is about connecting with other people who are in the same boat as you are. That is so good for your development and for your future career."