Constantin (21): "The view is great"
Last July, the National Student Union announced in its report 'Best Student Room City 2019' that Tilburg is at the bottom of the list in terms of housing policy for students. The city cannot keep up with its fast-growing higher education. Univers assesses the living conditions of Tilburg students one year later. In the series 'Student Rooms in Tilburg', six students talk about their living conditions. Today: Constantin Bartel (21), second year student Human Resource Studies: People Management at Tilburg University.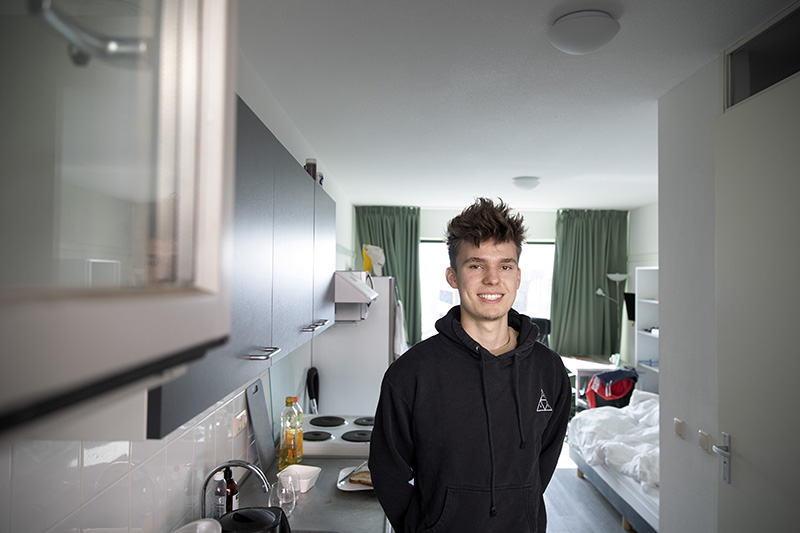 What does your current living situation look like?
"Currently I am living on my own in a studio at TalentSquare, in the center of Tilburg."
How much rent do you pay per month?
"My rent is 641 euros per month. However, I receive a monthly housing allowance of 195 euros, which means that I'm actually paying only 446 euros a month."
What do you get in return?
"I live in a 'Talent Studio Comfort Plus', which is a studio of 24 square meters. Besides having a private kitchen and bathroom, the room is fully furnished. A double bed, a fridge and a television were already present the moment I moved in. With all the residents we have a shared bike garage and a common courtyard where you can have a barbecue or just chill."
For how long have you been living here?
"I have been living in this studio since April 2020. So six months now."
How easy was it to get this room?
"Actually quite hard. In total I waited one and a half year to get this specific room. I applied for it in 2018 after which I was placed on a waiting list. In the meantime I lived in a shared 'Talent Room' in TalentSquare and in an apartment close to the Westermarkt. So I always had a decent place to stay, but to get this more luxurious apartment required me some patience."
What are the advantages of this room?
"The biggest advantage is that I have a lot of privacy, which I really value. In addition, there is never nuisance of any kind. The walls are thick so noise from other people cannot get through. I also have to say that the landlords – SSH in this case – seem to really care about us. That hasn't been the same everywhere. Oh, and last but not least: the view is great."
What are the downsides of this room?
"I would say that there is no good air circulation. I only have one small window next to the door and that's it. That means it can be rather stuffy in here."
Why did you opt for a room in Tilburg?
"Because I study here, obviously. I am from Germany so it wouldn't make much sense to keep on living there while I am studying here, even in corona times. Now I live 10 minutes cycling from campus, which is perfect to me."
Is it worth living in a student room in times of corona?
"I think it is. You simply have more freedom and are more independent than when you would still live with your parents. I agree that it is disappointing you can't do that much anymore, like partying and socializing. Yet I believe that the freedom weighs heavier. Besides, I still see my friends in Tilburg, so it isn't that bad."