Xristos (24): "We form a small international community"
Last July, the National Student Union announced in its report 'Best Student Room City 2019' that Tilburg is at the bottom of the list in terms of housing policy for students. The city cannot keep up with its fast-growing higher education. Univers assesses the living conditions of Tilburg students one year later. In the series 'Student Rooms in Tilburg', six students talk about their living conditions. Today: Xristos Karetsos (24), first year student Digital Business Concepts at Fontys University of Applied Sciences.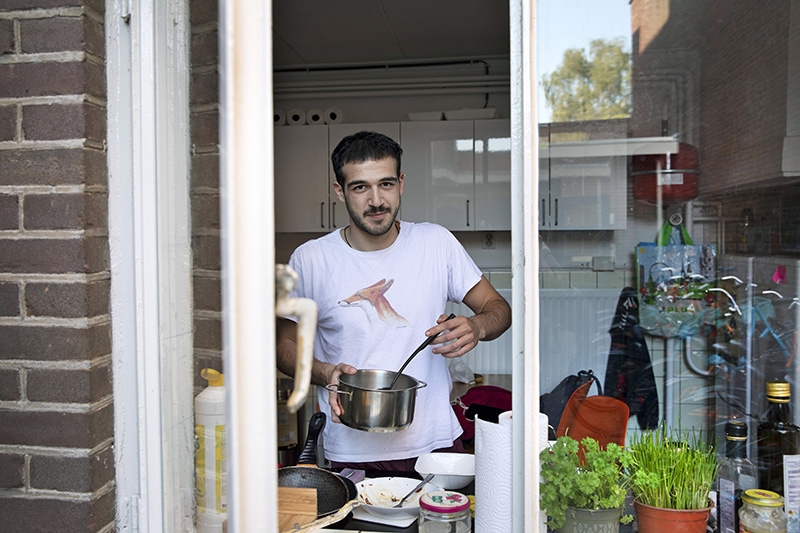 What does your current living situation look like?
"I live with sixteen other international students in two houses. These houses are kind of merged into one big house. They are located at the St. Josephstraat."
How much rent do you pay per month?
"Before arriving I paid 5100 euros and I paid an extra 3000 euros three weeks after my arrival. This amounts to around 700 euros rent per month, which is a lot compared to other rental prices in Tilburg."
What do you get in return?
"In return I get a bedroom of 19 square meters that is completely furnished, including a television. Next to that, we have at our disposal two kitchens, four bathrooms and a common chill area outside. Also included in the price are services provided by the housing organization. Think of yoga classes, a bike, a public transport card and social events. It is a bummer that these social events cannot take place now due to corona."
For how long have you been living here?
"I have been living here since 16 August 2020. So almost three months now."
How easy was it to get this room?
"I found it via Student Housing Holland. They helped me with searching a room and came up with this. I started looking for a room in June and I found something in August, so for me it went relatively easy and quick."
What are the advantages of this room?
"The most obvious advantage is that we form a small international community with our house. We're all in the same boat since we are all studying in a foreign country, which makes it easy to bond. We have the same problems so we can help each other easily. That really gives me a head start here in Tilburg."
What are the downsides of this room?
"You can only live here for a year and then you have to leave. They want to give internationals the chance to create a network and find something from there. That is annoying because once you are finally settled you already have to start looking for something else. And even though we get a lot in return for our rent, I believe the room is overpriced."
Why did you opt for a room in Tilburg?
"I really wanted to do the study I am doing right now. It is unique in its kind. Therefore I had to move to Tilburg."
Is it worth living in a student room in times of corona?
"Corona or not, I really had to escape from Greece. I didn't really see myself having a future there. The employment opportunities are not very well and the people are very close-minded. Besides that, I feel much safer here than I did back in Greece. My parents are happy that I am here and so am I."
Rectification
According to both Student Housing Holland and Xristos the original rental price is 569 euros per month. Adding the costs of extra services to it, the total amount comes down to 649 euros per month. The given amount of 700 euros is incorrect, since deposit is included here.