Board of Serve the City wins Tilburg Volunteer Award
Five Tilburg University students have won the Tilburg Youth Volunteer Award 2020. During the coronavirus outbreak in the spring, the (former) board of Serve the City dedicated itself to helping vulnerable people in the city. The jury called the board members "invisible heroes."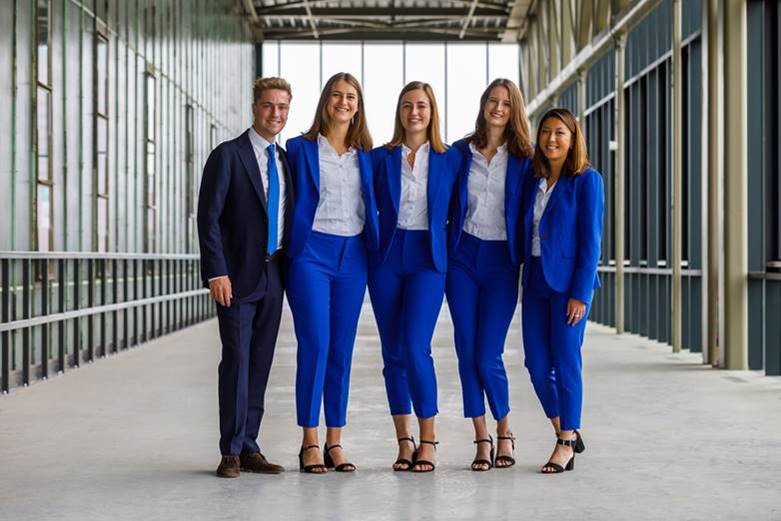 "Even before the coronavirus pandemic, we did a lot for the less fortunate inhabitants of Tilburg," says Anne-Lin van Gelder. She was one of the board members of Serve the City last academic year and won the prize together with Jelle van Dijk, Benthe Frie, Juul Snijder, and Despina de Werd.
"For example, we organized a St. Nicholas party for children, and students affiliated with Serve the City went for weekly walks with the elderly."
Alternative activities
"During the first wave, this was of course no longer possible: the nursing homes were closed. That's why we did other things, such as bringing people into contact with each other".
"People could let us know if they needed help. That could be anything: from gardening to helping with the groceries. With the 'ONS Soepje' (Our Soup) project, we had a lot of people in Tilburg make meals for others, and delivered them."
Drop everything
The award means a lot to Van Gelder and her former colleague board members. "It is the icing on the cake of our hard work. When we took office, our goal was to make Serve the City more widely known. Well, we did."
"It was incredibly special during my board year to see what is hidden in Tilburg's society. You become aware of how easy it is to help people who are a little less fortunate."
Van Gelder especially remembered the gratitude of the people who were helped. "Just like the motivation of the ordinary people of Tilburg to drop everything and to dedicate themselves to their fellow citizens."
Tilburg Volunteers
The Tilburg Volunteer Award is an initiative of Tilburg Municipality, Brabants Dagblad, Rabobank Tilburg, and Interpolis. The Serve the City board won the Youth Volunteer Award, the only category decided upon by a jury. Never before has a group won in that category.
All Tilburg residents could vote for the categories 'Volunteer of the Year' and 'Volunteer Organization of the Year'. The winners of these categories will be announced on December 7, on National Volunteer Day. The official award ceremony will take place on that date as well. Van Gelder: "If it is possible to do so coronavirus proof, we will certainly celebrate the prize.
Translated by Language Center, Riet Bettonviel