Beatrix: 'I want to follow the steps my sister could not continue'
What has your life been like since you graduated? We asked this question to four new Tilburg University alumni. They talk about their studies and motives, the tail end of the coronavirus time and their plans for the future. This week: Beatrix Darantinao (25), court clerk at the Court of Rotterdam. After the death of her sister, she chose a different path in life.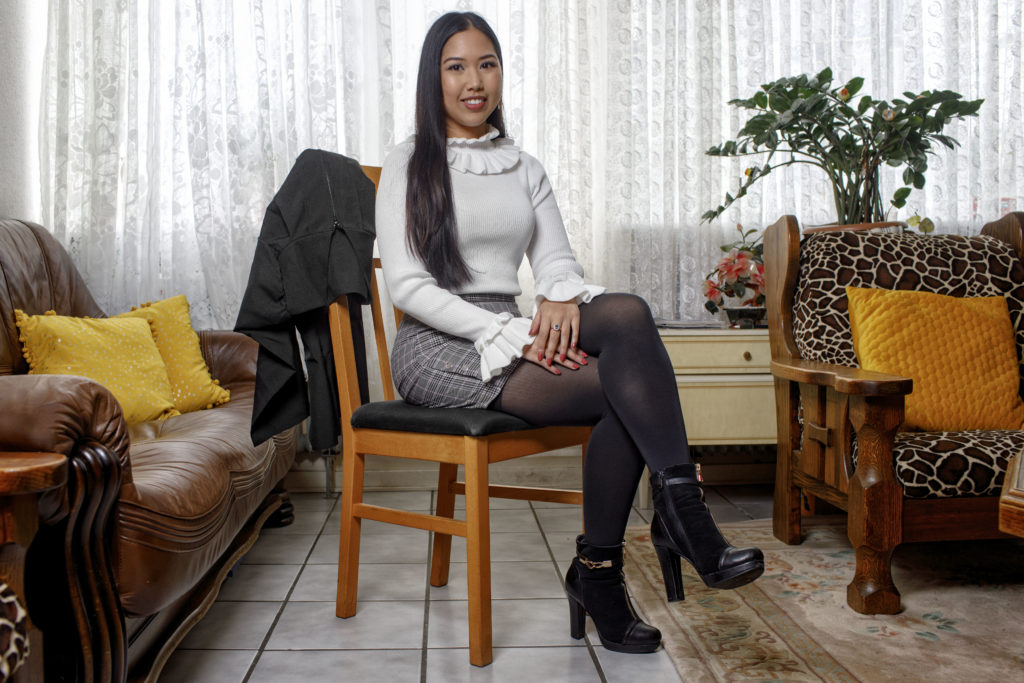 "The change from being a student to working has gone very naturally for me. Already during my law studies at the university of applied sciences and during my law studies at Tilburg University, I was a judiciary reporter. In that role, I interviewed judges, lawyers, and other judiciary employees. This gave me a good impression of that world. I did this with an eye to the future. Thanks to this volunteer work, I was given an internship at the court and moved on to my current job as a court clerk."
"I wasn't always this serious and future-oriented. The fact that this is how I live my life has everything to do with my sister. In the year that I graduated, she passed away. She was 20 and studied law; I was 17 and was still a pupil at senior secondary school (havo). At that time, I was very different: I lived by the day, didn't reflect very much, and made plans that made me happy there and then."
"My sister, on the other hand, was someone with a purpose, for which she went all the way. She was in her third year of law school and was so enthusiastic about the things she learned. I listened to that, but I didn't think: I want that too! At that time, I wanted to become a stewardess or a singer."
Turning point
"It happened within five days, very unexpectedly in the summer of 2012. My sister had a fever and was weak. The doctor saw a young girl, prescribed medication, and said, "Let it be for a few days." My parents soon had a bad premonition and took her to several doctors in the hope that she would be further examined, but in vain.
"On the fifth day, she said she couldn't breathe properly and wanted to go to the hospital. She fainted and my parents tried to resuscitate her. The ambulance arrived and finally she was taken to the hospital. Hours later three doctors came into the waiting room, they said: 'Sorry, we did everything we could, but your daughter died'.
I thought: take your responsibility, don't be bitter anymore
"That was the turning point in my life. The reason why I am who I am now. For a long time everyone at home was depressed. In that mourning period, I heard all kinds of beautiful stories about my sister and realized how special she was. So steadfast and positive, she thought about the future, and at the same time, she was there for her fellow human beings.
"At one point, a change occurred, I thought, 'You're the only daughter, you'd better be a tower of strength to your parents than fall apart yourself. Take your responsibility, don't be bitter anymore'."
From prevocational secondary education (vmbo) to master of law
"I am positive in life, I choose that consciously. I draw a lot of strength from my sister's optimistic attitude to life and especially from my faith in God. I hope that I radiate that to others."
"I want to follow the steps my sister could not continue. Studying law never occurred to me; I thought I couldn't do that. I started at prevocational secondary education and climbed up step by step. I knew I was a go-getter, but my sister gave me an extra push. And I find it super interesting; otherwise I wouldn't be able to stick with it."
I hear intense stories almost every working day
"Now I work as a court clerk at the examining magistrate's office. I support the examining magistrate with the interrogations of suspects and with the interrogation of witnesses. In general, the somewhat heavier criminal cases are dealt with. Sometimes it concerns a murder, for example, but other times it concerns enormous drug smuggling or human trafficking. I hear intense stories almost every working day, but I don't let them influence my performance."
"During my internship, it took some getting used to, of course, but I soon realized that this process is necessary so that the judge can come to a well-considered and fair decision. By delivering legal documents, you ultimately contribute to a higher goal."
Dreams about entrepreneurship
"At the moment I'm fine here, but I certainly keep my eyes open for interesting vacancies. Trainee lawyer, lawyer at a company, or a position at a government agency. Someday I want to become a judge. I like listening to people, weighing up interests and looking at one point of view and the other one. In which jurisdiction, I don't know yet."
"Criminal law, juvenile law, labor law, and liability law, I like them all. Only tax law I don't like, I can say that with certainty, haha. Another dream is entrepreneurship. Setting up something myself with the primary goal to be of added value for many."
"I'm very curious where I'll end up. I think twice before I do things, so it will be a conscious choice. Besides work and career, I want to be a better person above all. Not only for myself, but also for others. I always keep that in mind."
Translated by Language Center, Riet Bettonviel