Household effects student dorms for the food bank
For nine months, Tilburg University had a student dorm on campus. The Prisma building was empty after all, so because of the shortage of rooms, temporary student dorms were set up there. This summer the last residents left. The furnishing of these rooms was donated to the Voedselbank Tilburg, which took care of further distribution. In the past month, the new owners were able to come and pick up their belongings.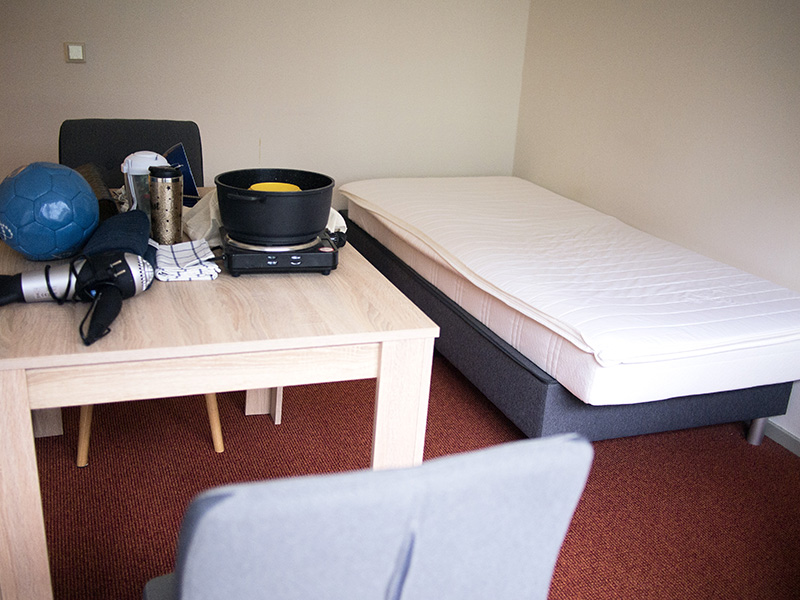 Beds, tables, chairs, desks, cabinets, refrigerators, first-aid kits, fire extinguishers, and whiteboards. Commissioned by Tilburg University, anti-squatting landlord Camelot fully furnished 89 rooms for the temporary residents last year. There was even a recreation room with a pool table, a ping-pong table and table soccer. After the departure of the last residents, all of that was left behind. Not having been used for more than a year, and sometimes not even half a year. At the first round of the coronavirus outbreak in March, some of the residents already chose to go back to their own countries.
Mattress still wrapped in plastic
That's all very nice, says Pieter Smolders, project employee at Facility Services, but those pieces of furniture "between Leen Bakker and Ikea quality" weren't immediately interesting for buyers either. But throwing them away is another story, which is why the Voedselbank Tilburg was approached. "They came to see the items and were immediately very happy with it. Not only with the quantity, but also with the condition of the furniture. Much still looks new. Some students had never even taken the plastic off their mattresses.
No wonder, as it turns out during a tour through the empty Prisma building. Most of it looks excellent, only the details show that people lived here. An FC Barcelona logo, drawn on a whiteboard. Smolders: "A Spanish boy from Barcelona lived here." An abandoned stove and some utensils on a table. "That young lady said she would come and pick it up, otherwise this could also go to the Food Bank."
Drawing lots
When the stuff was offered, there was a lot of interest. No fewer than 400 people signed up for it, there even had to be a draw. In the end, all items were taken down by volunteers, including students from Serve the City, and prepared to be picked up. With the exception of a fridge, which had already been taken out before. Smolders: "When we had just started the project, the food bank discovered that someone hadn't come to pick up any food for weeks because of a broken fridge. He or she immediately got one of our refrigerators."
The beds turned out to be especially popular during the Saturday collection days, Smolders says, with the refrigerators as a good second. The game, pool, table tennis, and soccer tables also went to the Food Bank. The pool table has already been housed in a community center, for the other tables, schools are interested, for example.
Taking out the furniture does not mean that Prisma's demolition will start immediately. The disassembly and sale of any other items that still have some value also have to be done. And what's left over will be demolished during the summer months.