Niels: 'You have zero certainty in the music industry'
What has your life been like since you graduated? We asked this question to four new Tilburg University alumni. They talk about their studies and motives, the tail end of the coronavirus time and their plans for the future. This week: Niels de Klerk (23), account manager medicine transportation at E. van Wijk. In addition to his Economics and Business Economics program, Niels completed a study program at the conservatory. One day he hopes to unite these two worlds in one job.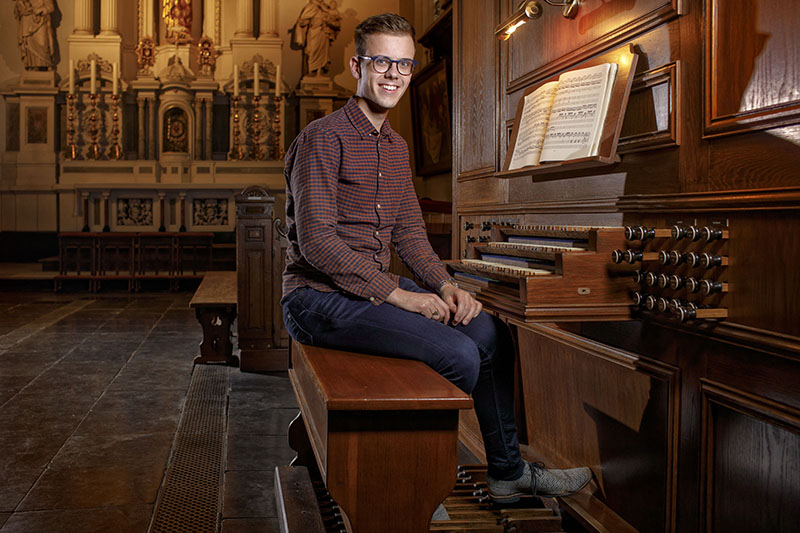 "At the age of eight, I started playing the organ. Very fanatically, right from the start. I never stopped playing. Hence the choice to go to the conservatory in Tilburg, in addition to Economics and Business Economics at Tilburg University. There I followed the classical Bachelor's program with organ as main subject and everything with keys like harpsichord and piano.
"My love for the organ is also sometimes less prominent, ha-ha, because it is actually a very awkward instrument: an enormous machine that produces a lot of sound and is difficult to play musically.
"Moreover, as an organist you are condemned to very cold churches. You do have electrical replacements, which work very well, but if you want to practice, well, you need a real organ. And so a church. The fact that you can fill an entire church with sound on your own, fortunately, makes up for all the disadvantages of the organ. Still, I like to complement the organ with other instruments, such as the piano and the harpsichord."
Socioeconomic security
"Why didn't I just go for the music? Socioeconomic security. You just have zero certainty in that world. Things were actually going very well musically. I got more and more work. Conducting a choir, accompaniment on various instruments at solo concerts, and as an organist, I often played together with a saxophonist. Really fun work, because it doesn't feel like work. Because of the coronavirus, it has been reduced to almost nothing.
I am glad that I have chosen two studies
"With only a conservatory diploma, it would have been difficult. I can see that with classmates, who are at their wits' end. The atmosphere there is grim now. It's painful to see. As a musician it's not just your work and your income that have disappeared, but also who you wanted to be.
"That's why I am glad that I have chosen two studies. Even though the schedule was miserable sometimes. Starting at half past eight in the morning at the conservatory, in the evening lectures until late and in between running about, that wasn't always very nice. During every exam week, I sometimes thought: I'm going to quit, ha-ha, but I never seriously considered that."
Back home
"A lot has changed in my life since March. Until coronavirus crisis, I lived in Tilburg, where I had a great time. When everything came to a standstill and I didn't know what was going to happen financially, I moved back with my parents, quite reluctantly. If you have lived on your own for two years, it takes some adjusting.
"I informed the transport company, E. van Wijk, where I work in the customer service department during the vacations, that I was unemployed. 'Come here, there's plenty to do,' was the answer. They were eager for people because in logistics it was very busy during the lockdown. Now I work there four days a week as an account manager for medicine transports.
"The work is somewhat related to both studies. I accidentally ended up here, but I'm still very happy with it. There aren't that many good jobs right now. Besides, I don't like it when you have to start somewhere new while onboarding from home. I know the people, the company, and the processes; in fact, I only had to learn about this new position.
It is painful to see that there is less and less attention for culture in society
"Transportation of medicines must be done very accurately and thoroughly. I feel at home in this highly educated environment. The work is extremely varied, not a single day is the same as the previous one. You have a lot of customer contact, and you are on the road a lot. Not now of course, but hopefully that will come back again."
Music schools reorganized out of existence
"In the short term, I have few other plans. I'll be here for the time being. In addition to my work, I'll be taking a Master's degree at the conservatory one day a week for the next two years. In the really long term I hope to combine my background in music and economics in a job with an orchestra or cultural institution, for example, as a financial manager.
"It is painful to see that there is less and less attention for culture in society. Look at the music schools in the Netherlands, there isn't one left, they've all been reorganized out of existence. Because of flexibilization, it is becoming increasingly difficult to earn a living in the cultural sector. As far as I'm concerned, it's a road we shouldn't go down. When theaters, museums, and concert halls go under, you don't get them back just like that. In the future, I want to commit myself to the preservation of culture.
Also read the stories of Nick, Fleur and Beatrix in this series: (Just) Graduated, now what?
Translated by Language Center, Riet Bettonviel