Student podcast KiesAdvies: 'I have no idea yet whom I'm going to vote for myself'
In the KiesAdvies (election advice) podcast, Iris and Isa interview representatives of political parties for young people. Their goal? To help their peers find their way through the political maze. And, secretly, also themselves.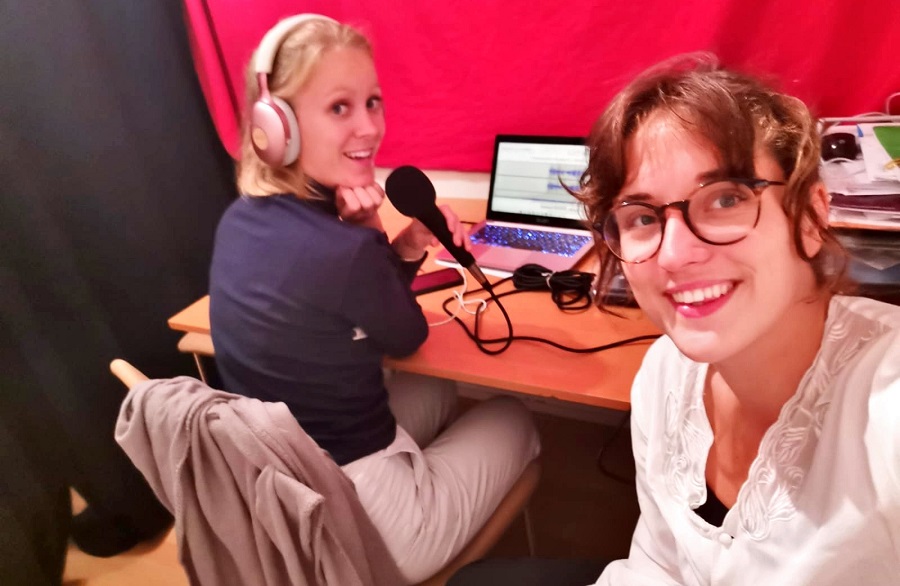 Elections to the Dutch House of Representatives are about to take place. This raises the question: which party am I going to vote for? In order to answer this question in a well-considered manner, Iris Zoet, TiU Master's student in Global Management of Social Issues, and Isa de Beer, EUR Master's student in Molecular Medicine, will be talking to representatives of political youth parties in the coming months. They will share their findings in the KiesAdvies (Dutch only) podcast. Univers talked to them.
How did you come up with the idea to make the KiesAdvies podcast?
Isa: "We both listen to podcasts a lot and regularly talk about them. Because of the upcoming elections to the House of Representatives [March 17, 2021], I went looking for political podcasts. I still have doubts which party I want to vote for and thought I would find an answer this way. That was disappointing."
"Many of those podcasts are mainly about current affairs, but you don't get the views of a party lined up. So I thought it would be fun to make a podcast myself that young people could use as an election tool. I asked Iris to share her thoughts; she's much more engaged in politics than I am."
Iris: "I think it's important that people vote in a well-informed way. Ever since I've been allowed to vote myself, I've been trying to inform friends by sending them interesting articles, for example. That's why I became super enthusiastic about Isa's idea."
The representatives in your podcasts get a lot of space to talk about their political points of view. Is it a conscious choice to ask few critical questions?
Iris: "Yes, we want to keep it as neutral and accessible as possible. So that young people, who are allowed to vote for the first time and haven't been thinking about politics a lot yet, can easily get involved."
Isa: "We also want to keep the episodes short, a maximum of half an hour to keep it accessible. Unfortunately, this means that we can't ask as many critical questions as we would sometimes like."
Episode 1 of the podcast ChooseAdvice
Iris: "We are considering organizing debates between spokespersons of youth organizations after this series of interviews. Of course, then there is more room for a critical approach.
Where are you in the political spectrum?
Isa: "I really am a swing voter and so I do this for myself a bit. I know I'm more in the middle, but I really have no idea yet whom I'm going to vote for. Hopefully, I can make a considered choice at the end of the series."
Iris: "I hope so too, because otherwise we'll go to all this trouble for nothing, ha-ha. I already know a little better where I stand. I'm even a member of two political parties. I'd rather not say which ones because not all the discussions have been held yet. Probably my vote will go to one of these parties, but I too am open to surprises."
Isa: "I hope to fall a little bit in love with a party. That after an interview I think: yes, this is it!"
How many listeners do you have?
"It's hard to say exactly how many people are listening. On Spotify, we are able to see it, it's an average of 80 individual listeners per episode. But the whole series is also offered on all kinds of other streaming sites."
Iris: "Now it's mostly shared and listened to in our first, second, and third circle of family, friends, and acquaintances. But we really want to reach many more people."
In the section "the snack check," the interviewee brings a snack that suits their party. Which snacks have already seen?
Isa: "Healthy snacks, such as the candy tomatoes from PerspectieF [youth organization of the Christian Union]. These were symbolic of the National Prevention Agreement of Christian UnionState Secretary Paul Blokhuis, which is intended to ensure that we start living healthier lives in the Netherlands.
"The chairperson of Dwars (GroenLinks) brought humus, an ideal and versatile snack for the many vegetarians and vegans who are affiliated with it. Furthermore, bitterballen, Mentos, and M&M's have already been brought to the table."
Iris: "We were very happy with the bitterballen of the JOVD (Youth Organisation Freedom and Democracy)."
Finally, what are the reactions so far?
Iris: "The reactions we get are very enthusiastic. Young people who say, 'This is really what I needed and what can help me further.' That's super cool."
Isa: "We even received our first fan mail recently from someone we both don't know. Of course, we do it for that a little bit. Hopefully, more people will know where to find us in the new year, when the elections to the House of Representatives are approaching."