Burglary with a message in showcase of the university council
During a final tour of his working area, the departing secretary of the University Council noticed something special: the display case of the Uraad has been broken into. Not that anything seems to have disappeared, on the contrary, something has been added. A book and a film and a bill from the perpetrators.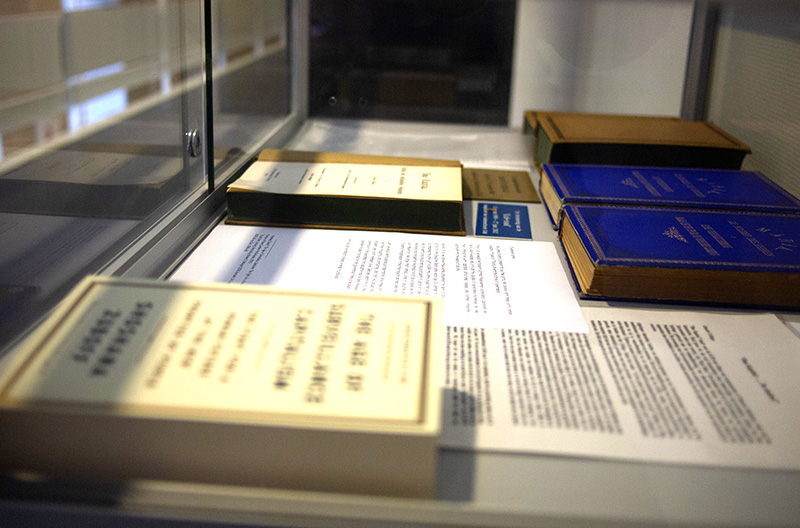 The display case next to the entrance of the Ruth First room – the meeting room of the University Council – is not the most striking part of the Cobbenhagen building. It is the modest repository of books with a message that student group SAM offered to the Executive Board.
In this way, since 1999, Karl Marx's pontificate Das Kapital shows off next to the meeting room. It was offered to the CvB by the student fraction when the university council was renamed KUB council (the university was called Katholieke Universiteit Brabant in those years).
Not only the name changed, but also the powers. From co-managing it became a participation council. Somewhat a reversal of the Dutch democratization of the university board that had once begun in Tilburg, in 1969 with the occupation of the university. On that occasion it was briefly renamed Karl Marx University, hence the choice of books.
Burgundian get-togethers and buffets must not disappear
In 2002, the name change was reversed, albeit not the powers. The university was renamed Tilburg University, so the KUB council was renamed university council again. Even then, SAM – under the leadership of group chairman Klaas Dijkhoff (now chairman of the VVD in the Dutch Parliament) – gave books to the CvB to commemorate and inspire. About the life of Mary ('the mother of the Lord') this time.
"We believe that with the disappearance of the Catholic element from the name of this body, its important Catholic elements should not be lost. By this we of course mean mutual respect and the Burgundian get-togethers and buffets," according to the explanation in an accompanying letter.
The calm disturbed
The tranquillity in this small exhibition of university history appears to have been disturbed by an unauthorized addition. The secretary of the university council, Thijs Pieters, noticed it to his great surprise during a last inspection of his kingdom (he will soon exchange Tilburg University for a position at Erasmus University).
The collection in the locker is suddenly supplemented with a book, The Age of Surveillance Capitalism and a DVD of the film Pacific Rim: Uprising. The donors, who describe themselves with 'some students', state in the attached letter that they are gifts that 'contain valuable critiques of Tilburg University's style of governance'.
Translated by Language Center, Riet Bettonviel