Nadèche Hanique studies with a disability: 'I hope digitalization doesn't stop after corona'
As a child, psychology student Nadèche Hanique (24) was told that she suffered from a very rare connective tissue disorder. It did not stop her from studying and pursuing her dreams. Now she is committed to helping fellow students with disabilities and has been nominated for the ECIO Frank Award. Univers spoke with her.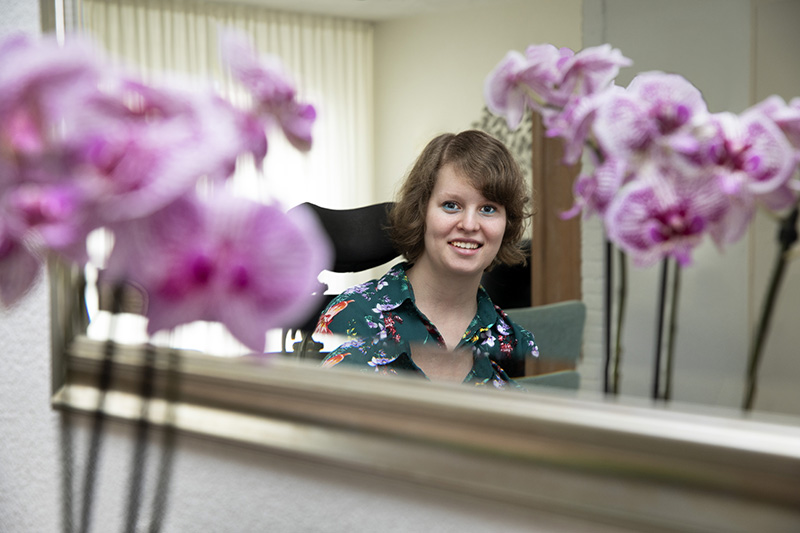 You have been nominated for the ECIO Frank Award, an award for students with disabilities who have a good idea to promote inclusive education. Can you tell us a little more about your own situation?
"I have a very rare form of Ehlers-Danlos syndrome (EDS), which is a collective name for a group of inherited connective tissue disorders that are rare and therefore quite unknown in the medical community. Only eight other people worldwide have the type I have.
"Connective tissue normally holds everything firmly in place in the body, but in my case it is very weak and stretchy. Because it is everywhere in your body it can also affect almost everything. My joints dislocate easily, I have pain issues and struggle with chronic fatigue.
"As a result, I can only attend one lecture a day, which makes my studies take longer. For five years now, I have also been completely wheelchair-bound."
How did you find out that you developed differently from peers?
"For the first few years of my life, nothing seemed wrong. As I got older, my parents noticed more and more things I had trouble with. Things that my three-year-younger sister was able to do effortlessly, like writing and walking. When we went to the zoo for a day trip, I could hardly move forward, while my sister was fine. That's how the ball started rolling.
"When I was 11, I went to a clinical geneticist and was diagnosed with EDS. It is a hereditary congenital disorder, but no one in my family has it."
What was it like for you to receive such a severe diagnosis as a child?
"That was hard. I was eleven and I always thought I was healthy. Up until then, I could do almost anything, too. You suddenly find yourself in a whirlwind, the medical mill. It made me very mature at a very young age.
"On the other hand, I discovered who I am as a person at a young age. I know what I think is important and what life is really about. Some people spend their whole lives trying to figure that out."
Can you give an example of that?
"The choice to study psychology is directly related to what I went through. After the diagnosis, I came under treatment with a medical psychologist. There is so much you have to deal with. You feel anger, frustration, and sadness, and you enter a kind of grieving process.
"The psychologist helped me to accept that I have this, but that, in addition, I am just Nadèche. This enabled me to get on with my life and get the most out of it. She has meant a lot to me, so much so that I soon thought: I want that too when I grow up!
"I think it would be great to help other people cope with their health and limitations. And teaching them to enjoy life and pursue their dreams."
What makes life beautiful for you?
"Because of everything I have experienced, I see the special in ordinary things and enjoy them much more. The sun shining, having a nice cup of coffee.

"Or think of independence: most people get out of bed every morning thoughtlessly, after which they shower, get dressed, and prepare breakfast. For me, these things are not self-evident, I need help with them.
"It means a lot to me therefore that as a student I am able to live as independently as possible in Tilburg. This is only possible thanks to a care team that assists me. It is something for which I am grateful and from which I get a lot of positive energy, while others do not even think about it.
"Because of the coronavirus, I am temporarily living with my parents, but as soon as I can, I want to go back to Tilburg."
How did you experience the past 'corona year'?
"For me, it hasn't been too bad, as crazy as that sounds. Because of my health, I can only attend one lecture a day; the rest of the time, I'm mostly at home. I don't have the energy to go outside. That makes it easier for me to deal with a lockdown. My life and the lives of my fellow students are more similar now.
"This time has advantages for me, and I have heard this from other chronically ill people, too. Now if I have a bad day, I can watch a lecture from bed. Or I can watch it again when I feel well enough again. That makes a huge difference. Before, when I had two lectures in one day, I had to skip one and miss important information.
"I hope this digitalization doesn't stop again after corona. Many students with disabilities will benefit from it."
Then finally, back to your nomination for the ECIO Frank Award: with what idea do you hope to make education at Tilburg University more inclusive?
"Let me start by saying that a lot already goes well at Tilburg University. People really listen to you, contribute ideas, and look for solutions. For example, I can take longer to complete my studies and I can take exams on my laptop. Because of my fatigue, I get extra time during exams and I can take breaks in my wheelchair.
"But there are always things that could be better. Like the paperwork involved in applying for facilities, which takes an enormous amount of energy. Energy that, as a chronically ill person, you'd rather spend on something else. Or think of buildings where there is only one disability toilet, which means you have to race against the clock during the break to get back to the lecture hall on time.
"My idea is to organize an awareness day on which university employees can experience what it is like to have disabilities. So riding across campus in a wheelchair or walking with glasses through which you experience what it is like to be visually impaired. Or experiencing what it means to attend lectures while being hearing impaired.
"I hope and think that such an experience can make people more creative in coming up with solutions. After all, if you're not aware of something, you can't change it."
What is the ECIO Frank Award?
The Expert Centre on Inclusive Education (ECIO) in Den Bosch is committed to ensuring that everyone has the opportunity to study, including those with disabilities or support needs. The Award is meant for students from universities and universities of applied sciences with a disability or support need, who have a good idea to stimulate inclusive education at the institution where they study.
It could be students with a chronic condition or mental health issues, students who are wheelchair-bound, visually or hearing impaired, but also a young person who is a caregiver or a transgender in transition. The winner was announced on February 8. In addition to an award, student Tess Tegelberg from the Delft University of Technology won one thousand euros to carry out her idea.