Election results 2021: what can we say already?
The results are almost final and cautious conclusions can already be drawn. The VVD remains the largest by far and D66 follows as a surprise in second place. GroenLinks, the CDA, and the PVV lose, while Forum voor Democratie rises significantly. Also, probably four new parties enter the House of Representatives. What does all this mean? Univers asked Julien van Ostaaijen, assistant professor of (local) public administration at Tilburg University.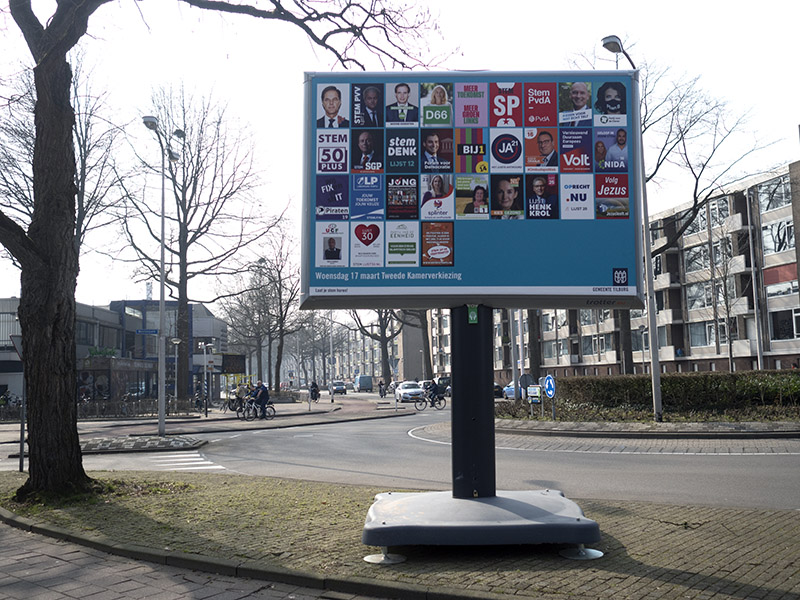 What do you notice about the preliminary election results?
"Of course, the gains of Forum voor Democratie and D66 stand out. They both won more than I had expected. D66 seems to have taken a lot of voters away from GroenLinks, which may therefore be labelled the biggest loser.
"However, it remains difficult to identify a clear loser, partly because politicians always try to put a positive spin on it. For example, by emphasizing that the defeat is not as significant as they had expected.
"What I think is also noteworthy is the BoerBurgerBeweging. They are most likely going to win a seat and I think that is very clever when you see how relatively little attention they have had in the campaign period. It's not easy to get into the House of Representatives just like that, people still have to vote for you.
"This of course also applies to the other new parties JA21, Volt, and Bij1. Admittedly, to a lesser extent because they either already existed or were derived from an already existing party or had fairly well-known leading candidates. Of the four new parties, the BoerBurgerBeweging was, therefore, the least obvious."
Has the Netherlands taken a political hit to the right?
"I wouldn't necessarily say that. The proportions between left and right remain about the same. Forum voor Democratie, JA21, and the VVD have indeed increased, but other right-wing parties such as the CDA, the PVV and 50-plus have dropped. This can also be seen on the left; the SP and GroenLinks have dropped, while D66 and Volt have gained.
"So we see that voters are swinging, but mostly within the right or left camp. They switch parties within that, but not outside it. For example, for a VVD voter a switch to GroenLinks is not likely, and vice versa. So swing voters only swing to a limited extent.
"So it may seem like a lot has changed, but when we look under the radar, the results are still pretty stable compared to previous elections."
With the rise of the new parties, the fragmentation in the House of Representatives has increased even more. What does this say about the Netherlands?
"In the Netherlands, we have few thresholds to win a parliamentary seat. That's important because it gives (small) minority groups the chance to be represented politically. That is a great thing. I consider that more desirable than the political field in the United States and Britain, where it is, de facto, a two-party system.
"In yet other countries, they use an official electoral threshold, that is, parties must obtain a minimum set percentage of the votes to win a seat in parliament, say five or 10 percent of the votes."
What do the election results mean for the formation?
"As always, difficult compromises will have to be made this year. However, I do think that this year it will be a little easier than expected because the VVD and D66 already have a lot of seats together, which ensures that they need fewer other parties.
"It is likely that the CDA will join the two parties in the formation. Depending on the final result, a fourth party will have to join them. Which one this will be, is hard to say. In any case, the larger parties have a lot of choice."