Wesley Spieringhs: 'On the day of the match I feel a lot of tension and stress'
Nightmares, daydreams, and unfulfilled wishes: in the '13 questions' section students and scientists show themselves from a different side. This time: Wesley Spieringhs, Willem II soccer player and first-year student of Economics and Business Economics.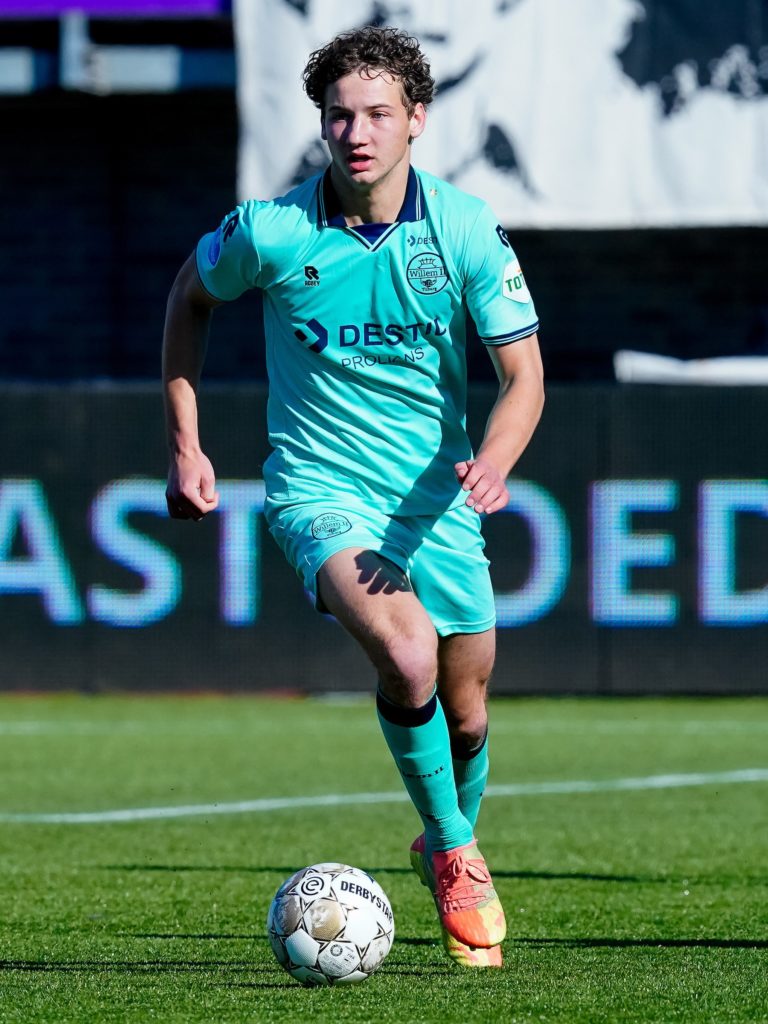 1. Best critique you have ever had?
"I have learned a lot of wise lessons from my father in my life. One of his sayings is 'to dissuade is to recommend'. It indicates that he always tries to steer me in a positive direction. My father has never forbidden me anything, but at the same time, he makes sure that I make the right choices. For that I am very grateful to him."
2. What movie should everyone see?
"Home Alone. I'm not able to recommend that many because I never really watch movies myself. This one, I did happen to see. And like everyone else, I laughed a lot."
3. What is your greatest source of jealousy?
"That's a tough one since I'm not such a jealous person. I'm happy with what I have and how I get to experience everything. Still, if I could choose an additional feature, I would go for a little more speed and dynamism. I'm not the fastest in fact."
4. What are you most proud of?
"I think, at the moment, I am most proud of the fact that I combine my studies with my sport. It takes a lot of willpower and effort at times, but I think it's worth it."
5. What music can't you get enough of?
"I listen to a lot of hip-hop and rap. One of my favorite artists, at the moment, is the rapper Frenna. I also enjoy listening to other music in Dutch, by Maan, for example."
6. What is your favorite country to go on holiday?
"I'm not someone who goes on holiday often or really enjoys holidays. I often stayed home because I had special programs at Willem II. This made it difficult to go on holiday with my parents. Besides, I don't necessarily have to go away. I think it's fine to stay in Goirle and go to the swimming pool with my friends.
"If I go on holiday, I would like to go to a country where it is warm and where you can lie on the beach. At the same time, I also think it's important that there are fun things to see like waterfalls, for example."
7. What aspect do you find difficult about your job as a soccer player?
"I still find it hard to deal with the pressure that comes with the competitions. Especially on the day of the match, I feel a lot of tension and stress. I hope to be able to handle this a little better in the future."
8. What do few people know about you?
"Not very many people know that, outside of my sport, I also study at university. Many have the image that I only play soccer and don't do much else. I don't mind that as long as the people around me know. That's the most important thing for me."
9. What should you actually be doing (more)?
"I could do with a little more rest from time to time. I'm someone who always wants to be doing things and is bad at doing nothing. Instead of going back to playing soccer with my friends, I should listen to my body and get some extra rest."
10. Which other club besides Willem II would you like to play soccer for someday and why?
"I don't have a specific dream club and I'm comfortable at Willem II. I would like to have a good time here and develop myself. Sure, I would like to make a step and go abroad, but there isn't one club in particular."
11. Sea or swimming pool?
"Swimming pool, because I feel it's a little cleaner and it often has a diving board or slide."
12. Cristiano Ronaldo or Messi?
"Messi, because he has huge talents and that's great to watch. Also, I like the fact that he's not big or strong, but so refined in fact."
13. Never celebrate carnival or never play soccer again?
"That's an easy one: never carnival again. First of all, nothing beats soccer and secondly, I don't like carnival or parties in general at all."
Translated by Language Center, Riet Bettonviel