Lara's episodes: student life in Tilburg
Living in lockdown means little is allowed. During virtual lectures or meetings you mainly sit behind your screen. Yet mastery can awaken in limitations. This is the time to start something new. Univers spoke to some of the students who did. This week: Lara Sitner, she started a vlog about student life in Tilburg.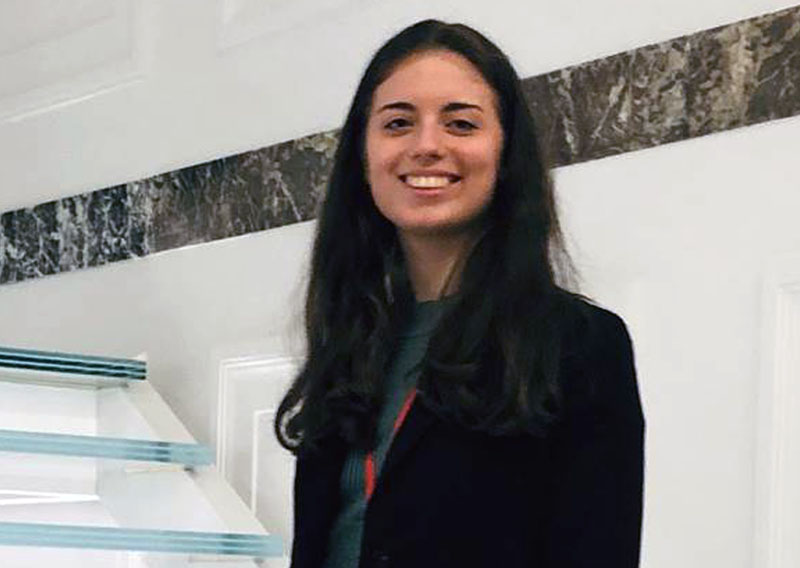 Tilburg is a great student city, Lara Sitner discovered. Not least so for internationals. There are however things you should know about. How do you find accommodation? That you can find great deals on the local market on the Koningsplein on Saturdays. And how do you deal with a mouse in the house? After student life came to a screeching halt due to corona, German student Lara Sitner started Lara's episodes, her own vlog, to explain it all in great detail.
"I came here in 2018 to study global law. When you are from Cologne, Tilburg is not that far away. Tilburg was the first university I visited, and it made a great first impression. Everything was well organized. the campus is very special, and the motto Understanding Society really spoke to me. I wanted to study global law in English, as you can't do that in Germany. Also, there are so many possibilities and master programs afterwards."
Kitchen table
"I am now back in Cologne, I moved back to Germany in March because the rest of the semester was going to be online anyways. In Tilburg I lived in a house with two other students. But it was not much of a community. We only shared a bathroom. There is no living room, and not even a table in the kitchen.
"I started a vlog about student life in Tilburg because I love talking about my studies. Telling people what it is like from the perspective of a student. I already do that as a representative for global law during the open days. I love watching vlogs on YouTube, they were on all the time in the background. I had some ideas in mind for my own vlog. So, in lockdown I thought: Okay, let's do this."
A mouse in the house
"This is not the biggest city, but I want to show people how great Tilburg is, and the university. There is so much that people don't tell you when you come here. For instance, the best places for discount shopping. The local market on Saturday really makes me happy. That was such a great discovery. I want to show that Tilburg is a real student city. Pretty authentic because there are not so many tourists. And the Spoorpark is so nice, you can meet a lot of students there. I also want to do a video on how to find accommodation and student life in Tilburg. And how you deal with little things. Like: I have a mouse in the house, how do I handle it?
"The vlog is also about documenting parts of my life. My experiences are unique, compared to my high school friends. They don't know how life in Tilburg has been. The university is so international, more than half my classmates are international. Most of them have left because of Covid, but we stay in contact through social media like Instagram and TikTok. That's how we communicate now, they are filming all over the world.
"In the beginning I planned on doing a daily vlog. But that turned out to be so much work. After four days I decided to change to once per week. But then I had to move out. I still want to continue the vlog. I filmed a lot of material when I was still in Tilburg, I am trying to edit it now."
Roaring twenties
"What I have missed most is the twenty-minute bike ride to the university. Suddenly student life was very different. I felt the transition from offline to online went really well. From early on there was really a lot online. The biggest loss is not being able to really connect with other students.
"Networking is an important part of studying. Making personal connections, making memories together. I am convinced that once this is over, we are going to socialize even more. Maybe we will even have a roaring twenties again.
"The past year was so different. I am still active in the study association ELSA. The biggest challenge we were confronted with last summer was how to connect with the new students. I am also a student mentor for first year students. I asked one of them if she had ever been to Tilburg? No, I'm still in Colombia. It's insane. These are the people you study with.
"When Covid started happening everything went so fast. I wasn't ready to say goodbye to everyone so soon. I am finishing my bachelors now and am considering coming back to do a masters next year. I already learned a bit of Dutch, but before I come back, I want to learn more of it in the summer."