TOP Week works with shifts, dancing at parties not allowed
New students no longer have to get to know each other from behind a screen. TOP Week is held offline, though there are measures to keep in mind. Students are tied to shifts, which means a party could well end at 7 p.m.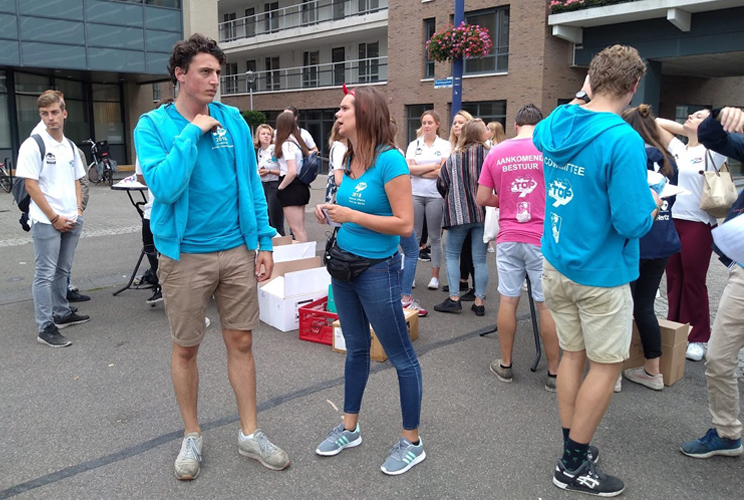 "Everyone is divided into groups, which are then divided into shifts," explains TOP 2021 PR manager Mart Senden to Univers. In the app, participants can see how their groups are assigned a spot.
To reach maximum capacity while respecting the coronavirus rules, TOP Week works with Testing for Entry. At most events, participants must show a valid QR code upon entry. They are then assigned a fixed seat at a table. Standing up to dance is prohibited. Senden: "We've deployed extra security and crew members to make sure everyone will follow the rules."
Two shifts of 1,600 students are expected next Monday for the opening party in the Koepelhal. The first shift starts early, at 4 p.m. At 7 p.m., everyone must leave the hall. "They will then be directed to the Wagenmakerij, where dinner will be ready for them. In this way, we avoid the first and second shifts running into each other," Senden clarifies.
The organization does not expect students to stick around en masse after their shift. "We hear good reports from other introduction weeks that started earlier. Students, I think, are happy that we are able to organize something offline. So regarding the measures, they understand," he thinks.
"But we do enforce the policy strictly. After multiple warnings, your bracelet can be cut, which will prevent you from entering TOP Week. I don't think anyone wants that."
That the introduction week would be held offline again was a given for a while. The only question was what it would look like. "After 1.5 years, students are a bit fed up with all those online meetings." The new students are assigned to fellow students. "That makes it easier to connect and create friendships. You just can't do that with online activities," says Senden.
Translated by Language Center, Riet Bettonviel