'Students really shouldn't have to pay for their food'
What are we eating today? After a year of limited service or even closed doors, the answer to that important question can again be found in many options on campus. Or on the sidewalk at the front, on the Hogeschoollaan. There, in the afternoon, the new larger Mixdishes food truck will be back. Good news for those who love roti, sandwiches, baras, or a chat with operator Ré.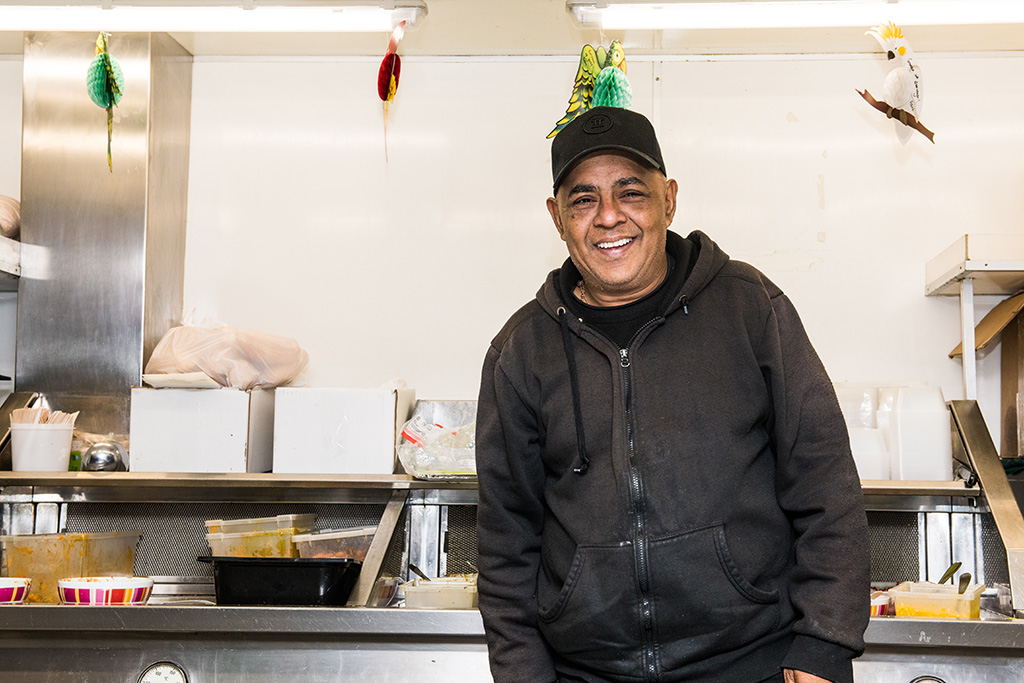 After taking a good look at the place, two students come to order from Ré's food truck. "I thought this was a fish stall…", says one of them before ordering a vegetarian sandwich. Owner Ré Bahadoorsingh, purveyor of roti and other world dishes on campus, acts offended, "No!"
After an absence of almost one and a half years, Ré is back at his old spot on the Hogeschoollaan. He has been a familiar face for years, but his smaller 'Delicious Brood' cart has now been exchanged for a much larger cart, the fish stall. Because of the great refrigeration, he explains, as he fills up the sandwich that was ordered. "You want pepper in it?" – No. "Thought so, you're spicy enough on your own."
Well filled
The most popular meal in Ré's restaurant truck is roti. "I normally sell 600 of these per month. But it will be more now, yesterday I already sold 55. That's because it's cheap and well filled. It has everything: potatoes, beans, chicken curry. And guaranteed to be delicious. I try things out. If they don't like something, I take it out again, until they like everything."
Ré is not too frugal when it comes to filling the sandwiches, rotis, or meal boxes. "It has to be filling. When students buy something from me, I don't want them to be hungry again after 15 minutes. You have to be able to have a sandwich for dinner as well."
Free food
Every day, except on Fridays, Ré arrives at his place in front of the campus in the afternoon. Soon the first customers show up for his world kitchen. Dutch and many international students, and "outsiders" like local residents. "Actually, I want to do it here mainly for the university. That is why I try to keep the prices a bit low. I think students should not have to pay for their food. With the tuition fees they pay, that should be included."
Of course, he can't run a business on free food, but it is always possible to allow customers and bystanders to taste his products. Two female students at the cart discuss how much they dislike tofu. "You have to deep fry that", he explains, "try this". And indeed, his tofu seems to delight.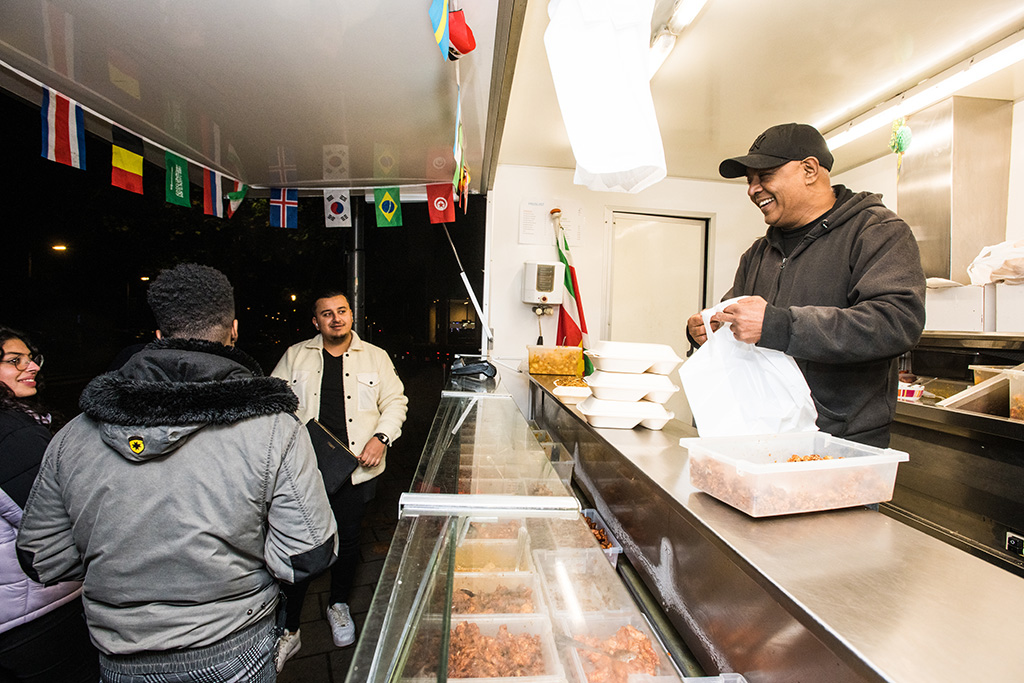 Nevertheless, he did have to increase his prices a little after the first few years. VAT went from 6 to 9 percent, increased costs and a standstill for a year and a half with the lockdown have taken their toll, he explains. "But the situation of students is not very good either. That's why I really advocate for students to get free food from the university."
Sales
Despite the food truck, Ré says he doesn't really care much for cooking. "When I was young, about 13 or 14, I used to cook for large groups at the mosque. But later I went into sales. I worked for large companies, Lidl, ING, and Nuon. But despite the large salary I wanted something else after a while. I also had a gigantic restaurant, after that ended, I started to travel. And when I came back, I saw an ad for this place. I've been here since 2015."
"In sales, when a customer calls, you shouldn't give them the idea that it's something commercial but have genuine interest. When I was manager at Nuon, I worked with large contracts. I didn't call people, they called me. I gave honest advice. If the price was going to drop, I told them: wait a few weeks, it'll be cheaper. If you sell something to someone, you have to feel good about it yourself."
Crying their hearts out
And that's how Ré now also talks to his customers in his food truck while stuffing the rolls. Asking or guessing where his international customers are from, while discussing how exactly they want their food. "How big is your appetite?" "How spicy do you want it?" Not so hot is no problem, but very spicy is also possible. "I can make you some food that will make your toes curl."
That is not without its consequences, he explains. "When they graduate, they sometimes go back home crying their hearts out. I've also seen them come back with their mothers after the graduation ceremony: 'Look, Mum, this is Ré'."