Henriëtte Marsman: 'We throw away smelly books immediately at Books 4 Life'
Nightmares, daydreams, and unfulfilled wishes: in the section '13 questions to,' well-known faces on campus show themselves from a different side. This time: Henriëtte Marsman (61), bookseller at Books 4 Life.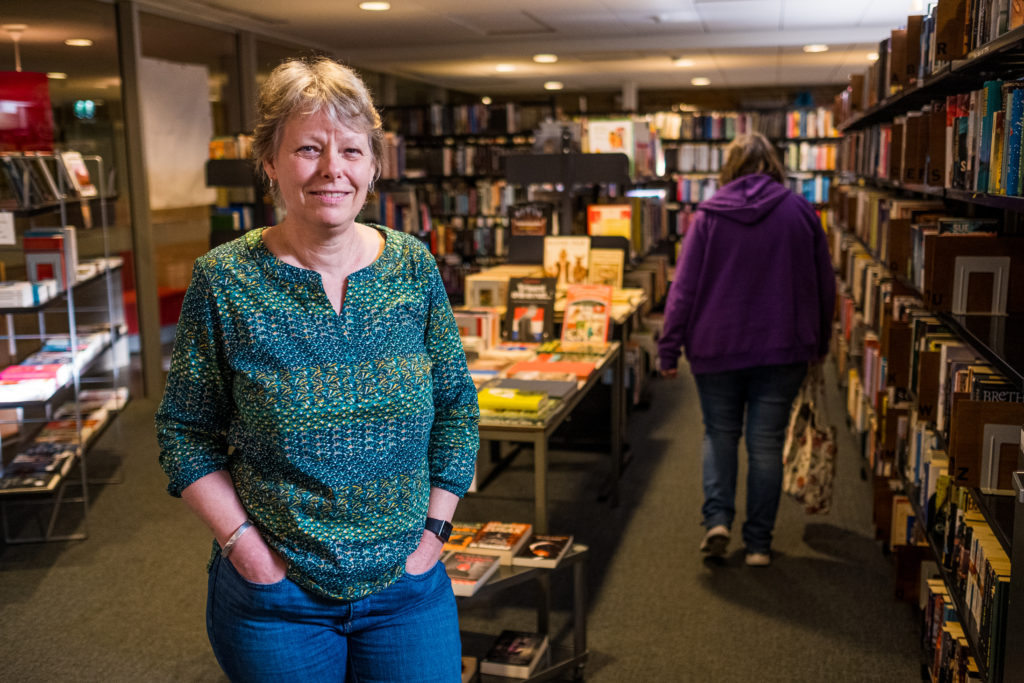 1. What is your favorite place on campus?
"Here, in the Books 4 Life store in the basement of the Cobbenhagen Building (C45, ed.). We sell secondhand books for little money. All books are donated to us, and all proceeds go to a good cause.
"Our customers come from the wide area of Tilburg. For a while, we even had a regular customer who came from Den Bosch on his bicycle. Students also know how to find us. They always go straight to the corner with study books. International students often ask us for children's books. Then you know they are learning Dutch."
2. What book would you recommend to everyone?
"The Land of the Together by Annica Wennström. It takes place somewhere in the north of Norway. I bought it because of the cover, it has a young girl in traditional costume on it. I sent the author a message on Facebook to say how much I liked the book. She responded, which I never expected. She loved hearing about it."
3. What do you find difficult about your work?
"Unfortunately, I was declared unfit for work at a young age. Since then, I do volunteer work. I have been doing this at Books 4 Life for ten years now. Nine and a half years of that I was the volunteer coordinator. Recently I stopped doing that.
"As volunteer coordinator, I was the point of contact for all volunteers. Even if I was out for the day, the phone would still ring. 'I'm sick, can you arrange a replacement?' I've enjoyed doing it all this time, but now I want to focus on other activities as well. I still do one weekly morning shift here."
4. What should be general knowledge?
"Be nice to each other. I think that's important. If you are, you open a lot of doors. Openness and honesty are part of it. I have experience with people who were not honest or open with me. That cost me friendships. That's why I advise everyone: treat others as you would like to be treated."
5. What are you most proud of?
"I'm proud that the store has been around for 16 years. Everyone who works here is a volunteer. Whether you work in the shop for a few hours a week or are a member of the board, everyone is equal. That is real volunteer work. We are also looking for more volunteers.
"My colleagues, I would characterize as well-read people. Former librarians and booksellers who love books. Don't come to work here if you don't like reading. That's what it's all about. As volunteers, we have a nice advantage: we get to be the first to choose from the copies that come in."
6. What should you do a little more of?
"In addition to my work here, I am a visiting parent to someone with a mental disability. I used to visit this person, who does not live in Tilburg, regularly. We would go for a walk, for example. Because of the coronavirus measures, that is no longer possible. Tests for visitors and face masks in the train are too much of a hassle for me. That's why I don't see her much anymore, it's only video calls. As such, that's a godsend, but I would like to visit more often in real life."
7. Your house is on fire, and you can only save one possession. What would you take?
"Then I would choose the book De schat van het kasteel zonder naam (The Treasure of the Castle without a Name). That's a children's book. I have a beautiful hardcover, with pictures in it. When I was about ten or twelve years old, a Belgian television series of that book was shown on TV. I thought it was fantastic. And there were such nice boys in it. I looked up the actors recently, some of them are still nice."
8. What really needs to change in our society?
"Before I was declared unfit for work, I was a nurse. I have always worked with people with intellectual disabilities. Wherever I went, I saw that they were always hidden out of sight. That was the spirit of the time. But in fact, this is still the case. Many people do not have a positive image of this group. I'm not optimistic about their chances of functioning in society."
9. What do few people know about you?
"I am an extra in feature films and TV series. I got into it through my sister, who saw that extras were being sought for the TV series 't Schaep in Mokum. I applied just for fun and was selected. Since then, I acted in other series, commercials, movies, and even in the Sinterklaas news. Unfortunately, the coronavirus has put that on hold for a while now."
10. Suppose you had a time machine. To which time period would you travel back and with whom would you drink coffee?
"Can it really only be one person? I want to see both my parents again. After I was born, I was in an incubator. I never talked to them about that. I don't know what impact that has had on them. As a child and adolescent, I never thought to ask. The moment both parents are gone, those questions come up."
11. A book or an e-reader?
"I have an e-reader, I used it for one holiday. There were seven books on it, I read them all. But the following year I didn't feel like it anymore. Give me a book I can feel and smell. The smell of a book is important to me. At Books 4 Life we always pay attention to that. We throw away smelly books immediately."
12. Fiction or non-fiction?
"It doesn't matter that much to me. I'll read available. As long as I have something to read. Currently, it's a novel by Tommy Wieringa. Sometimes a thriller, sometimes something about World War II."
13. Amnesty International and Oxfam Novib or small charities?
"The proceeds of our book sales go to Amnesty and Oxfam and to unknown charities that we may nominate ourselves. The big charities have many more donors. That is why I prefer the small charities. These are usually initiatives of individuals who have been on holiday in a poor country and see how things are. It appeals to me that they have it in them to take care of that."