PhD researcher Meike helps food banks: 'I hope that in the future food banks will be less about poverty and more about food waste'
By rearranging the warehouse or by better predicting the number of clients, a local food bank can distribute even more food parcels. Meike Reusken, data analyst and PhD researcher at Tilburg University's Zero Hunger Lab, uses her research to improve the logistic processes at the Dutch food banks. An interview about motives, volunteering, and food waste.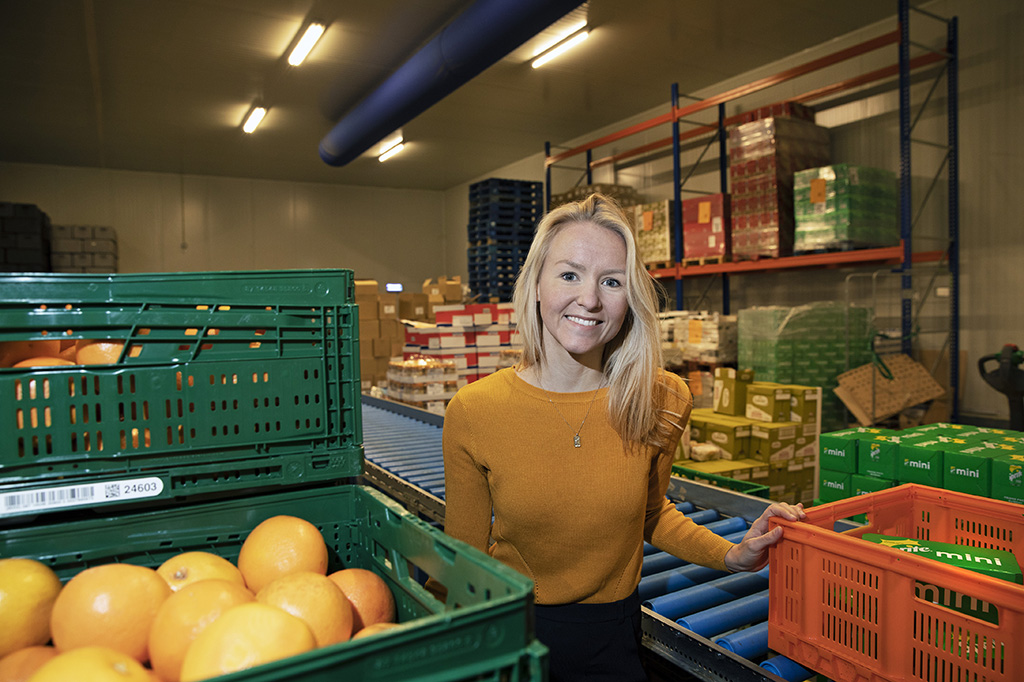 In 2020, 160,500 people turned to a food bank because, at the end of the day, they have too little money left over for groceries each month. That group also includes 35,000 children. Meike Reusken has only been working on her PhD research on optimization in humanitarian aid for a year and a half. Yet she has already heard many sad stories. "They motivate me, even though I sometimes feel pressure to do my job as well as possible."
Brick ovens
"My first encounter with poverty was in Tanzania, where I volunteered for three months after high school. I was there through Raleigh International, a non-governmental organization that employs young people and young adults in development work. Often in remote villages in poor countries. The bus trip to one of those villages took several days, two of which only by unpaved dirt roads.
"One of the projects I helped with was building rocket stoves. Brick ovens that are much more efficient than the open fires on which the villagers used to cook. It has been almost ten years since I was there, nowadays our society looks at this kind of development work in a different way. More and more often, the question is being asked out loud whether these kinds of activities are helpful, or whether they might not actually be harmful.
"Those ovens are still there now, I'm sure. Personally, I think that small contributions can bring about change. All progress in development aid begins with small steps, with drops in the ocean. That's how I see my dissertation: as a small contribution to poverty reduction."
Uncertainty and data shortage
"When I returned from Africa, I started to study International Business Administration and International Economics in Rotterdam. Because I missed the mathematics in these programs and felt like continuing my studies, I took a Master's degree in Econometrics at Tilburg University. Through the company I was worked for as an intern at the time, I came into contact with Zero Hunger Lab.
"The idea of doing a PhD program had already crossed my mind, as I had enjoyed writing those two Master's theses. But I wanted to work in a practical and social environment. At Zero Hunger Lab all that came together. The lab combines research with impact. In concrete terms, this means that we work together with various social partners to solve as many hunger problems in society as possible.
Poverty in the Netherlands
What is it like to live in poverty? What does poverty look like nowadays and what can you do about it? This Christmas period, Univers pays special attention to poverty in the Netherlands. People in need of money will be interviewed as well as scientists. Together, they paint a picture of a problem which, unfortunately, is still a long way off from being solved.
This series was made possible with the help of Quiet 500, an organization dedicated to helping people in situations of poverty in the Netherlands. Do you want to help? Visit the website and see what you can do.
"I was linked to Voedselbanken Nederland by Zero Hunger Lab, and during my first year and a half as a PhD researcher, I was mainly working on getting acquainted. It immediately became clear to me that uncertainty and the limited availability of data are two major problems in humanitarian aid and that the focus of my research should be on these issues.
"The food banks often don't know what to expect, and that affects the number of parcels they can distribute. 'How many clients will we have next year, and how much storage and transportation capacity should we have?' 'How do you distribute the national donations across the country in a fair and optimal way?' Using the available data, I research how to make better decisions in the future."
KNVB of food aid
"Voedselbanken Nederland can be seen as the KNVB of the Dutch food assistance. In total, there are 171 food banks in the Netherlands. These are all private initiatives: distribution centers with distribution counters where volunteers distribute donated food to people who have too little money for groceries. Voedselbanken Nederland coordinates all these locations. It cannot make decisions for the local food banks, but it can set guidelines.
"Together with the other volunteers, I now help out at Voedselbanken Nederlanden, i.e., at the umbrella level. With my background as a data analyst, that is where I can make the greatest contribution. I traveled around the country for a logistics project, visiting the local initiatives. I hadn't realized it beforehand, but there are big differences between all the food banks.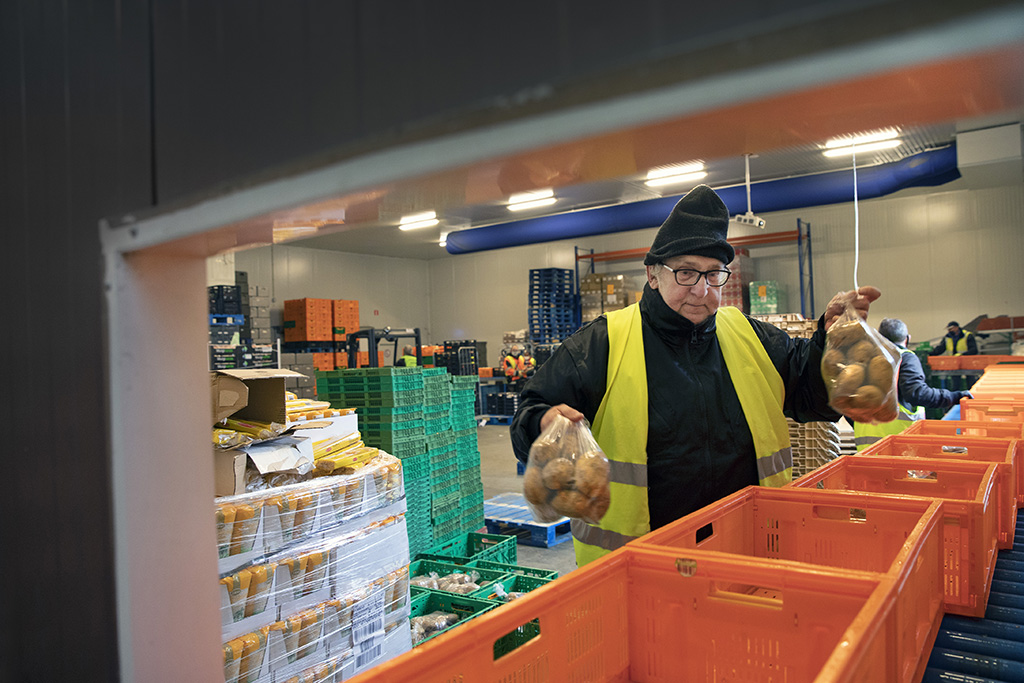 "The way they are set up varies enormously. Some are located in an old school with a lot of small rooms, others have a conveniently arranged warehouse. But the supply also varies. Food banks in rural areas have much more dairy in the food parcels because they are closer to farms. About forty percent of all food banks hand out pre-packed crates, the other half has a shop concept. People can choose what they want there.
"At the administrative level, I help food banks learn from each other and even out the biggest differences. The main goal of my model, which I use in my research, is to be able to distribute as many parcels to as many people as possible. This can be done, for example, by adjusting the storage space, or by distributing the donated food more fairly across the country."
Do not forget responsibilities
"I've had meetings with all the chairs of the local initiatives, so with over a hundred people. On those occasions, I realized how large a group of people it is that the food banks cater for. Those hundred plus team leaders all stand for the multitude of volunteers at their branch and for many more clients. Voedselbanken Nederlanden is truly a gigantic organization.
"I think part of the solution to hunger issues in our country lies in raising the minimum wage. I see that a large proportion of food bank clients are single parents. They do work, but they earn too little to support their families. The target group, about whom I hear a lot from the volunteers at the distribution desks, motivates me enormously. Each and every day. It feels wonderful that I can be involved in something so important.
"I hear stories about mothers who want to hide from their children that they have to go to the food bank or people who come in embarrassed. When I'm doing my work, I often think about them. That's why I want to do my food bank work really well and why my responsibilities as a PhD researcher sometimes fade into the background. If I'm not careful, there will be no time left to publish about my research findings."
Less hunger, less waste
"In fact, there should be at least twenty data experts working at Voedselbanken Nederland. Data analysis, and the optimization that can be carried out afterwards, is extremely important for humanitarian aid. The business world is way ahead in this respect and has long benefited from the knowledge that data systems can provide. NGOs do not yet make sufficient use of this possibility.
"Even if hunger in the Netherlands subsides at some point, I think food banks will continue to exist. It is my hope that by then, even more than now, they will be there primarily to combat food waste. I'm already trying to do my bit by, for example, distributing the donated food more fairly across the country. Efficient use of resources will only become more important, just look at the sustainability discussions. There will be plenty of work at the food banks even after my thesis."