Natasja wants to set up a clothing bank: 'I have a bedroom full of boxes, but I can't get it off the ground'
Natasja Verhoeven-van Rooij has a husband, two sons aged ten and three and an enormous debt. A debt administrator manages her finances. However, she does not let that get her down. In recent years she has tried with all her might to set up a clothing bank for others who are also struggling. It seems an impossible task.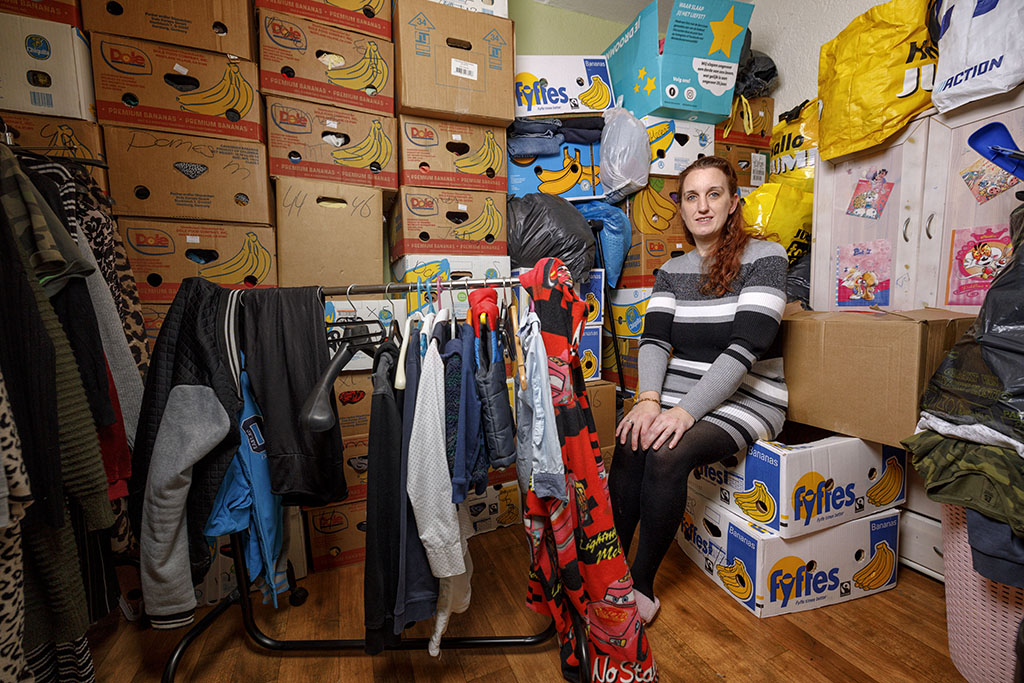 "We are in debt administration and on welfare. I know better than anyone what it is like to live in poverty and so do my children. That's why I want to set up a clothing bank to help other families. I've been working on this for three years, but I've decided that I have to stop. I want this so badly for the people, especially for the kids. But I can't do it alone. I keep hitting a wall. Day in, day out I was only busy with the clothing bank. How long can you keep this up, my husband asked.
"The debts are mine, I already had them when I met Maurice. They were created by the emotional rollercoaster I was in when I became a single mother. My ex cheated on me and then he put me out on the street with my child. That is when I started eating and buying emotionally. I kept ordering new things. That was very easy. If I couldn't pay the phone bill, I took out a new subscription and ignored the bills. I have had three subscriptions."
A very big debt
"I have been in debt counseling before, but I had an administrator who was not so honest. Then I got a budget coach, that didn't go well either. People also started interfering with my life. I had met Maurice, he was still working as a roofer, and they reported that he was often with me. As a result, I lost my benefits. Then we moved in together.
"We got married in 2017. We were able to get a house here in Goirle, so we came back to Brabant. That was also good because my father was very ill. He died afterwards. A lot has happened in a short time. Maurice became overworked, working was no longer possible. We then decided to voluntarily re-enter the debt administration.
Poverty in the Netherlands
What is it like to live in poverty? What does poverty look like nowadays and what can you do about it? This Christmas period, Univers pays special attention to poverty in the Netherlands. People in need of money will be interviewed as well as scientists. Together, they paint a picture of a problem which, unfortunately, is still a long way off from being solved.
This series was made possible with the help of Quiet 500, an organization dedicated to helping people in situations of poverty in the Netherlands. Do you want to help? Visit the website and see what you can do.
"I had a very big debt. I thought it was 35 thousand euros, but due to collection costs on top of collection costs, it turned out to have risen to 65 thousand. Afterwards you wonder, how could that happen? I now have to pay off 76 euros a month and because those debts mainly come from collection agencies, the administrator has been able to arrange that 60,000 will be forgiven after four years of debt counseling."
Where is the best deal?
"We have been in this situation for three years now, it is hard work. We try to make everything as normal as possible, especially for the children. Every Monday we get living money, 100 euros for a week, and every Friday we can go to the food bank. Sometimes we make it, sometimes we narrowly get by. We do our shopping at the Nettorama, Albert Heijn and Jumbo, we always keep an eye on the special offers, where can you buy things the cheapest?
"My mother lives near here and she helps us sometimes, and other people in the area do too. That's why I also wanted to do something for other people, why I want that clothing bank. I only have to make a call and the donations flood in. I have a bedroom full of boxes, all filled with clothes. But I have two kids, I can't set it up all by myself.
"I grew up with my parents' own company. We worked at the funfair, first with bumper cars, later with our own children's planes. Continously building up and breaking down again. There were good moments and sometimes less so, but it was a very nice time. As a result, I am also business-oriented, which is why I do things like setting up a clothing bank."
A pop-up clothing bank
"With my idea I was referred to the De Nieuwe Stede foundation, which is a community center. They think it's a very good cause and want to help with that. Eventually they came up with the offer to set up a pop-up clothing bank. They have a space available where I can put my stuff, but then I have to break it down again in the evening. Because that space is also used for other things.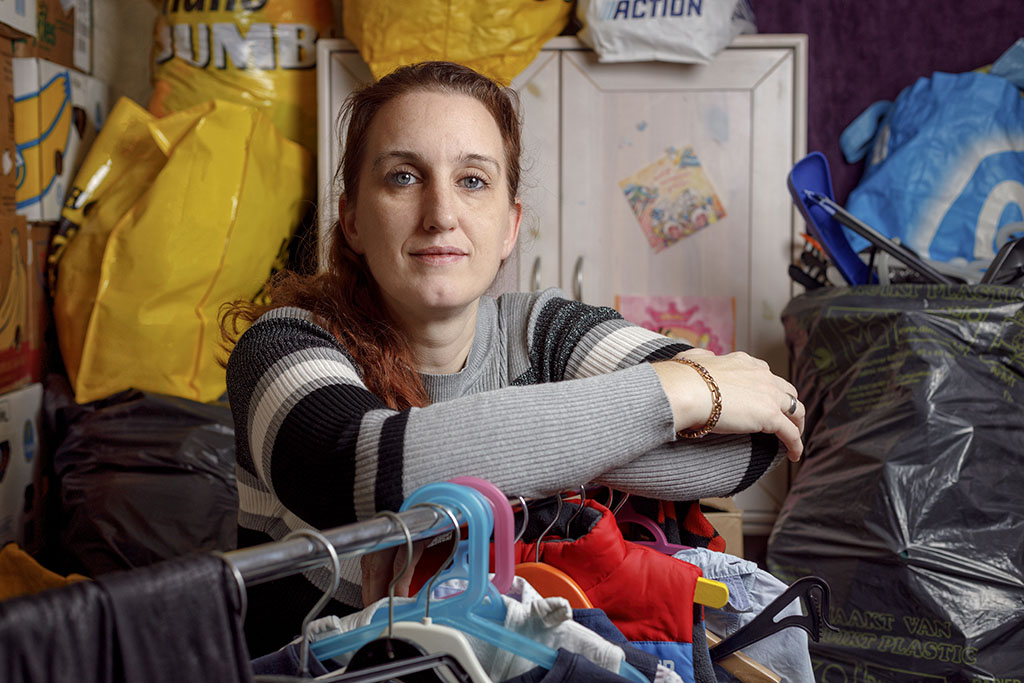 "Building up and breaking down again and again is too difficult for me. I need a fixed space where I can set it all up. And a storage space. In addition, I also want to be able to open on Saturdays, because some people have jobs and are unable to visit during the week. Another problem is that the clothing bank must be set up as a foundation. But I am not allowed to set up a foundation, because I am on welfare. I don't have anyone to help me with that.
"For now, I have stopped with the clothing bank, which does not mean that I no longer care about it. I've put the plan of action on the shelf, but I'm not throwing it away. I really hope someone stands up and takes over. If anyone still wants to help me with this, or take it over, I'd be so happy. I think it's so important. If someone else sets up that foundation, I can volunteer there. It's difficult, I like to help people, I like to do things, but right now it doesn't work."
I know what I can do
"When everything is over, I want to do a new project in the new year. I like doing things with my hands, I can't sit still. I know what I want and I know what I can do. Learning was never my thing, I had a hard time with that. I am a doer. I've volunteered for the past few years, including at Quiet.
"I'm trying to rebuild my life, but it's hard. I have started therapy, which makes me feel good. If I'm honest, I still hope that there will be a building for the clothing bank. That a foundation will be set up that will take me under it's wing, and that I can supervise the project."