Leaving the lockdown in a conga line
The Dutch lockdown and anti-party rules have been lifted from Friday 25 February. About time too, by now everyone is starting to suffer from serious pub withdrawal symptoms. It's time to party and besides it's carnival. Student associations Olof, Plato and ESN traditionally host big parties in celebration of this feast. What are their plans for this year?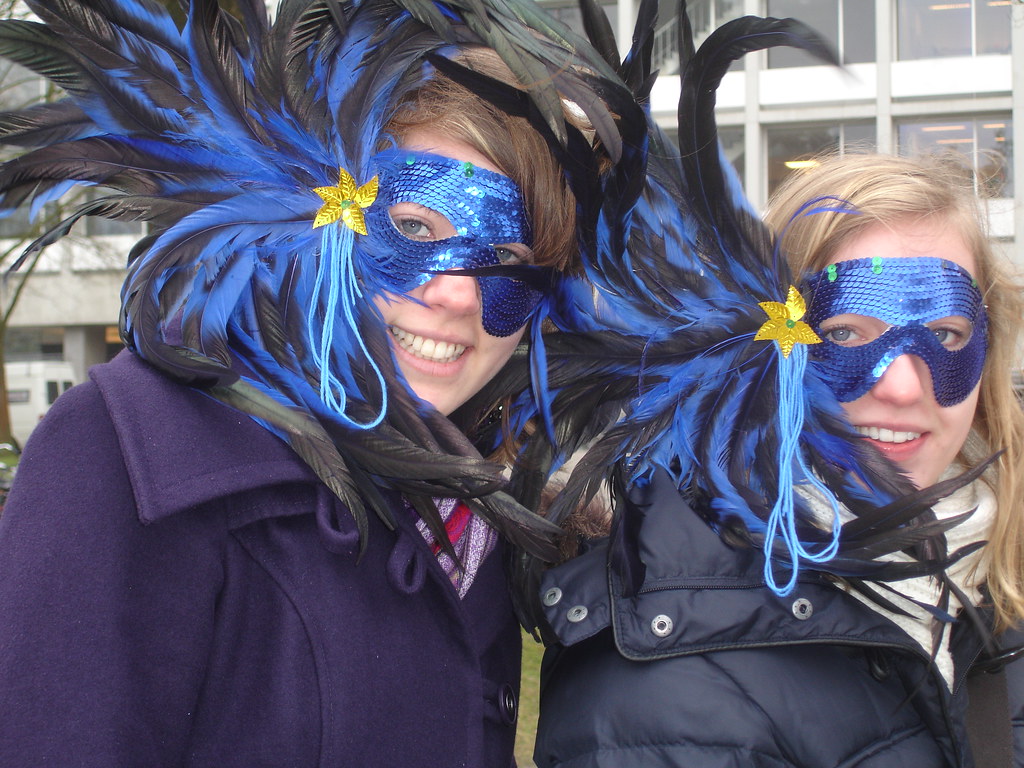 "The timing is fantastic for us, carnival is a good time to stop those measures," says Ilze Nijtmans, board member of Tilburg student association Plato. Thanks to the relaxation of the lockdown, an old-fashioned Plato party will be celebrated on Sunday 27 February from 12.00 pm. "On Carnival Sunday we always have a big open party. Then it is completely full here. Not just with our members, but also with people from other associations, or from the neighbourhood. It is always fun. We are going to have that again."
In that respect, the open partygoers at Plato can even continue where they left off. The last big party at Plato before the last lockdown was also in carnival atmosphere, on 11-11, during the lustrum week. The party committee will not have to look too hard for the decoration.
Too big for the Kongsi house
The relaxations were also celebrated with cheers at the Kongsi fraternity of Tilburg student association St. Olof. In fact, 'we did drink a beer on that', says Kongsi member Max Klijssen. The Monday Kongsi Carnival is a rock-solid tradition at that fraternity. "It started one time with someone's birthday party during the carnival parade," Klijssen knows. And that drink outside grew into a house party that eventually even became too big for the Kongsi house and therefore had to be moved to a big party tent for 1800 people on the Koningsplein.
And that will also happen this year. On Carnival Monday from 3:00 PM to 9:00 PM, another 1,800 revelers will be welcomed in the Kongsi tent on the Koningsplein. These are all people who bought a ticket weeks ago. Kongsi members apparently have good knowledge, or connections or maybe even have a hopelessly positivistic attitude. Because ticket sales for this party already started in January and it sold out very quickly. In addition to beer, there will also be carnaval artists, Klijssen reports, although the names have escaped him for now. "But experience shows that after during six hours of unlimited drinking, it doesn't really matter who is on stage."
Three days of partying with a dessert on the square
A look at the events agenda of international student association ESN immediately shows what they think of the lifting of lockdown. Three consecutive days, from Friday to Sunday, ESN hosts open carnival parties in their café Carpe Noctem. And, because that might not be enough for some, for dessert they also have a party on the Piusplein on Monday, Carnafiesta.
"It is the perfect time for us," says Sven Kwakernaat, vice-chairman of ESN. "Our open parties are a good way to get to know other cultures. And this is an ideal way for our members to experience something of the Dutch culture, of the Brabant culture. Every day is fun, but I personally look forward to the party on Saturday the most. Then you are really in the mood and at the peak of energy."
The Carnival Monday Carnafestia is a new tradition. "It is an outside party on all the terraces of the bars on the Piusplein. We do this in collaboration with all the pubs there. We first did this two years ago and now we want to repeat that every year. Everyone is welcome there too."