Freek van Litsenburg: 'I dream of scoring three world goals in the Philips Stadium'
Nightmares, daydreams, and unfulfilled wishes: in the category '13 questions to' well-known faces on campus show themselves from a different side. This time: Freek van Litsenburg (23), winner of the Tilburg University Challenge with his fashion label Bigger Picture Clothing.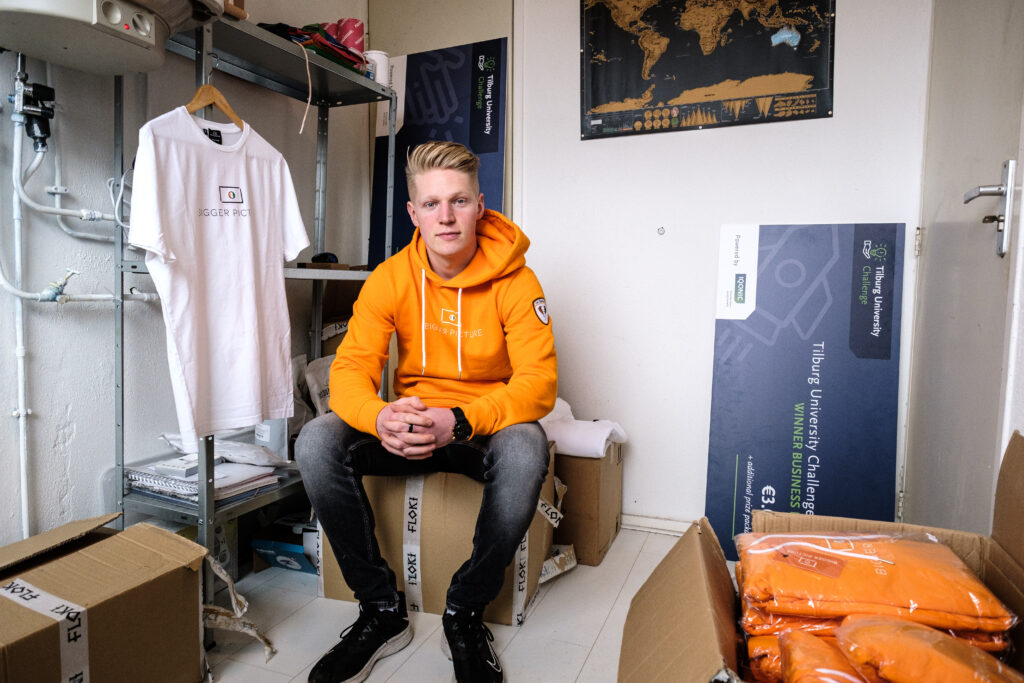 1. If you were not a Master's student, what would you do?
"It's funny you should ask that because I feel first and foremost that I am an entrepreneur and not a student. My Master's degree in Strategic Management is a side project, I see that as something I do on the side. Last year, to get my company Bigger Picture Clothing off the ground, I put my studies on hold. In the meantime, the two can easily be combined. In fact, I am a more effective entrepreneur because I have to carefully plan the hours in which I work and study.
"There is quite a lot of interaction between the study program I am pursuing and my business. As an entrepreneur, I learn the tangible things. I design the clothes myself, manage the social media, and maintain the website, which I also built myself. From my Master's, I take away how to work on the big picture. Thinking about what the market looks like, for example, and entering into collaborations and seeing opportunities."
2. They sometimes say that you learn the most from your mistakes. What is your best misstep?
"I made numerous mistakes when I was just starting out. What immediately comes to mind is the time I went to Portugal to speak with potential suppliers. I can still see it: I had dressed nicely, to pretend that I was not just 21 and already knew a lot about business. The suppliers promised me that they would have the clothes ready within a certain number of months.
"I then immediately communicated that date on my company's social media and to customers. When production in Portugal ran late, people became impatient. 'Where are those shirts?' I learned then that not only should I not take suppliers at their word, but also that rushing does not benefit the company."
3. What aspect do you find difficult about your work or study program?
"The year I started was very busy, but now I manage to run my business on my own. But, I am responsible for everything, from design to shipping. All in all, I have a lot of final responsibility. Sometimes I think, "If only I had started with someone else, I would have half the worries. Of course, my environment cheers or gets fed up together with me, but sometimes I actually just miss a colleague."
4. What really needs to change in society?
"In my opinion, as a society, we need to move toward a different definition of the word 'success.' People see success as something that you can express in money, rather than in feeling good. In line with this, something could also change at the university. I think it's best to implement in the curriculum that it's okay to fail. There is too much focus on excellence and excelling, and not enough on learning by doing and resilience."
5. What should be general knowledge?
"That you need to know who you are before you start anything. Ask yourself the question: who am I? If you leave out answers like '23 years old' and 'I live in Tilburg,' what is left? I think that the answer to that question may change from day to day, but that it is important to determine your own core values and to act from there.
"For me, those core values are progress, connection, and gratitude. These are also reflected in my clothing brand. With the clothing, I want to make others feel positive and, even though that may sound cliché, make society a little less negative. For example, on the card attached to the garments there is always a compliment."
6. Who is your great role model, and why?
"That's my father because he's the one who taught me gratitude and self-reflection. I brainstorm a lot with him about my business. I think sometimes I drive him crazy, all my questions and problems I throw at him. Then he mirrors me, and by voicing my concerns to him, I often find a solution. It's also nice that he regularly lets me reflect on what I've already achieved, so that I don't automatically strive for more all the time, but also reflect now and then."
7. What is your greatest fear?
"I don't know what happened in the past, but both I and my brothers are extremely afraid of wasps. My biggest fear is of being attacked by an angry swarm of wasps. My middle brother did once stick his arm into a coat that had been in the attic for a winter. They had built a nest in there, and he was covered in wasp stings."
8. What is your greatest source of jealousy?
"Like many people my age, I suffer violently from fear of missing out. I'm always afraid I'm missing out on things because of the choices I make, and then I'm jealous of what I'm not experiencing, if you know what I mean. It's usually so unnecessary, by the way. 'You miss more than you experience,' my mother always says, and she's right."
9. What do few people know about you?
"I think I'm pretty spiritual. Not in the sense of horoscopes and things like that, I don't have a lunar calendar either. That word sounds woolly when I say it like that, I'm also just a 23-year-old kid who's in soccer. But I do think that some things happen for a reason. Things are connected, and it's only possible to see the connection in retrospect."
10. What do you daydream about?
"It sometimes happens to me that I'm walking and then twenty minutes later I 'wake up' in a totally different place because I was so caught up in my thoughts. It's nice to visualize good memories or milestones I want to reach. But I also sometimes daydream that I will score three world goals in the Philips Stadium."
11. Farrato (Gambia) or Tilburg?
"Ten percent of the proceeds from my business routinely go to social causes. For example, I work with a project that protects the rainforest in Costa Rica, I did a project in the village of Farrato in The Gambia, and with Bigger Picture I support water supplies in Ethiopia and Tanzania. For the initiative in The Gambia, I spent two weeks on site.
"The way people live there has made a deep impression on me. How they live in the moment is something we in the Netherlands could learn from. We are only concerned with the future and with expectations. But the future is not real, that's just something you think up in your head. Every moment you are occupied with that, you are not really living."
12. Shoes or clothes?
"Although I did a shoebox campaign in The Gambia, I choose clothing. Clothing is just a really nice way to express yourself. When I had just started my business, I really got a boost from wearing my own shirts. It made me feel a lot more self-confident. On a shitty day, I like to wear an oversized sweater, sweatpants and my Schultenbrau socks from Aldi."
13. English or Dutch?
"It's probably because I'm used to it, but I find Dutch a really blunt language. English is more beautiful; you can describe products in a much more romantic way. Bigger Picture's slogan is 'Spread joy and inspire others', that sounds much nicer than 'Verspreid vreugde en inspireer anderen,' doesn't it?"
Translated by Language Center, Riet Bettonviel