How is Fleur doing now? 'My dream is to do development work'
You have got your degree in the pocket, now what are you going to do with it? We asked four recently graduated students from Tilburg University that question at the end of 2020. Now, almost one and a half years later, we speak to them again. What were their first steps into the labor market like? And what has come of their wishes and ambitions so far? This week: Fleur Hasebos actually wanted to go to South Africa immediately after her Bachelor's to do development work. Now she has a Master's degree in her pocket.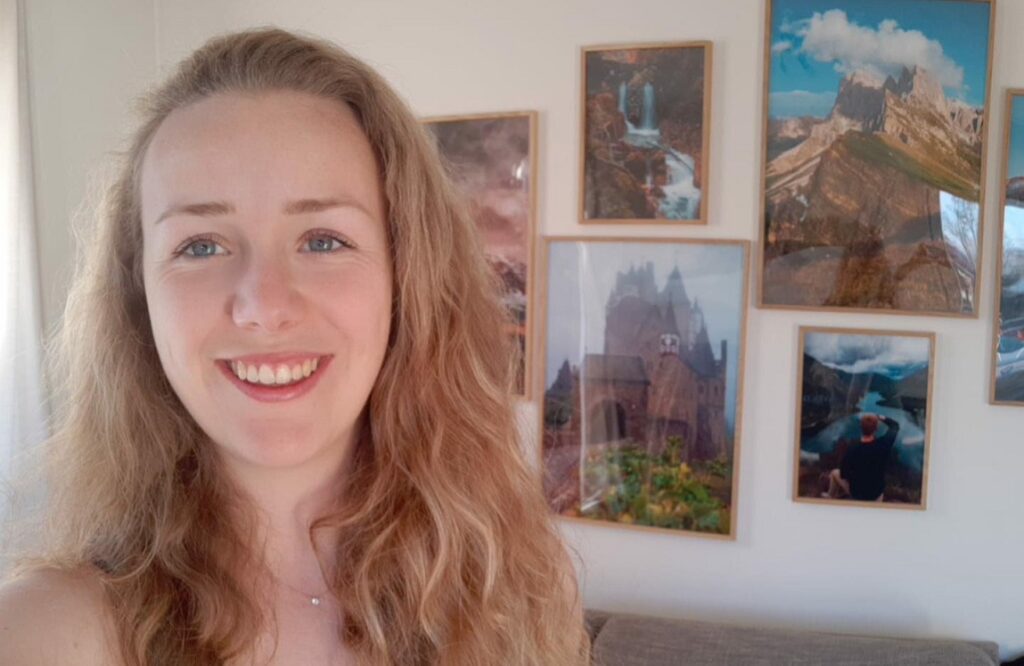 We spoke at the end of 2020; at which time you had just started Your TiU Master's in Communication and Cognition. How have you fared since then?
"Well, I turned in my thesis and it was approved, so my degree is in the bag! Although the direction was changed to Communication and Information Sciences with the track Business Communication and Digital Media. Those cognitive courses turned out not to be quite my thing. Fortunately, I had the freedom to choose my own courses. As a result, it became a more general study program of communication and information sciences."
What wasn't your thing and what did you choose instead?
"A lot of courses were mostly about linguistics, so very language oriented. Text analysis and going into that very deeply. I don't like to focus on that completely. A course on storytelling is more up my alley. So how do I convey a story, instead of how I analyze it. In the end, I mainly chose subjects that I can really use in practice.
"The topic of my thesis is in line with that. I looked at doctor-patient communication from the doctor's perspective. A lot of research has already been done on the experience of patients but very little on that of the practitioner. Together with a few more Master's students, I interviewed ten physicians and wrote my Master's thesis on that."
In what ways do you hope to put your communication knowledge to use later?
"My dream is to work with development organizations and set up projects there. Among other things, that requires a lot of fundraising. Explaining why you need money. Moreover, when you come into a community as a foreigner and outsider, you have to be able to communicate clearly what you are there for. 'I haven't come here to change you or implement my ways. I have come here to listen and discover how I can support you.' Communication is a very powerful tool in this, perhaps the most important tool."
At least that dream of going into development work hasn't changed.
"No that has remained the same. The last time we spoke, I was still toying with the thought of building my life in another country. I wondered how that would go with two 'homes'. It seemed complicated.
"Eventually I came to the conclusion that I would prefer to stay in the Netherlands. I hope that I can eventually be sent to another country for a few months a year on a project basis, via a Dutch or international organization.
"That outcome also has to do with the fact that I have a boyfriend here. He has the same dream. My boyfriend is an optometrist, and he wants to focus on eye care in underprivileged areas, but with a base in the Netherlands. We've talked about it a lot together and would like to make that future wish a reality for the two of us."
How does it feel to be a graduate after all these years?
"Handing in my thesis was both a high and a low point. The fact that I no longer experience this constant pressure makes me very happy. Always thinking: shouldn't I still be doing something? Do I have it all under control? That has finally disappeared.
"But somehow, it also felt like a low point. I was sitting behind my laptop when I handed in my thesis and thought, 'Okay, this is it. So, I'm ending my college days in my room, by myself.' I was going to go see my boyfriend, but he had COVID. It was a conclusion to a very crazy time. My time as a Master's student was really just studying from home. Except for one thesis meeting, I never went to the university."
Do you still live in Tilburg?
"No, not anymore. When I was working on my thesis I moved to Utrecht. Back to the region where I come from and where there is also a wider range of jobs. I wanted to start working so that I would have something to do after my studies.
"I did first look for a job in Tilburg because I had a really great house and was a member of a fun student association. But I think Tilburg is a remote area. A very nice remote corner, but mainly for my student life. In Utrecht, I found a great job in which I would help to set up a community center in a poor neighborhood. I was hired and decided to take the plunge. Fortunately, I quickly found a room.
"Unfortunately, that job turned out not to be what I expected after all. I ended up working mainly in catering with corresponding hours, and I really got tired of that.
"When my trial month was almost over, I quit. That same week I found my current job at the Dutch Probation Service. That's one advantage of these days, there's lots of work. Maybe not immediately at your own level of knowledge, but there is always something to find."
What do you do at the Dutch Probation Service?
"Three days a week, I assist with job applications as an assistant recruiter. I communicate with colleagues who put out a vacancy somewhere in the country and with the applicants. A real communications position but specifically for an organization with social importance. "For now, I'm going to focus mainly on my job. Earn money and then, in the future, hopefully go on a world trip together with my boyfriend. Although it remains uncertain what the world will look like then. But we'll see. This is the dream now. If it doesn't work out, we'll make a new plan."