Singer-songwriter Remme: 'I get inspiration from relationships, break-ups, and getting older'
Singer-songwriter Remme performed at Tilburg University. This summer he will perform at Pinkpop, but first he gave a solo concert on campus at the SG Culture Club. Univers spoke with the singer from Eindhoven: "That guitar teacher gave me the push to sing, play piano, and most importantly, to start writing."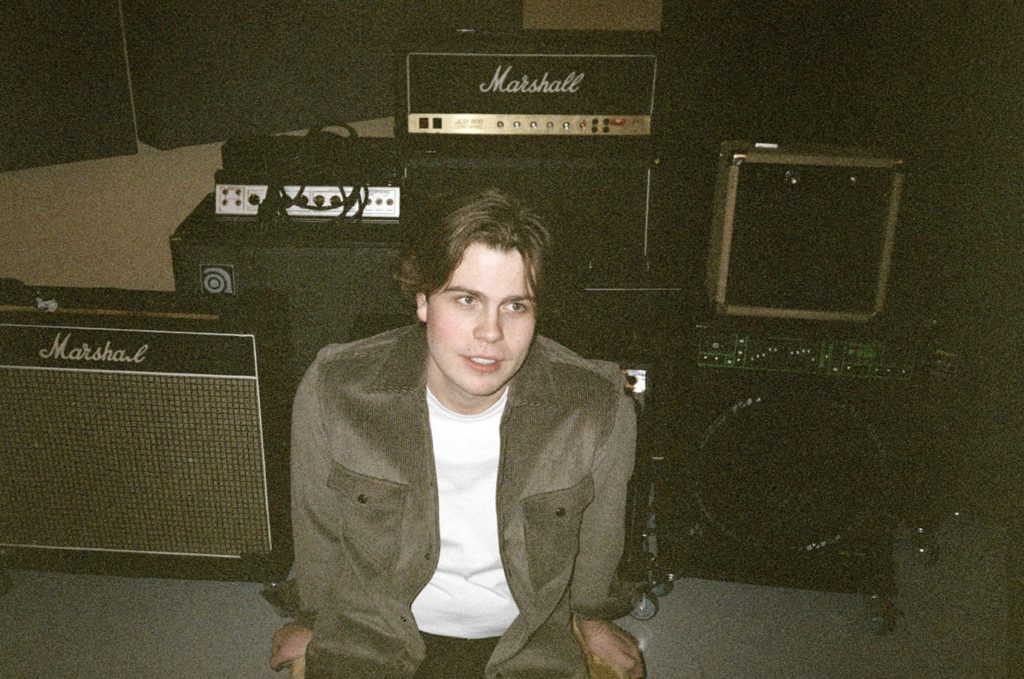 You are from Eindhoven, are you still there often?
"I'm often in Eindhoven when I'm not traveling. I live in Berlin half the time, so I travel back and forth a lot. During the coronavirus pandemic, I was here a bit more. I still feel at home here, I grew up here and my parents live close by as well. It feels like home, but I don't mind being away either."
What is your favorite place in Tilburg?
"A few weeks ago, I was the support act for Amy McDonald at 013, so that's my favorite place in Tilburg."
013 or Effenaar?
"That's really De Effenaar for me though; two weeks ago, I played my first own show there. This was a home game. It's new for me anyway, all those venues. I just started the whole music adventure when the coronavirus pandemic was about to begin. At first, my music could be heard mostly online and on the radio. You then don't have a clear picture of who your target audience is or what people are listening to your music."
You are 22 now, and you have already had two top 40 hits, where did the passion for music start?
"I was about six when I became interested in music; my father played the guitar as a hobby. Also, there was often music on at home; at some point I started to imitate things. When I was twelve, I started taking guitar lessons. There I met my guitar teacher, and I still work with him today. He asked me to write a song at the time.
"Eventually we wrote a whole bunch of songs, I would bring an idea from home every week and then we would work on it together in class. At one point there were so many songs that we thought: shouldn't we record a few? My guitar teacher had moved to Berlin at that time, so we did that there.
"When I was eighteen, Universal Germany came to our studio for the first time. They were very excited, and from then on, we started working together and working towards that first release. That guitar teacher gave me the push to sing, play piano, and most importantly, to start writing."
You have a song called Popstar, is this also what you want to become yourself?
"Definitely! That's what I always dreamed of. In that song, I sing how I felt when I was in high school, I always dreamed of a career as an artist. My ambition has always been to tour the world with my music. Of course, it goes step by step, but that's my ambition in the long run."
If you weren't a singer-songwriter, what would you do?
"I think something creative. Hard to say, I never thought about it. Music happened to me without me making a clear choice; I'm lucky for that. It's not a given that, at such a young age, you find something you totally believe in. I am grateful for that. But if I weren't an artist, I'd probably be an architect. My dad is an architect and I think it's kind of cool to design myself. My mom is an actress, so maybe I would do something with that too."
Where do you draw inspiration from? And do you see these influences reflected in your music?
"Very simply, I get inspiration from the things I experience. I write about all sorts of things: relationships, break-ups, taking chances, living in the moment, and getting older. I recently wrote a song about my parents' divorce, it's all pretty personal stuff. I think a lot of people my age go through the same things. I hope people can give their own interpretation to my songs. My lyrics are pretty straight to the point: it is what it is, how I really feel."
You draw inspiration from Jeff Buckley but also Justin Bieber, an interesting combination. Do you hear this reflected in your music?
"I listen to different artists, music that is mainstream now, but also music that used to be on at home, like Jeff Buckley and The Beatles. With Jeff Buckley, it's mostly the contrast between a low and high voice, loud and vulnerable. With Justin Bieber, for example, it's mainly about how the drums sound on the record. So, you can take inspiration from all sorts of angles and make something new yourself."
What are you most proud of?
"I'm proud of all the music I've released so far anyway. And I had a proud moment during my tour last week, which was the first time I saw my own audience. I played the song Popstar and everyone was singing along. That's when I thought: wow!"
Last month you performed here: how do you prepare for a performance?
"I don't want to rehearse my music in detail, I trust that it will be good. I often like music better when it's not super rehearsed. I like to be very free anyway and to look at what feels right at a certain moment. Just before a show, I like to take a quiet moment in the dresser, take a few deep breaths in and out and then just rock out on stage."
What do few people know about you?
"That I'm a big Star Wars fan, but also that I'm never very nervous before performances. I'm more nervous for an interview like this than for a performance."
Then the last question: what is your favorite gig, or is there a gig you are looking forward to?
"So far, the last show of my tour in Paradiso is my favorite gig. But the most fun one to come is Pinkpop anyway. That was always a dream before, as a little boy I watched the Pinkpop videos, so that's really a dream come true."
Remme performed at the Studium Generale Culture Club last month.
Translated by Language Center, Riet Bettonviel