Despina de Werd: 'Customers like it when a supermarket contributes ideas'
A literature review, experimenting in the lab, or working with SPSS? Tilburg University students write the most diverse theses. In the section Master's Thesis, Univers highlights one every month. This time: five questions for Despina de Werd. She studied Marketing Management and for her research she gave feedback on the contents of shopping baskets of supermarket visitors.

What did you research in your thesis?
"The overall topic of my thesis group, which I signed up for, was about healthy behaviors in grocery stores. A lot is already known about that. For example, the literature shows that many people do not understand or do not look at the nutritional values information on product packages. In addition, they tend to compensate while shopping. If they buy an apple, they also take a bag of crisps.
"We also know that real-time information influences people's buying behavior. For example, that's the information you get from a self-scanner, which shows the preliminary total amount of the price of your groceries. Now it turns out that price-conscious people spend more by using such a scanner because they can see that they haven't exceeded their budget yet. I wondered what would happen if supermarket shoppers were given information about the nutritional values of the products they put in their basket."
How did you handle that?
"Over 170 subjects, divided into five groups, were given a shopping task by me. Unfortunately, it was digital, using Excel. A real supermarket setting could not be arranged. I presented them with fifteen grocery groups, from ice cream and chocolate to milk, bread, and spreads. In each group, they were able to choose from three products, which had different nutritional values and thus were not all equally healthy. 'Healthy' I defined as: low in calories, fats, and sugars.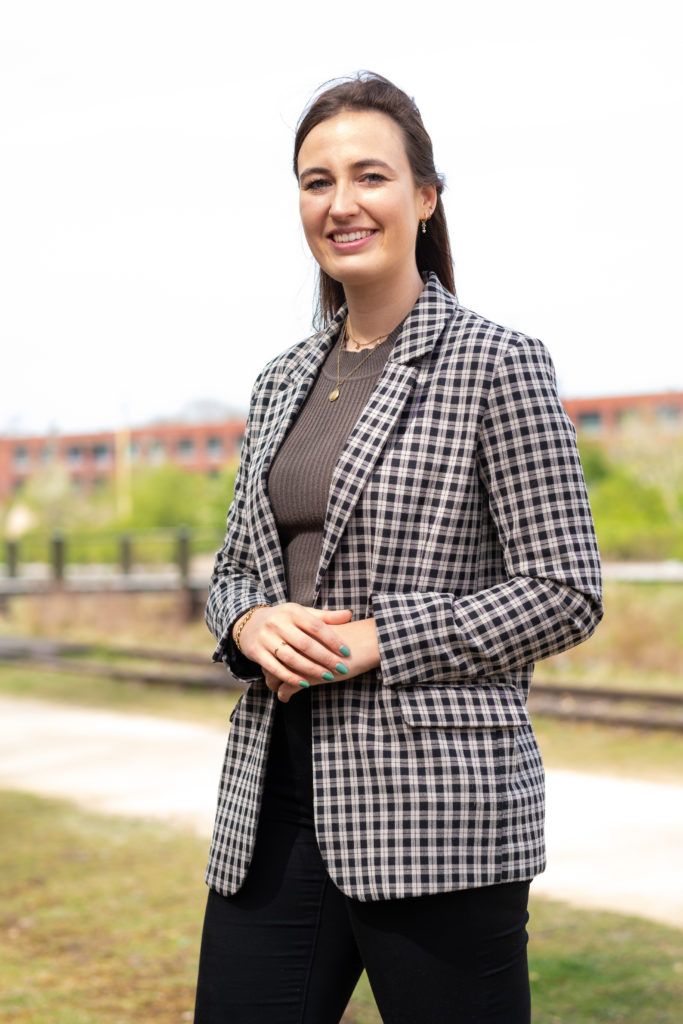 "The first group received no feedback during virtual shopping. The second group was shown the nutritional value of each product. The same was true for the third group, which also received real-time feedback on the nutritional value. That feedback was not the same for everyone. Some received feedback on the entire basket with their choices, while others were shown on top of that what might have included in the basket if they had chosen the healthiest option everywhere. A third subgroup received feedback using the traffic light principle: a red product if they chose the least healthy choice, and green if they chose wisely."
What are your most striking results?
"The people in the third group chose the healthy products, so they really consciously bought healthier groceries. It turned out that they liked being able to see what they 'should' have chosen. I also noticed that the traffic light principle, the use of colors to emphasize whether a product is healthy or healthier, did not matter. On the contrary, that was perceived as less pleasant.
"Moreover, my experiment deviated from the existing literature. Groups of customers who spend a lot or little money on groceries in a supermarket grow closer together through the use of a self-scanner. You can then see the scanner as a warning or, on the contrary, as a permission to buy more, causing them to move toward each other in terms of total amounts. With nutritional information, this is not true. Both customers who were already aware of healthy products and the group that wasn't, bought healthier options."
Based on your research, would you recommend supermarkets to provide real-time feedback on customers' shopping baskets?
"Sure. That would work best if the supermarket shows what the best option is within the product group. Having comparison materials not only ensures that the customer makes a better choice, it also results in additional customer appreciation for the supermarket. In fact, the customer likes it when a supermarket contributes ideas and makes suggestions. So this is not only beneficial for the customer, but also for the store.
"By the way, people often think that supermarkets like to sell unhealthy food products because they can make more money from them. That is not true. The margins on healthier products are high, so it makes no net difference to Jumbo or Albert Heijn whether they sell a healthy or less healthy cake. So by implementing this, they would not lose money."
Do you have another tip for upcoming thesis writers?
"I can advise everyone to talk not only to fellow students and your supervisor, but also to people who know nothing about your subject. I did that with my family, for example. That way, you can test whether your thesis is easy to understand. If someone who doesn't understand all the theories you use, your data, and literature review still understands what your thesis is about, then you've done well."
Master's Thesis
Author: Despina de Werd
Title: Healthier Baskets; Good For You, Better For the Retailer?! The effect of real-time nutrition feedback on the healthiness of consumers' end-of-trip grocery shopping basket.
Grade: 8.5
Supervisor: Barbera Deleersnyder (TiSEM)
Translated by Language Center, Riet Bettonviel