'Can I have some extra gravy, please?' Chef Peter van Gorp has worked at the university for 31 years
Without support staff, there is no university. Univers goes in search of the people who make sure the university continues to function for thirty, sometimes even forty years. We kick off with the story of Peter van Gorp who has worked in the cafeteria for 31 years and has seen many changes. Van Gorp: "Well, in general they are sweethearts, the kids."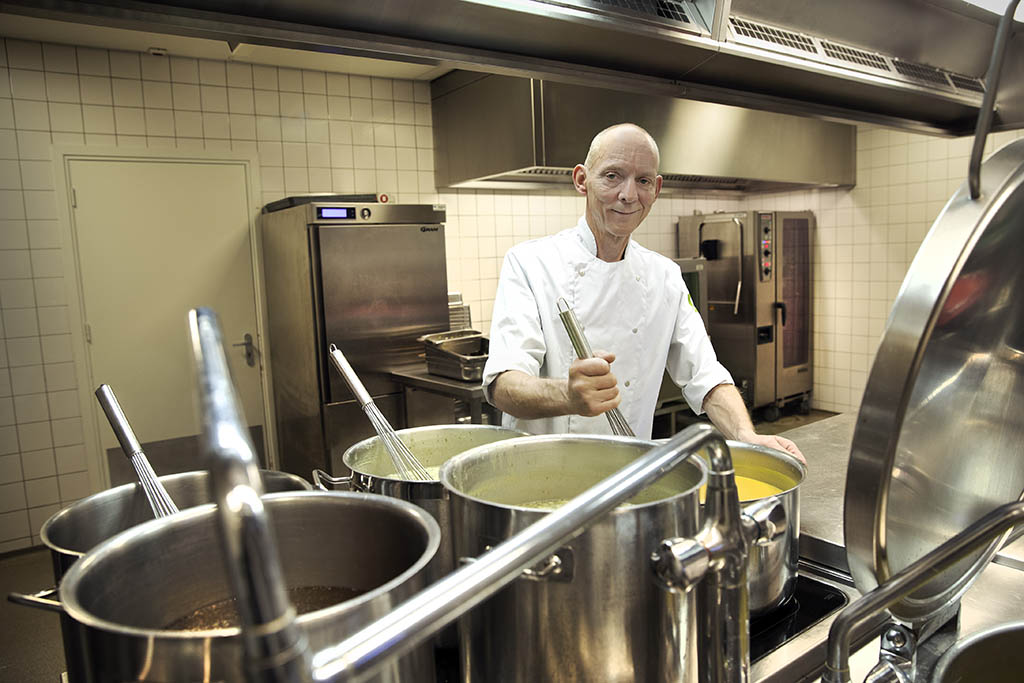 "It's hard to imagine now, but smoking was allowed in the mensa," says Peter van Gorp. "On every table, there was at least one ashtray." Van Gorp (1966), who is consistently called Peer by colleagues, has worked as a cook at the university since April 1991. His mother, sister, and aunt also worked here: in banqueting (parties, celebrations) and the dishwashing room.
He himself was working at a pancake restaurant when he was asked to fill in for a sick cook in the mensa. It took some getting used to, he says when Univers speaks to him in a quiet room next to the kitchen. "There was a platoon of cooks running around here, whereas before I was always alone in the kitchen. But we were preparing about twelve to thirteen hundred meals a day at the time, so it wasn't really that crazy."
Preparing hundreds of sandwiches
In the 31 years Van Gorp has now worked in the mensa, he has seen quite a bit of change. "The university has grown considerably, both in student numbers and locations." He points toward the Hogeschoollaan: "Once upon a time, there was forest there too; I used to put my bike there." The thirteen hundred meals he prepared daily are also a thing of the past. "There are about 450 now, because students have started to spend their money differently over the past fifteen years."
Van Gorp and his colleagues used to provide food at all of the university's locations, such as Grand Café Esplanade and the sandwich vending machines located throughout the campus. "We used to prepare hundreds of sandwiches in the morning, but by now, we have long since ceased to be the only party offering food."
His work has become more physically demanding in recent years. "These days, our stock comes in in large batches. I lug around containers of fries weighing ten kilos and bags of rice weighing five kilos. Once they were twenty-five-kilogram bags, but that was no longer allowed by the Occupational Health and Safety Act." Laughing, he adds, "I'm not the youngest anymore."
The current range offered in the mensa is not only more upscale, but the assortment is also larger. "Vegetarian and vegan menus have become normal. When more international students came to Tilburg, the university did research to find out what they like to eat. I regularly ask students myself. Very simple: what would you like to eat?"
Magic word
There is no disputing about tastes, Van Gorp knows, but you can have a dispute about decency. "It happens quite often that students run up to you to put you down because they don't like something. Then they are in a group and look at what's on the menu, only to make a comment about it just a little too loudly. While I'm standing at a meter's distance. Well, that has changed compared to before."
That doesn't mean they can get away with it. "I say something about that behavior, and yes, I also understand English. With people who are busy talking on the phone or wearing those earpieces, I walk away. I find that disrespectful." Is he inclined to scoop a little extra on a plate if someone asks for it? "Suppose you want more gravy over your meat, there's a magic word for that: 'Please.' Then you just get a little more. Oh well, generally they are sweethearts though, the kids."
To the pigs
"In the kitchen, we work according to the minimal waste principle. If any food is left over, it goes into a special bin: Orbisk. This scans what we throw away and takes a picture of it. That way we know exactly what we need to make less of next time. What we throw away is now processed into biogas and fertilizer. It used to go to the pigs." What product is in most demand by students? "The sandwiches. Those have always done well."
Pushing on all day long
He has the fondest memories of the six years he worked with students in Esplanade. "They did that just top notch; it always ran well there. I'm still in touch with some of them. I really enjoy that. Also to see what became of them in the end."
"Once, there was a girl studying here who had to stick to all kinds of diets. When I was behind the wok in the mensa, I always prepared something special for her. When she graduated I got one of those big thank-you cards from her." He beams. "Yes, I like that. Anyway, seeing people come in here and leave after a few years."
What dish does he himself prefer to make? "Soups and sauces because I like to deviate a bit from the recipe, and I can put my own spin on that." Of course, during those 31 years he has considered working elsewhere. "In the kitchen, it's pushing on all day long anyway. I once had a burnout, then it was all gone for a while. On the other hand, in the mensa, I know exactly where I stand and I don't fancy getting a temporary contract with another employer, especially at my age."
Van Gorp thinks for a moment, smiles, and then says unflinchingly, "I want to achieve my 40th service anniversary here in any case."
Have you been working at Tilburg University for more than 30 years?
Or do you know someone who has worked at Tilburg University for 30 years or more? And who has a great story to tell. If so, please contact the editors of Univers: univers@uvt.nl.
Translated by Language Center, Riet Bettonviel