The history of a book: from bookseller to collector
In the section Telling History, we take a dive into Tilburg University's rich Heritage Collections. This time Ad van Pinxteren, information specialist at the Brabant Collection, talks about the history of book ownership and use.

Researching the history of book ownership and use is often an interesting quest. Much remains to be discovered in this facet of book science. If individual books can be linked to former owners, you can see a web of relationships emerging and, at the same time, gain more insight into the ins and outs of the book world in earlier times.
The collection of the Seminary in Haaren (in Dutch)—one of the Special Collections of Tilburg University Library—houses a wealth of data on former owners and users of books. On the endpapers (both front and back), on the title page, but also still at the beginning of the printed part of a book, you often find handwritten names of former owners. Also, book lovers who wanted to mark their ownership often stuck an ex libris in the front and/or back of the book.
The Haaren collection consists largely of books belonging to persons who were associated with the seminary in Leuven and later in 's-Hertogenbosch. Fortunately, much of that information has been preserved so that we now know who the books belonged to and who donated them to the seminary library.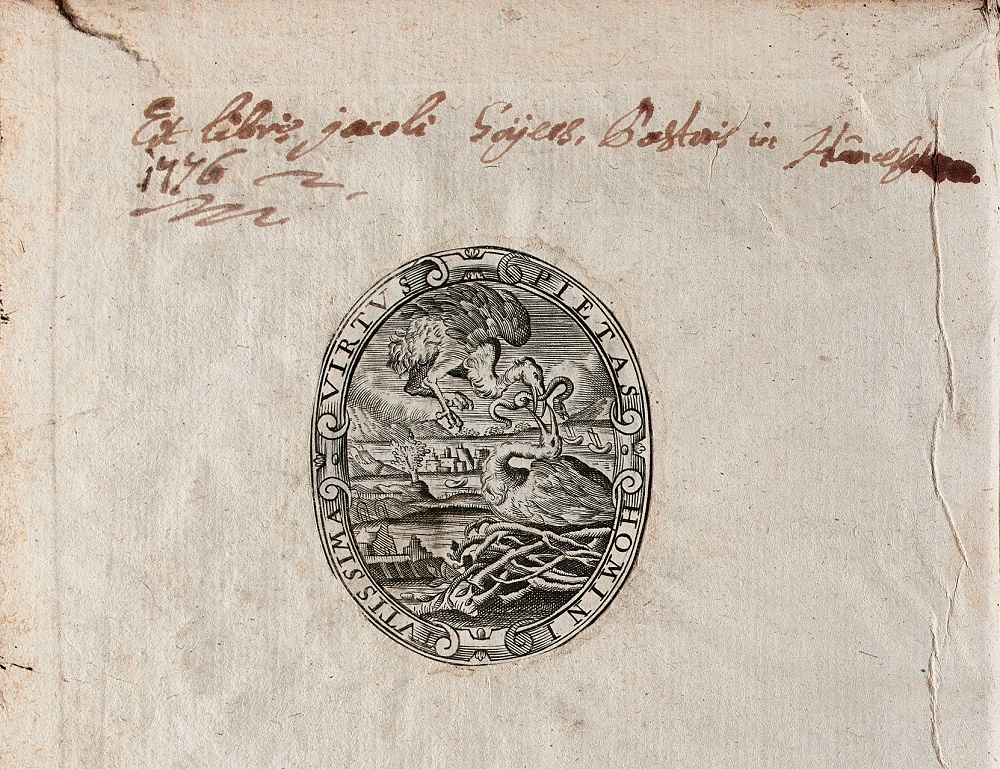 One of the most important collections within this library is that of Canon Jacobus Goyers (1719-1809). Goyers was a versatile person and active as a bibliographer, pastor, and theologian. He did important work for the Bibliotheca Belgica: a large bibliographic survey of books published in the Southern and Northern Netherlands from the fifteenth century onward. So his interest in books was great. He acquired them because their content was in line with his world of thought and the theological events of his time.
His contribution to what, in Tilburg, is now called the Haaren Collection is of great importance. Almost two thousand titles from this collection can be linked to Goyers. We usually find his name at the front of the book, often accompanied by a year and his position: pastor of Humelgem, near Brussels. But this is only part of the information. The presence of other people's ownership marks in Goyers' books sometimes allows us to reconstruct how Goyers went about collecting. For some of the books, it is possible to find out where and from whom he bought them and thus who the previous owner was.
In 1776, the auction of the collection of Jan Baptist III Verdussen (1698-1773) took place in Antwerp. He was a descendant of a distinguished Antwerp family of printers and himself owned a considerable collection of books and manuscripts. Jacobus Goyers, along with many other interested parties, is active in this auction. We know this from preserved copies of the auction catalog from 1776: Catalogus librorum Joannis Baptistae Verdussen (…). This includes—handwritten—the name of the buyer and the auction result for each lot.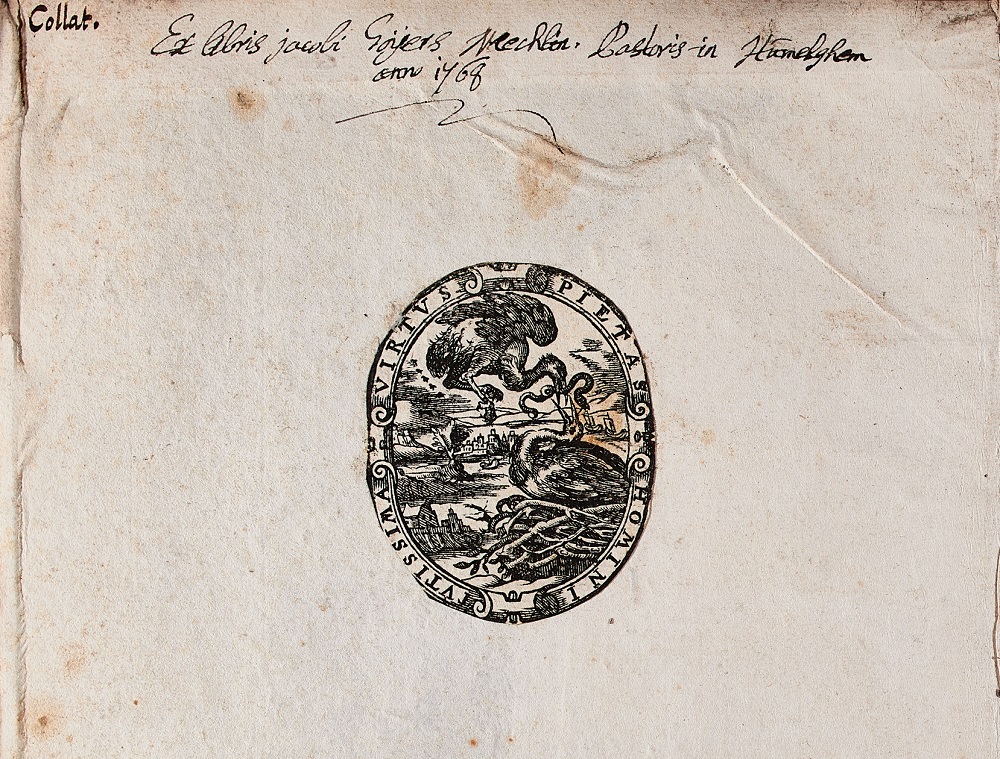 Many of the bidders active at this auction are known by name partly through other sources—as collectors, booksellers or, for example, librarians. And they are undoubtedly acquainted with each other; the same persons often appear in catalogs of other auctions. And, in some cases, their collections also end up at auction. So you can sometimes follow the trail of a book.
In a number of titles in the Tilburg University Library with a property mark of Jacobus Goyers and the year 1776, we also find the ex libris of Jan Baptist III Verdussen: a stork-like bird feeding its young with the edge lettering: pietas homini tutissima virtus. We find most of these titles in the auction catalog of 1776.
The occurrence of Goyers' name in combination with older dates as well as the ex libris proves that he also bought books from Verdussen for his collection earlier. With the help of auction catalogs, ownership characteristics in books, biographical data, and other book history sources, parts of book collections can thus be reconstructed. In this way, these aids form the basis for a LinkedIn group of bibliophiles avant la lettre.
This contribution is by Ad van Pinxteren who works one day a week for the Special Collections of Tilburg University in addition to working for the Brabant Collection.
Translated by Language Center, Riet Bettonviel