Crisis communication: in a disaster, good information is vital
The earthquakes in Turkey and Syria are a catastrophe of unprecedented magnitude. In the aftermath of such a disaster, good communication between aid workers is of vital importance. Lecturer and crisis expert Kenny Meesters knows all about this: "In a crisis, everyone has to make all kinds of decisions quickly."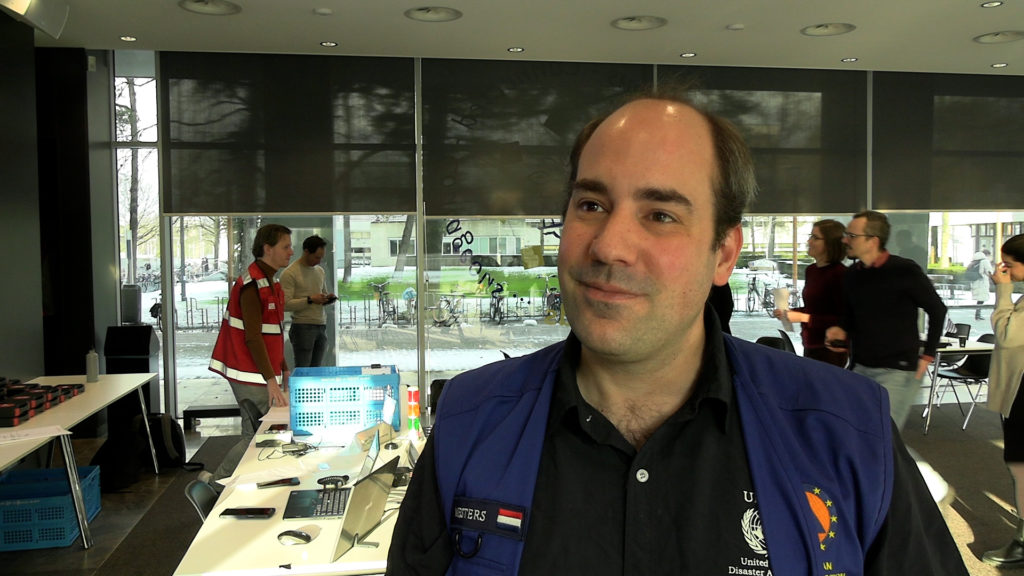 Kenny Meesters is a leading expert in crisis communication research (in Dutch). He works as a lecturer and researcher at the Tilburg School of Economics and Management but is definitely not the man to stay in his ivory tower. As a crisis expert, he has been deployed by the European Union and the United Nations in various disaster situations.
He also developed a "serious game" in which students get to work themselves as emergency workers in a fictitious disaster. Meesters developed this game to make people—from students to emergency workers—more familiar with the challenges of working together and sharing information during a crisis situation. You can see what that looks like in the video at the bottom of this article.
We are conducting research on "strategic and operational information needs," reports the website on the information management study program. That sounds pretty clinical. How does that research play out in the real world of such a disaster as in Turkey and Syria?
"In a crisis, everyone has to make all kinds of decisions quickly. The administrators, but also the people who are affected have to choose: Am I going to flee, or should I stay at home? And the people who live at a distance have to choose: Am I going to send stuff or not? Everyone is suddenly faced with choices with which they are not familiar. In a crisis, information is often not available, or technology fails. So the most important thing is getting the right information to the right people, at the right time and in the right format.
"How can we better 'manage' information during a crisis or major disaster? That's the question I largely occupy myself with. Information management is not only a matter of technology, of ICT and systems. It is also about how people deal with it, so I look at how we set up organizational processes. What do we actually learn from a disaster and the increasing role of information? That's what my research is about."
Not only do you conduct research, but you also work as an information manager in crisis situations. Does that help with your research?
"That is very important. As a researcher, I get to know the practice, not by interviewing those involved, but by working in the field myself. I once started as a volunteer; nowadays I work for the European Union and the United Nations, among others. At the same time, I can put my research into practice immediately. And I can try out new insights on the spot. It's grounded research, open science."
How does your research work out in practice?
"I have a technical background myself, but I have learned in practice that especially the human side is very important in the information process. Technology has enormous potential for sharing the right information, and we can do more and more in that area. But you also have to know how to translate that technology into the way people interact with it.
"For example, many apps are now being launched in Turkey and Syria by IT volunteers about the situation on the ground. It is good that this information is shared among themselves, but this information can also be useful for international organizations such as the UN and the Red Cross.
"I myself did not go to the disaster area for the first time in years—I promised my wife—but thanks to my scientific and practical knowledge, I can still do a lot from here. As a kind of back office for the information management on site."
Does that experience also help your education?
"I can definitely put that knowledge to good use in education. I also encourage students to be involved themselves. In educational projects, I always give them their own roles, for example as an IT specialist, as an information manager, or as a social worker in the serious game I developed. The point is not just to tell, but to do. That's what you learn the most from.
"For me, there is also a strong ethical component to it. It is personally important for me to be able to contribute. And I do that in my own way: this is my specialty and I use it to contribute. Moreover, no one is waiting for a scientist to come and ask all sorts of difficult questions while you are busy yourself."
Kenny Meesters developed a "serious game" in which trainees get to work themselves as relief workers in a fictional disaster. This video was recorded before the disaster in Turkey and Syria.
Translated by Language Center, Riet Bettonviel