Chinenye Oguejiofor writes poetry about the longing for home
The new Campus Poet, Chinenye Oguejiofor, spent the first 20 years of her life in Zimbabwe before coming to study at Tilburg University. Being in her final year of Global Law, it is now almost three years since she last visited her home country. Her poetry reflects on the struggles of being away from home and other issues regarding the international student experience.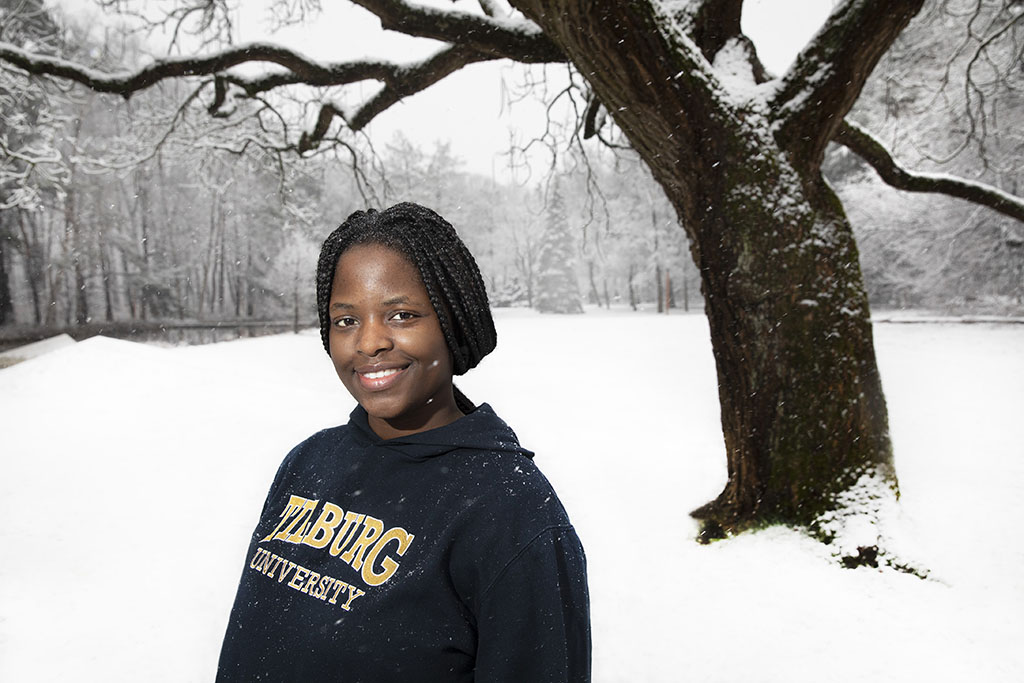 Chinenye is a third-year Global Law student. She hails from Africa, being half Zimbabwean, half Nigerian. Before coming to study at Tilburg University, she spent 20 years of her life in the capital city of Zimbabwe, Harare. Interested in literature already from an early age, she developed a passion to write poems. Her ambitions led her to win this year's poetry competition at our university.
You're this year's campus poet. When did you first realize you had a passion for poetry?
'I think it was between the ages of 10 and 18 within the city that I lived in, Harare. There is an institution called the National Institute of Allied Arts and they have these performances all year round for different things like musical performances, but mainly speech and drama. These were the ones I was interested in. There you go on stage, and you perform poetry or prose or whatever other speech and drama.
'So, I think by the age of 10 that was when I noticed I really like poetry, specifically Roald Dahl's poem Charlie and the Chocolate Factory where they talked about why children need to read more instead of watching television. That was the longest poem I ever had to read but it was one of the best poems ever. I studied literature in high school, and I think that also helped.'
Which writers influence you as a poet?
'Well, besides poems, I like to read prose as well as short stories. My inspiration comes from both poets and authors of novels, so people like Chimamanda Ngozi Adichie, funny enough Roald Dahl, Thomas Hardy, because I studied him in high school, and Maya Angelou mainly because of the female empowerment. When I was in high school you wouldn't believe the amount of people that performed the poem Phenomenal Woman.'
What are the challenges you face as a student poet?
'Sometimes it can be hard to express what it is I want to express without feeling like I'm hitting a nerve or hitting someone's nerve. I'm an international student and we do face quite a few challenges that are not always addressed, are not always given the spotlight. But at the end of the day everyone struggles, so I can't really cry about it. Every international student's experience is different, so they have their own personal, everyday struggles.
'It can be hard to express myself in a way that I feel is not appropriate for the form of writing that I'm doing. If I painted, I could just draw in red to show anger but with poetry you need to choose your words carefully otherwise they'll be misconstrued, and your red can be taken as blue.'
Regarding that you're an international student, is there anything you miss about your home that also might be reflected in your poetry?
'Quite a bit, actually. I do miss home. I miss the noise from home, the way everything's kind of disconnected. If you make an appointment you show up 20 minutes late and they're like 'oh, actually you're too early for your appointment'. Yeah, I do miss home, and I do try to put those little factors inside my poems. Sometimes I'll write a poem with the theme of being home, so that really helps.'
Is missing home the topic you write most about?
'Yes, I think it is. I left home at 20 and didn't have a chance to visit it during my three years here in the Netherlands. I write a lot about home and how it's so different being here versus being at home. It's not the worst thing in the world but the homesickness is very prevalent.
'What I do is for my future and my family's future, so I'd rather be here in a better situation than at home where I would feel somewhat of a burden. Back home, the economy is not great. The Netherlands offers me a lot more when it comes to my future.'
Do you see yourself making a living out of the poetry you create later in the future?
'God willing that the relevant people in the industry hear about my poems or hear about me. I don't think I'm the best at writing poetry, but I do think I do a fairly decent job and if people are willing to pay me, I'm very open to it. I wouldn't mind being noticed, but I don't think that's really my priority.
'It is about expressing yourself, not about making money. I think I would be shocked, if I could make money with writing, because I wasn't really raised in an environment that tells you that you can make money off creativity.'
What are your thoughts on becoming this year's campus poet?
'Oh, it's lovely. It's funny to be recognized every now and then and people coming up to me, especially international students. Some people recognize me here on campus, especially those who were there the night of the performance. I think it's a great opportunity not just for me to express myself on a bigger platform, but also for me to say some of the things that other people want said or need said on their behalf, specifically international students.'
What can we expect from you as this year's campus poet?
'I would like to write more poetry on the international student experience. It's not like I'm the first international student to become campus poet, but since the last one, eight years ago, there's been a huge change or shift in the way international students are viewed and how they view their study in a different country.
'Internationals go through lots of hardships like the housing crisis and the disparity between feeling welcome versus feeling like they are not as connected to people due to covid. There is a whole lot of other changes for international students to deal with.'