SAM or Front? Here's how the parties distinguish themselves
It is election time again on campus. But what can you actually elect? What do the student parties SAM and Front stand for, and how do they differ? 'Our word is not law, but we have impact.'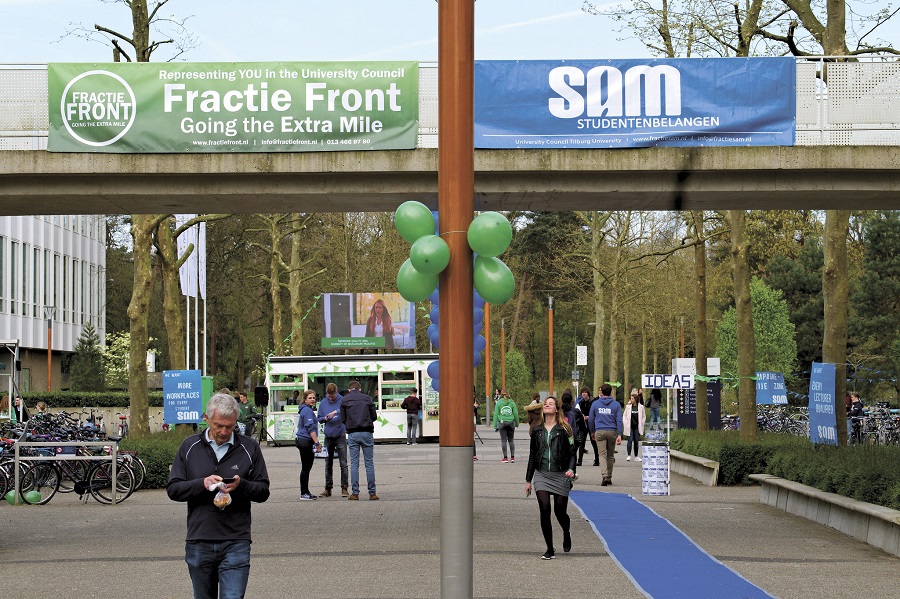 Party SAM, of course, can be recognized by its blue shirts, and Party Front shrouds itself in green. But beyond that? The parties often vote with each other in the University Council (UC) and they both represent the interests of Tilburg University students. Yet, there are clear differences in content.
Front is primarily there for active students who want to go the extra mile so that they stand out to employers with board and study abroad experiences. To ensure that students can get everything out of their time as students, Front focuses on digitalization (online lectures and knowledge clips), internationalization (stimulating knowledge exchange and communication in English) and a lively campus with sufficient study places and sports and well-being.
For SAM, all students are equally important. The Party's focal points are top-level education, excellent facilities, good preparation for the job market, and stimulation of personal development, including beyond study programs.
Initiative proposals
On the mostly overlapping issues, SAM and Front try to distinguish themselves with their own initiative proposals. For example, SAM successfully initiated a matching site (couchsurfing SHT) for house owners and (homeless) students without a room. They also came up with the proposal to prevent reserved study places from being left unoccupied for a half day when someone does not show up.
Front advocates Edubadges, internationally valid certificates that show how and where students have been active. And the Party initiated confidential contact persons in the associations. Earlier, paperless organization within the study and student associations was successfully placed on the agenda to make the campus more sustainable.
So the Parties are getting quite a bit done. They are heard and appreciated by the Board and other Council members, says Suuz van Bommel, Front chairperson. "The cooperation is good. Our role and vision are seen as important. We get all the space we need to make our voices heard. Of course we don't always get proven right, our word is not law, but we do have an impact.'
Lectures on campus, or still from home
An important topic for the election is the digitalization of education. During the coronavirus pandemic, a lot of experience was gained with online education. The Executive Board wants to allocate 2.5 million euros to do something with this structurally. It is the ideal opportunity for the student parties to take a critical look. Front and SAM are both making a case for it.
Front puts more emphasis on hybrid education, where students can also participate in a lecture digitally, for example, and SAM on blended learning, where students play an interactive game prior to a physical lecture, for example, in order to master the material.
Suuz (Front): 'We want to encourage active students to have every opportunity to develop themselves alongside and outside their studies, and, for example, to attend lectures at a time that suits them. For example, if you are an exchange student abroad, surely it is ideal that you can continue to attend lectures? Therefore, we advocate putting lectures online. That is possible; we have seen that in the coronavirus period.'
Mechteld Castel (SAM): 'I had never heard of Zoom before COVID-19, let alone worked with it, and now it is the most normal thing in the world to consult with others online or follow a lecture via your laptop. Regarding the latter, the question is whether it is desirable for all lectures to be streamed live, or whether certain lectures can only be viewed afterwards.'
A vibrant campus
Administrators and lecturers are not so keen on students being able to attend lectures online. They would rather see a vibrant campus, and there will be little of that if students all sit at home on the couch. But the student parties still see more than enough opportunities.
Mechteld: 'There are also plenty of reasons to come to campus. Such as the good opportunities to study here quietly. You still see good occupancy of the study spaces, participation in study groups, or (cultural) activities on campus.'
Joost Lamers (SAM chairperson): 'Personal meetings are inspiring, also when working together in working groups. I like studying in the library, which also ensures that I don't laze about. You don't want to twiddle your thumbs there on a sought-after reserved spot.'
Suuz (Front): 'We also aspire to a lively campus. We don't want to have to attend all lectures online, but we would like to be able to watch back lectures afterwards, for example, a few weeks before the exam period. This will give students the opportunity to prepare even better for exams, while ensuring presence and interaction during the lectures.'
Joost: 'Being able to view lectures again afterwards, we are also in favor of that.'
Elections
University Council and School Council elections are from Tuesday, April 11 to Thursday, April 13, 2023. Will it be SAM or Front? Cast your vote and decide who will represent your interests in the University Council in the coming year.
Clemens van Diek reports on the university council in his columns. He does this on behalf of the university council.
Translated by Language Center, Riet Bettonviel