Dutch as the language of instruction at university? Brake on internationalization causes unrest among international lecturers
'Lecturing in Dutch at a university is very different from having a conversation with the cashier at the local supermarket,' argues Assistant Professor Nadine Braun. She and other lecturers worry about the brake on internationalization: 'Will we soon have to lecture in Dutch?'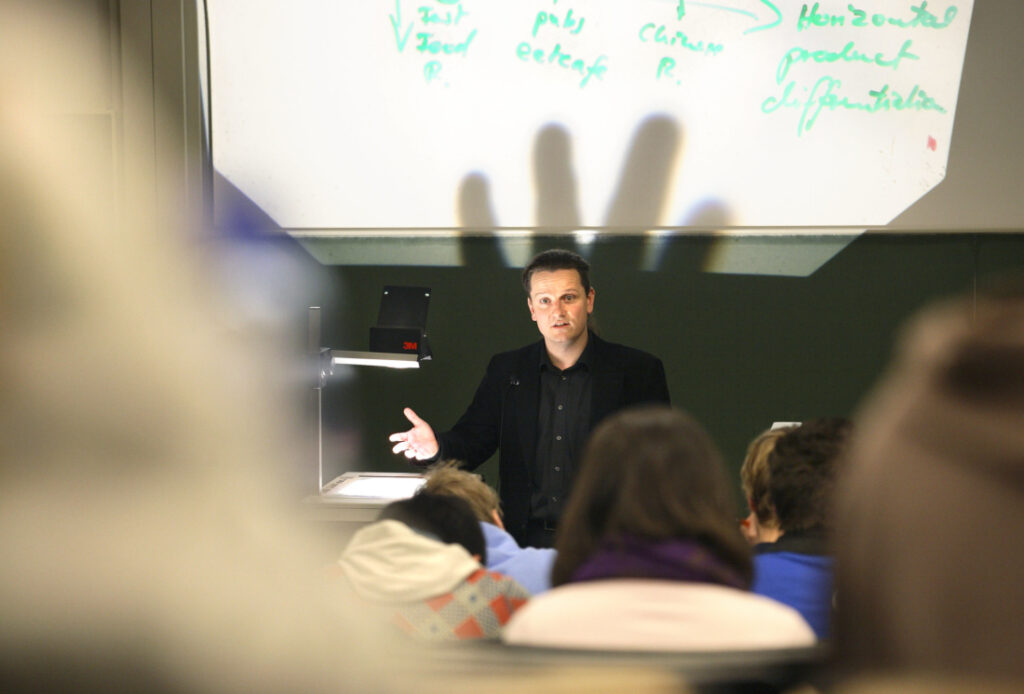 The quality of higher and scientific education in the Netherlands is deteriorating (in Dutch), administrators of fourteen universities and eighteen organizations warned earlier in a letter to the AD. Due to, among other things, excessive student numbers, students receive little personal attention from lecturers.
These student numbers create further problems: for example, many students cannot find housing in the city where they are studying. In addition, certain programs are less accessible to Dutch students due to the high enrollment numbers. Members (in Dutch) of the House of Representatives see the high numbers of international students as a major cause of the problems. To address the bottlenecks, a majority wants an end to the high numbers of students from abroad.
Dutch as the language of instruction
One way to keep international students out is to change the language of instruction. International students tend to enroll in English-taught programs. By focusing on programs in which Dutch is the language of instruction, presumably fewer international students will enroll in these programs.
Independent MP Pieter Omtzigt recently filed a motion on this issue. Omtzigt argues that universities should embrace Dutch as the language of instruction. According to him, the law on this is crystal clear: 'There must be a compelling reason to teach in English. Hiding behind the argument that the law is not clear now is not an option. There must be education in Dutch, period.'
Yet far from everyone is enthusiastic about these plans. In a recent TSHD School meeting, Assistant Professor Nadine Braun expressed her concerns on behalf of List TSHD. According to Braun—who herself is German—the brake on internationalization of education is causing unrest among international lecturers at Tilburg University. They wonder if international staff will soon have to give lectures in Dutch.
Unrealizable expectations
Speaking with Univers, Braun explains their concerns: 'It's normal to learn the language of the country you live in. But offering academic education in a language that is not your native language takes a lot of time and practice.'
According to Braun, lecturers must have a good command of the language in which they lecture: 'It is not beneficial for the quality of education when lecturers have insufficient command of the Dutch language. As a lecturer, you are an expert in a certain scientific field. An excellent command of the language is necessary to explain complex material to students.'
'Students are not lab rats'
According to Braun, an average language course does not adequately prepare you for that. 'I have taken several Dutch language courses. For me it is no problem to read, write, or have an informal conversation in Dutch.
'But lecturing in Dutch at a university is very different from having a conversation with the cashier at the local supermarket. In lectures and seminars, it has to be about the content of a subject. That is not the right moment to practice your language skills: students are not lab rats,' she explains.
Temporary contracts
Still, Braun does not rule out eventually lecturing in Dutch. But that would require some structural changes in the university's policy: 'Scientists from all kinds of countries come together at a university to do research. Lecturing is part of their duties. If international employees are expected to do this in Dutch, they need to be given a future perspective at the university.'
By this Braun is referring to her colleagues on flexible or temporary contracts (in Dutch): 'It is quite an investment to master a language well. You can't expect employees to learn the Dutch language if they have to leave after two years. The prospect of a permanent contract changes things.'
Development opportunities
According to Braun, employees should also be given the opportunity to develop their professional skills during working hours: 'It is by no means feasible for all employees to take a language course after an eight-hour working day. That increases the workload. It is much more effective to give employees the opportunity to develop during working hours.'
'When a certain amount of 'development time' becomes available, international employees can use it, for example, to take a Dutch language course. Employees who already have a good command of the Dutch language can take other development courses during that time,' she explains.
'You can't expect employees to learn the Dutch language if they have to leave after two years'
But more is needed, according to Braun: 'It would also be a good idea if the university organized regular meetings or events where researchers could discuss scientific research in Dutch. Not much depends on the content of such a meeting, but it is a great opportunity to practice the language at a professional level.'
She herself envisions a reading club or working group: 'I would love to meet regularly with a group of people and talk about scientific literature in Dutch.'
Translated by Language Center, Riet Bettonviel