Paula: 'Because of long covid, I am capable of less and less'
Because of long covid, Assistant Professor of medical and clinical psychology Paula Mommersteeg (1976) is forced to rest lying down several times a day. 'Then I put a mat on the floor of my office and hang a 'do not disturb' notice on my door.'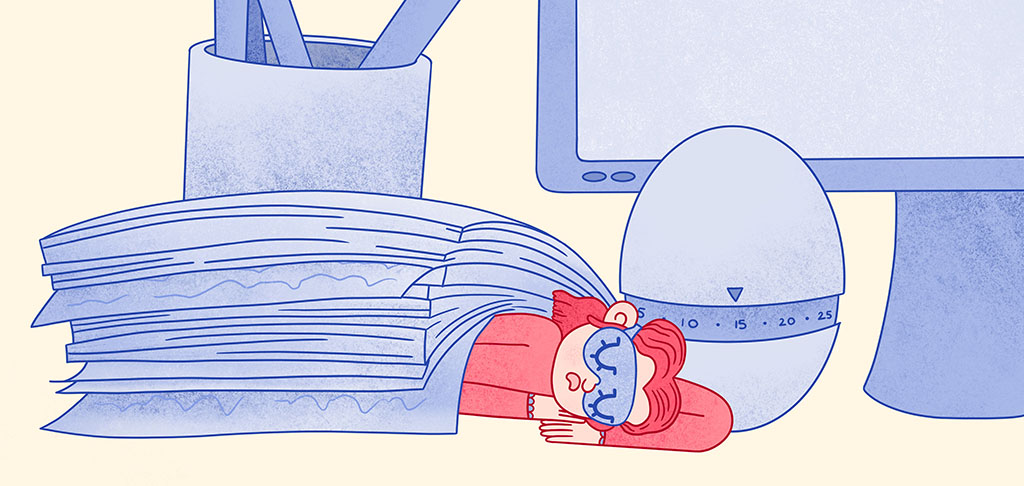 'It was March 2020 and while lecturing, I felt a kind of muscle pain in my body. I didn't think anything of it; it must be stress, I suspected. The following day, the Netherlands entered its first lockdown. The following week I lost my sense of smell and taste. A friend pointed out to me that that is a symptom of COVID-19. Then that must be it, I thought.'
Noise stoppers
'That first coronavirus year was a weird one, of course, partly because of the mandatory working from home. I didn't like that. I thought it was because I just wasn't very good at working from home, or because I missed my colleagues. I also couldn't handle stimuli very well anymore, so I bought noise-canceling headphones and noise stoppers.
'I started walking or running outside on a daily basis, but at one point, as an experienced runner, I could no longer run three kilometers without a break. I was also no longer building up my fitness. It was a weird kind of energy loss that I couldn't place.'
Getting over complaints
'In September, fortunately, we were allowed to return to the university to work. But when reading papers and during digital meetings, I couldn't quite manage to keep my attention. When 2021 started and almost a year later, I assumed it must be burnout. After all, how could it be that my colleagues could concentrate on work, and I still couldn't?
'I didn't think about long covid. On Twitter I followed people with long covid, but their complaints were so severe that I didn't recognize that in myself. And I had to get over some of my symptoms, I figured. Like: well, just a little more effort regarding my concentration, and I'll go for a walk later in any case because I just want to. The only things I found really weird were my shortness of breath and increased heart rate. If I walked up the stairs, I was absolutely exhausted. But these were still crazy times, so I credited my symptoms to that.
'After a while I couldn't do it after all, after which the occupational health physician reported me sick for half my working hours. Slowly I felt that I was getting stronger mentally, however, physically it lagged behind. That's why I wanted to train with a physical therapist. He recognized my symptoms and said he had been seeing them in long covid patients for two years. Then the penny dropped for me, two years after my first complaints.'
Tired of headaches
'On Mondays I trained for an hour with the physical therapist: ten minutes of cycling, ten minutes of walking, especially not going over my limits. Tuesdays would then be a write-off. Then I would be completely worn out with headaches and nausea. I couldn't concentrate at all.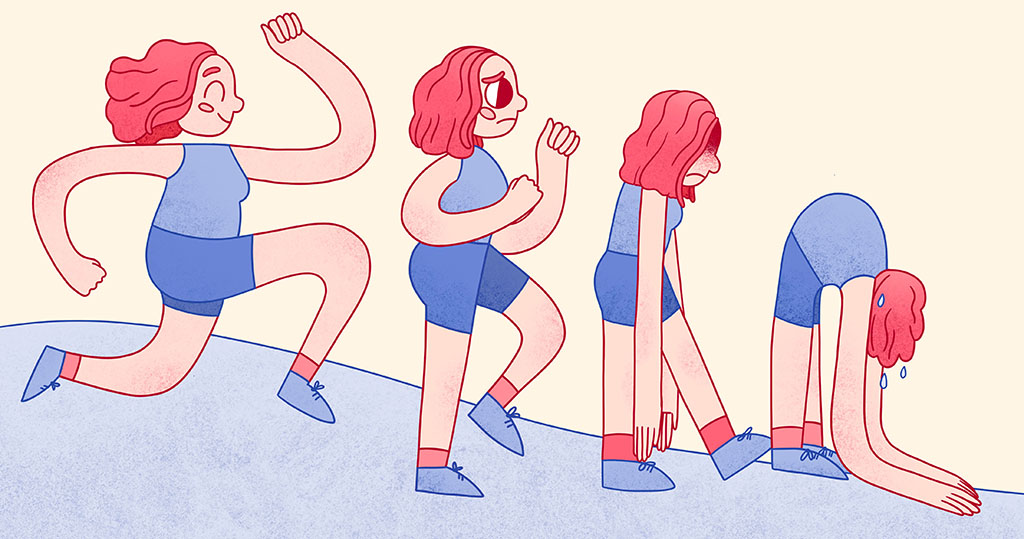 'In addition to physio, I also went to an occupational therapist. I also checked with a coach at the university to see if there were any work-related complaints. There weren't. There are definitely stressful things in my job, but ultimately I just really like my job: I enjoy using my brain.'
Mat for lying down in office
'A friend drew my attention to Annemarieke Fleming's book, Je vermoeidheid te lijf (overcoming your fatigue). Here, I read that everything creates stimuli, including fun things. I see it this way now: my battery is only charged to a limited extent. As a result, I have little spare capacity and so I easily run out during the day.
'The only thing that helps with that is to regularly recharge the basic capacity of my battery. There is only one way to do that: resting lying down. In my office at the university, I have a mat for lying down. About twice a day I put that mat on the floor between my desk and the door. On the outside of my door I stick a 'do not disturb' notice so that my colleagues know that I am resting for 15 minutes.'
Figure it out for yourself
'Over the last three years, I have actually been capable of less and less. So now I'm not building up but figuring out what is an acceptable level of work for me. From there I can hopefully rebuild. How I'm going to do that and who can help me with that? No idea.
'If only there was a clear instruction of how to handle this situation. Unfortunately long covid is relatively new, really good research is not done on it in the Netherlands, so the general tendency is: figure it out for yourself. Even my family doctor said, 'I don't understand why you're here because I can't do anything for you.'
Core tasks only
'My weeks I plan ahead. Then I see if there are intense things in a week. I can concentrate for about half an hour to three quarters of an hour, then I have to take a break. Take, for example, a two-day conference where I give a presentation myself. I have to look at that carefully in advance, take breaks, make choices, and especially cut out a lot of activities.
'I have had to cut back much of my work has already. Almost only my core tasks remain. Participation in a committee or something like that is no longer possible. At the moment, I do little research, I hardly publish anymore: my energy mainly goes to lecturing. I really have to stop and go home around two or three o'clock in the afternoon, even I'm in the flow. Once at home, I also lie down for 15 minutes twice to rest.'
Limping octopus
'I miss my body, for example running a few times a week. Most of all, I miss my brain. I compare my brain to an octopus whose tentacles shoot in all directions to gather and combine information. I never had to worry about that because my brain just always did it. It's my capital. Now I am an octopus with two tentacles, one limping. My capacity is just limited. Actually everything is less now, which is frustrating.'
Here and Now
'My boss, HR, and the occupational health physician are very supportive, which is very pleasant. I am very happy that I can still go to work. In that respect, I count my blessings because there are people with long covid who lie in bed all day with the curtains closed. My situation has not changed for some time. When colleagues ask how I am doing, I have no news to tell them.
'I don't think too much about the future; that doesn't do me much good. That's why I just think in the here and now because, despite everything, I see it quite positively. I still enjoy my work and a lot of things outside of it.'
This interview is part of a diptych on long covid. Next time, you'll read the interview with a Public Administration student struggling with long-term coronavirus complaints.
Translated by Language Center, Riet Bettonviel