Carin Verhoeven: 'Professors tried to get free coffee'
Restaurant manager Carin Verhoeven has been a familiar face on campus for 43 years. She started as a coffee lady and then worked at various university catering locations. 'Former Prime Minister Ruud Lubbers came every Thursday to buy one 60-cent currant bun.'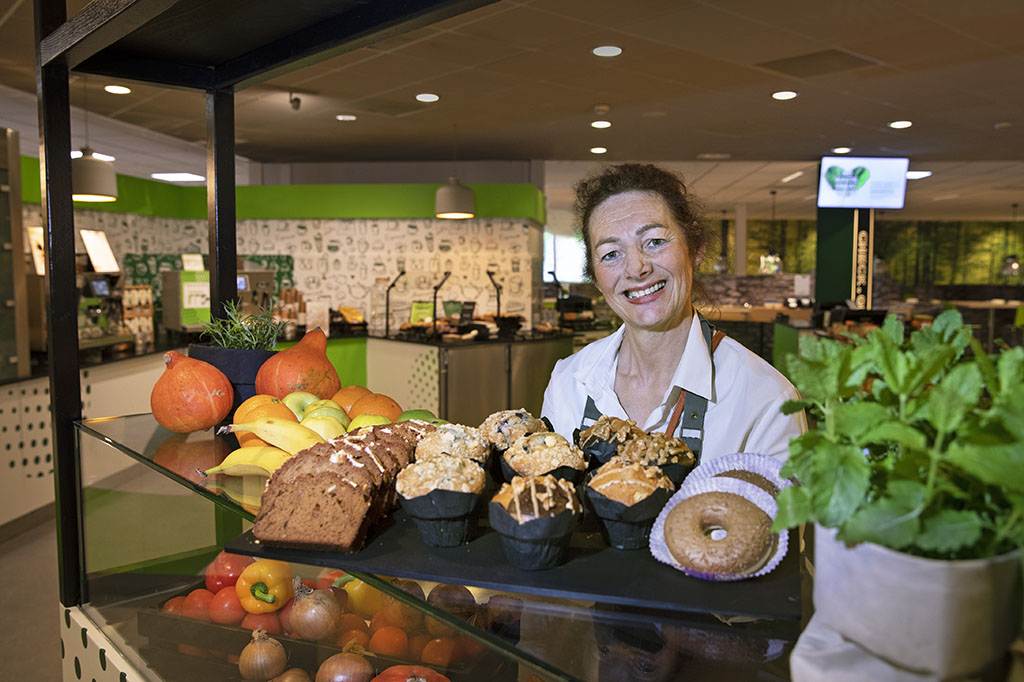 'This building wasn't here in 1979,' says Carin Verhoeven, shaking her head as she reports to the editorial floor of Univers magazine after her workday. It is May 1, Labor Day. A perfect opportunity to talk to Verhoeven about her more than four decades at the university. Well, what should I tell you, she asks somewhat uncomfortably once she's seated. Something to drink she turns down.
The cold side
She is one of the most familiar faces on campus: Carin Verhoeven (b. 1959). Since she joined the university in 1979, she has worked at various catering locations on the university grounds. The first six months as a temporary employee, and from March 1, 1980, employed by the university. Since 2021, she has been one of the two managers of the main restaurant. Verhoeven is all about the 'cold side.' She has to laugh at the term herself: "Of course I'm on the cold side again. The other restaurant manager is in charge of the 'hot side.'
'I've been thinking,' Verhoeven says as she raises her eyes to the ceiling. 'I've hardly been absent in those 43 years. I was pregnant twice, and maybe I called in sick about six times. Yes, I think the university is lucky to have me,' she observes with satisfaction.' A monument to the university she wouldn't call herself. After a brief silence: 'Well, maybe a little.'
Coffee vouchers
'When I started at the university, I did the coffee rounds. I drove a cart full of coffee, cups, and saucers past all the offices in Cobbenhagen Building. In all the buildings, there was a vending machine where employees could buy a sheet of coffee coupons for a few guilders. When I passed by with the coffee cart, they paid me with such a coupon. I went everywhere with the cart, on all floors, including to the Executive Board.
'Often it was the professors who tried to get coffee without a coupon anyway,' Verhoeven says indignantly. 'But we had to make money with that coffee. Once in a while we emptied the voucher machines, counted the guilders and deposited them neatly.'
Penny waffles
Her current workplace, the restaurant also called mensa, was only opened in 1981. 'There was a restaurant on the second floor of the Koopmans building already. There we sold sandwiches with ham and cheese, frikandellen, and especially lots of fries. In Cobbenhagen, you could get sandwiches, gevulde koeken, and penny waffles in the basement.' Verhoeven thinks back to it with visible wistfulness: 'I was addicted to penny waffles.' Laughs: 'Yes, of course I grabbed one sometimes.'
The penny waffles have since given way to more upscale products. So has the filter coffee. 'First we poured the coffee ourselves. Then vending machines were introduced, out of which the cups also came, which were replaced by machines with spouts, which, by the way, were a nuisance to clean. Then the coffee went into those tall steel kettles and now we have vending machines with coffee beans.' Has that also improved the quality of the coffee? 'I think so,' says Verhoeven. 'I don't drink coffee myself.'
Visiting Olof and Vidar
For a long time, she worked in the restaurant of Prisma Building, which was demolished in 2021 and will temporarily make way for a parking lot. 'Prisma was put up as an emergency building in the 70s and 80s, but it remained standing for a long time, even though it was really outdated. Because it had such a small restaurant, I knew a lot of people; I had a lot of personal contact.'
For example, there was a group of three students with whom Verhoeven regularly hung out. 'We had a drink together and had a chat in the meantime. They also once invited me to go with them to café Het Dorstige Hert on the Bredaseweg.'
Her smile betrays that she was a guest at more places: 'Definitely. Among others at Olof on the Spoorlaan and at Vidar in the Beekse Bergen. I lived in downtown Tilburg for a while. When I walked down the Heuvelstraat, I was greeted every few meters by students and former students. That was beautiful.'
Bite out of a muffin
With pleasure, Verhoeven thinks back to what she experienced in Prisma. 'We had a glass display case with goodies on the counter. At one point my colleagues and I noticed that a bite was being taken out of a muffin all the time. I was really angry, how dare they!
'Then we started keeping an eye on the muffins, and what did we find out? There was a professor who grabbed a muffin, took one bite, opened the lid and put the muffin back in the display case. When I pointed this out to her, she deadpanned that she was in the mood for one bite, not a whole muffin. She didn't see the problem, because she had put the muffin back, hadn't she?
'We also had well-known customers,' Verhoeven continues. 'We could always count on one of them. On Thursdays, former Prime Minister Ruud Lubbers, who had a chair here in 1995, came to the restaurant to buy one currant bun. He didn't buy anything else, just that 60-cent currant bun. Here comes Ruud again for his 60-cent currant bun, we would say to each other. We had a lot of fun with that.'
Sandals and white socks
Verhoeven sees that students on campus have become an increasingly uniform group in recent years. 'Twenty years ago, I could tell by a person's clothing what study program they were doing. Sandals with white socks on? Sociology student. Nice shiny shoes? That was a law or economics student. Nowadays, students all look the same.'
Nor does the eternal student escape her. 'There was once a student who really walked around here for years.' Verhoeven doesn't judge. She chuckles, 'As long as he came to eat with us, it was fine.'
In 2008, she received a letter from someone who checked out a coffee and a croissant at her place. Verhoeven kept the letter: 'One euro fifty,' the woman at the cash register said, and as I looked up at her I was slightly awed by her beauty, her bold red hair and bright blue eyeliner.'
However, the praise did not get a follow-up. 'I never saw him again, but I enjoyed noticing how people look at you.' Laughs, 'Especially when you're 48.'
Sending colleagues home
Over four decades, her work has changed considerably. For example, there is much less personal contact with students and staff. "I miss that. But the biggest difference is that everything has become much more commercial: it's all about turnover. If there used to be cake left over, we would sit down for half an hour and eat it together. Now if no money is made, I have to send colleagues home. It's as simple as that.
She has since seen colleagues retire. 'Some I still talk to through the group app and sometimes we go out for a day. She is not concerned about her own retirement yet. 'I will stay with the university as long as I enjoy it and I am physically and mentally fit enough to work. I still like knowing that every day there is something I can solve with my colleagues.'
Permanent staff
Without support staff, there is no university. Univers is looking for the people who have been making sure for years that the university keeps functioning.
Have you worked at Tilburg University for more than 20 years, or do you know someone who has a great story to tell? If so, please contact the editors of Univers: univers@uvt.nl.
Translated by Language Center, Riet Bettonviel