Growing demand for microdosing made Wouter pursue his dream: 'How can we make psychedelic truffles understood?'
Mindtrospect is a company-in-the-making that wants to change the world of microdosing. Entrepreneurship student Wouter Smeets and his passion for this alternative psychological treatment will soon bring innovation to the use of psychedelic truffles.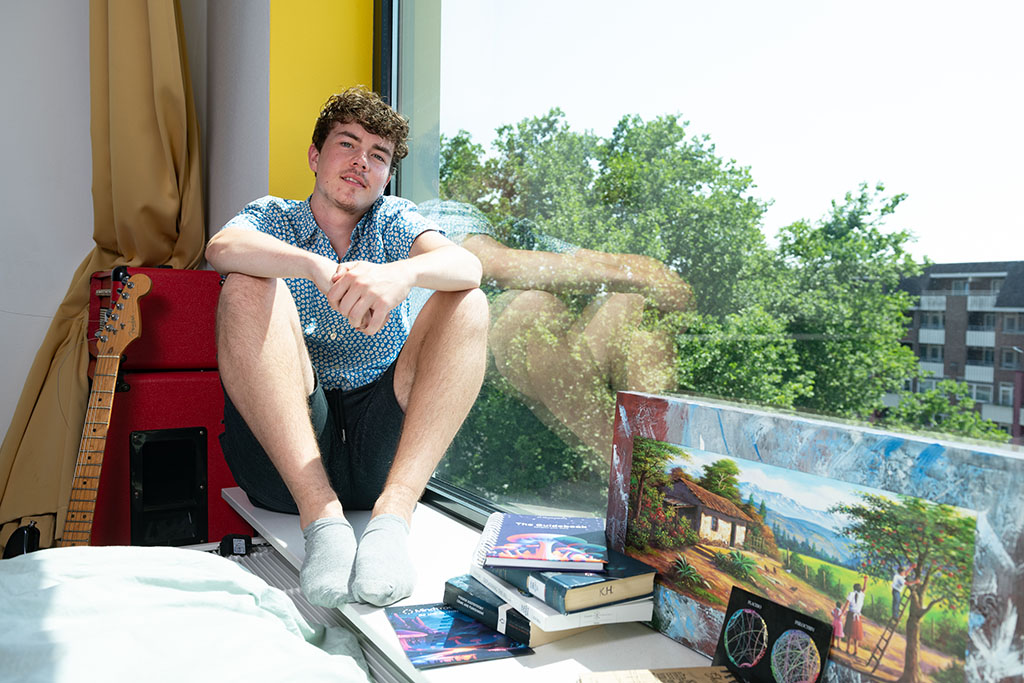 What can you tell me about Mindtrospect and the idea behind it?
'Mindtrospect is a company dedicated to bridge the gap between traditional therapy and the newly proven benefits of psychedelics, by combining several different methods and approaches to therapy with psychedelic truffles. The idea emerged two years ago when I met someone who shared an interest in psychedelics and believed in the immense benefits that they have.
'We then started experimenting with it and started investigating the field further and began to develop a microdosing method that aims to make it more effective, more accessible and safer for people to use these substances. As the market for psychedelics expands, Mindtrospect aims to become the go-to solution for those seeking a safe and effective way to improve their mental health and wellbeing.'
Could you tell me more about what microdosing is?
'Microdosing means taking one tenth of a regular, recreational dose of a psychedelic substance. By taking a microdose, you don't have any direct psychoactive effects, but you still experience the beneficial effects. Such effects include having an increased positive mood, feeling more compassion towards others, being more creative or being able to focus better. It has an implicit effect on you, so it is easy to incorporate microdosing into your daily life.
'There's a lot of research currently being done in countries like Australia, UK, and the US, investigating the potential use of psychedelics in general. A growing group of people tend to claim that microdosing is improving their life and since psychedelic truffles are already legal in the Netherlands, the question is how this substance can be understood and benefited from. The demand for alternative mental health treatment is skyrocketing and microdosing is quickly emerging as a promising solution.'
How do you aim to help people to start microdosing?
'We have developed a 30-day microdosing protocol where people take microdoses of psychedelics to improve their life in any way that they would want, by receiving guidance through an interactive book that's been developed through the help of professionals in the field. It is a daily addition to your microdosing journey. The primary focus is to ensure the effective facilitation of the truffles' effects by prioritizing social, emotional, and intellectual well-being.
'On daily basis our brain operates on a default mode network. Once you take psychedelics, it increases your neuroplasticity and your brain starts to create new connections, making it easier to adopt new perspectives. If you don't do anything while microdosing, the effects won't do that much.
'But once you are facilitated with input and things that you can reflect on and gain insights from, then you can work on improving yourself. You can work on developing healthier habits and learn how treat yourself well. Especially in today's day and age of struggle with mental health issues, Mindtrospect aims to go back to the roots of everything.'
Trying to better yourself with microdosing seems much more natural.
'Yeah, and we try to do that with an educative, responsible approach by collaborating with professional therapists and coaches.'
In terms of psychedelics, will you only focus on truffles?
'Right now, yes, but the main focus is not on the truffles themself, but it's on the method that we incorporate with it. We will guide people to become a better version of themselves and enable individuals to learn and grow through their own interpretation and interaction with the materials we provide.
'This is done through the guidance book that has been carefully designed through research and user feedback. It provides all the necessary equipment to navigate correctly and effectively through a microdosing journey. The book functions as a day-to-day guide and forms the foundation of the microdosing experience. Besides this, an additional layer of support gives optional access to online 1-on-1 guidance. This controlled and thoughtful method can allow individuals to experience long-lasting benefits from psychedelics.'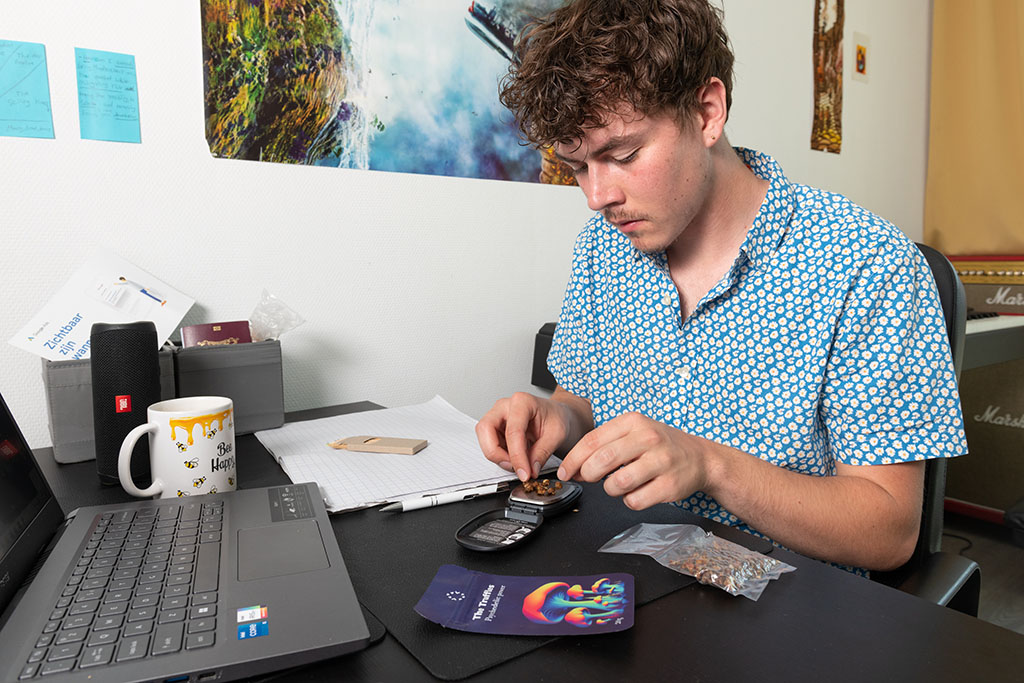 The book you mentioned, is it going to be a physical book or perhaps an app?
'We thought of creating an app, but a physical book provides some additional value because people would have to actively write and draw in it, so it becomes an addition to the whole microdosing experience. Inside the book there are also QR codes, including YouTube videos and other activities. People would also get access to a community where there's an additional layer of support. That's the idea behind it.'
Have you experienced difficulties making this product?
'Yes, there have been some ups and downs. One of the barriers is getting the legal compliance. Another issue is educating people about the effects of psychedelics and our mission, which revolves around a lot more than promoting recreational use, as we are safely incorporating the effects of the truffles in people's lives. It has also been difficult to get a payment provider and navigate all the other legal issues. It's hard to get support from other parties and there's also a lack of financial resources on my side currently so I'm looking for investments.'
Are you already collaborating with someone?
'Currently, Mindtrospect has a licensed and well-established supplier that we work closely together with. But eventually I would like to do it on my own. My approach is vastly different from most companies that sell truffles as a flashy product, and market it as something to get high with. That's what I want to break away from.'
Do you want to grow your own truffles then?
'At some point, definitely. It would be fascinating to examine the different types of truffles and the effects they have. Some effects might serve additional purposes regarding microdosing than others, but it would need a lot of time and research. It has a lot of potential.'
Was studying entrepreneurship one of the drivers that made you pursue this idea?
'I think so, but I would say it was mostly caused by the people I was surrounded with, and the environment around me, rather than the courses I took. Initially, the project started during one of the courses where we had to develop a business model for something that we were interested in and well, then it snowballed. I just started working on it more and saw gaps in the market that needed to be addressed, and my study helped me with that.'
Do you have any advice for students who want to realize their own business idea?
'For me passion is the most important, it is easily overlooked and comes as secondary in Entrepreneurship and Business Innovation. Do something that you want to do and that stimulates your creativity and really engages with your interests. I think the main thing I don't like about my study is the idea that you should develop something just because money is involved. You want to provide value to yourself first, but also to the planet. So think of how you as an individual, and everything you involve, can provide value to yourself and others.'