In memoriam: Liz Nabankema
On Monday we received the sad news that our Global Law Bachelor student Liz Nabankema passed away suddenly, by a natural cause of death, at the age of 33.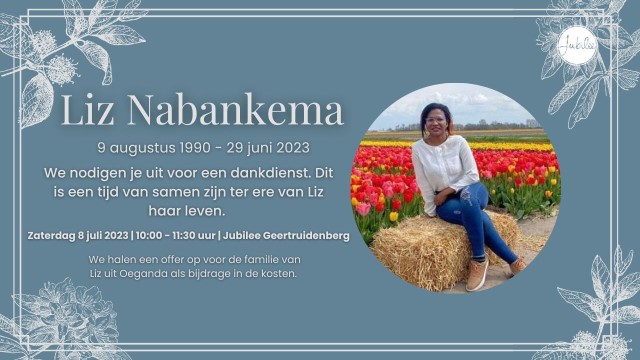 Liz was very committed to her studies and active in many communities. She was a beloved student, and our thoughts are with her family in Uganda, with her friends, and with everyone who knew Liz.
You are welcome to attend the worship service on Saturday, July 8. This is at 10 a.m. in the Jubilee Church, Venestraat 16, 4931 BP in Geertruidenberg.
We have a request:
Liz's friends have initiated a fundraising campaign for her funeral in Uganda. Should you wish to extend any financial help, please do so via IBAN NL52ABNA 0412 1796 87, in the name of M.A. Bizimungu, please mention "Support Liz".
Condolence
Should you wish to sign the condolences register for Liz, please do so here: http://www.condoleance.nl/19085
On behalf of Tilburg Law School,
Geert Vervaeke, Dean TLS
Stéphanie van Gulijk, Vice-Dean Education TLS
Bibi Mulders, Study Advisor l Education Coordinator Bachelor Global Law