Freek Witteveen: 'Good to see that my father is still appreciated at the university'
Nine years after flight MH17 was taken down, Willem Witteveen's name is still held in high esteem at Tilburg University. Witteveen's son Freek donated works of art by his father to the university. These are on display in the Cobbenhagen Building. 'I'm sure he would like that.'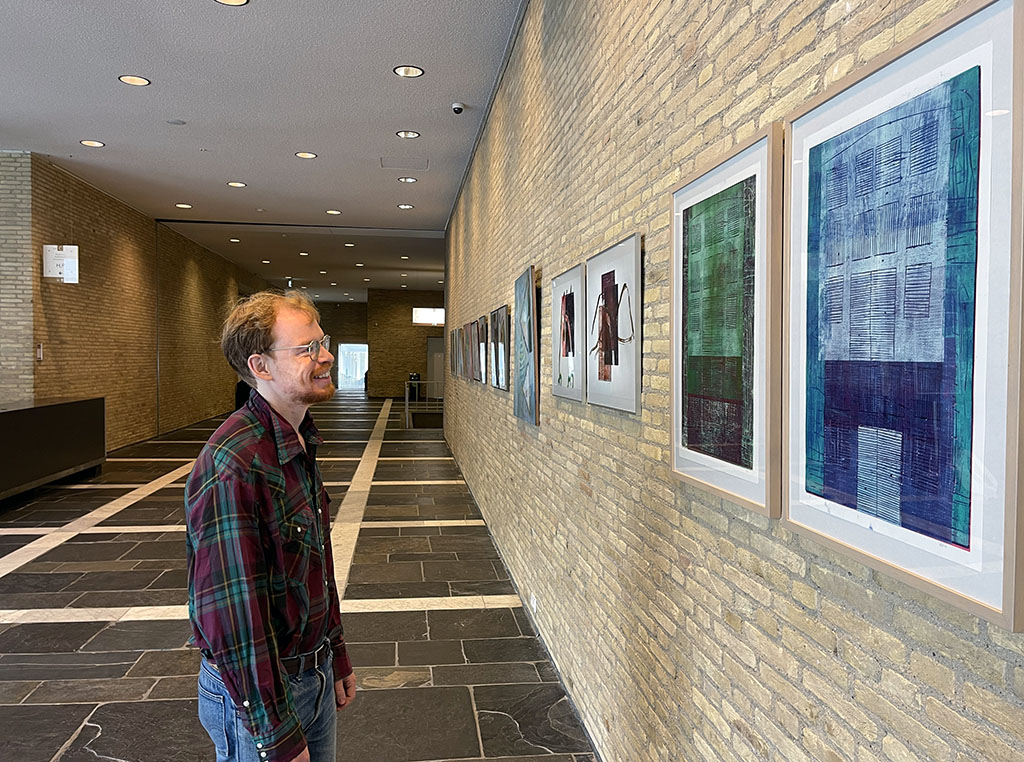 Freek Witteveen (b. 1991) logs in from Denmark, where he is a post-doctoral researcher at the University of Copenhagen. The reason for the conversation is the exhibition of works of art by his father, Willem Witteveen, who was a full professor at Tilburg's law school since 1990 and served in the Senate on behalf of the PvdA (Dutch Labor Party).
Willem Witteveen, along with his wife Lidwien Heerkens (a former employee of the university) and daughter Marit, a second-year Liberal Arts student at Tilburg University, passed away in the July 17, 2014, crash of flight MH17. Witteveen appears to have been a very prolific hobby artist in his spare time. Son Freek: 'My father tended not to take himself and things around him too seriously.'
The university is exhibiting some of your father's artwork. Why did you decide to give them to the university?
'My father made a lot of works of art. As a result, I had a large quantity at home. I could keep them all for myself, but what exactly do you do with them in that case? Actually, I was very happy that the university wanted to take them. In this way, they can be seen by everyone and, moreover, they will be carefully preserved in the depot afterwards.
'The works of art are also part of the university's art loan, so they can rotate. So for me this is a good solution. Of course, I kept some of his work myself, so I can look at it if necessary. Another part I gave away to my father's colleagues and friends.'
Was your father that productive?
'He has been making art all his life. Especially in the last 25 years, he very consistently produced several things every week. Every week, my father went to the Breda cultural center Nieuwe Veste and took a course in graphics.
Over the years he began to experiment with more different materials, such as linocuts and woodcuts. On Sunday afternoons, he would sit in the attic with the radio on to make drawings with chalk and ecoline. He made a lot of collages; you can see that in the exhibition as well.'
What was he listening to while he was drawing?
'To soccer, especially to Langs de Lijn. Maybe you can find what he heard on the radio in the drawings because they are a bit less abstract and more of a representation. At least, that's my feeling about it.'
What does it mean to you that his work is now hanging at Tilburg University?
'The university has additional meaning because that's where he spent a lot of time and because there are people there who still know him. It has become clear to me that my father is appreciated at the university. I think that's good to see, of course, and also that that appreciation is still there.
'When I'm in the Netherlands soon, I'll take a look at the exhibition. That is with a double feeling. I really appreciate that they are hanging there, but of course I already know the work well, I don't need to go for that. It's more to see the works hanging there. I like that.'
What do his works of art actually say about your father? Can you describe that?
'They have their own character; thus they are also typical of him. They are all studies around certain themes and forms, and they have a very essayistic character. He takes a certain pattern and certain colors and superimposes them. He tries things out, in a very playful way. I think that suits him very much.
'What I also find typical of him is that it is fairly symbolic. It's generally abstract and is often about translations of the world into symbols. His works also all have fairly playful titles (such as Homo Faber and The Slow Dance Of The Frameworks, ed.) It suggests something, but in a loose way.'
Was being creative a hobby of your father's, or an outlet, or perhaps both?
'It was a hobby, I think, but in any case, something he enjoyed very much. His work hung in our house, but otherwise he didn't feel the need to exhibit it. It was mostly about the activity, less about the finished product.'
And then now it hangs in the auditorium anyway.
'Oh, I'm sure he'd like that, though.'
Which artists inspired your father?
'He was very much a fan of the painter Paul Klee. You can kind of see that in the work he made himself. He also liked the more expressionist artists, such as Emil Nolde. Furthermore, abstract expressionist art appealed to him the most.'
Did he have a favorite work of his own?
Laughs, 'I never heard from him that he was proud of his own work. There is one piece that I do feel he identified with somewhat. He had an encyclopedia of symbols, in it was the symbol for the storyteller: a kind of earth with little trees on it. That painting hung in our living room.
'I think he was fond of that. That's why I kept that work myself. He didn't see himself as an artist. It was also typical of my father that he tended not to take himself and things around him too seriously.'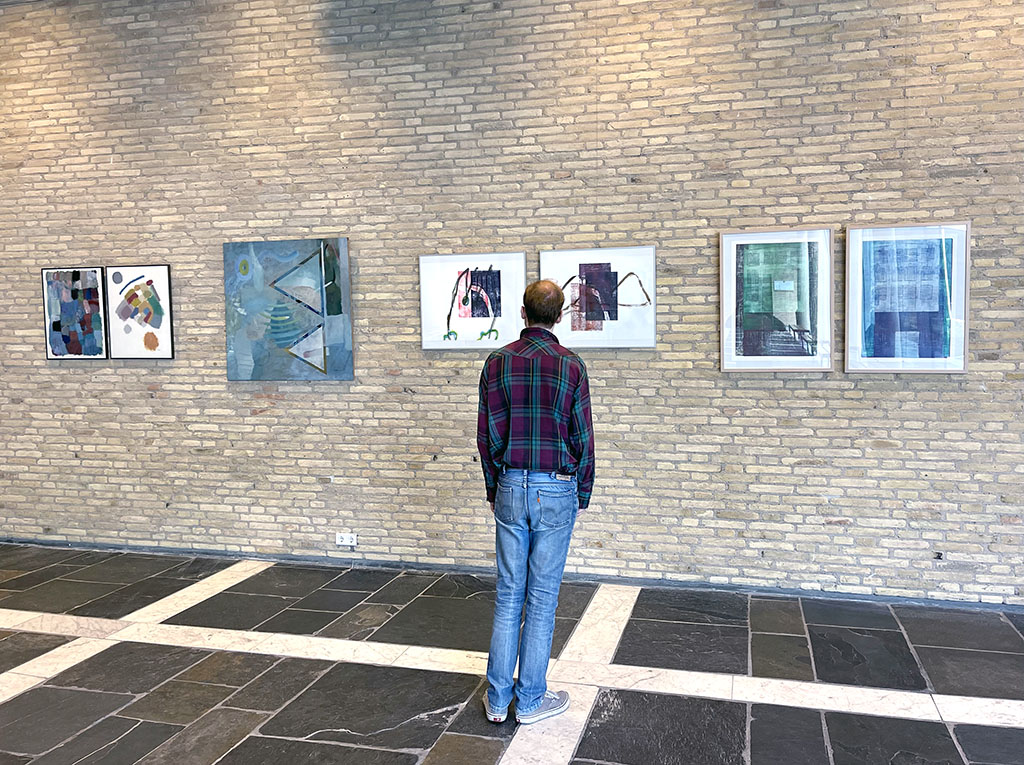 Next to your father's work images hang by Ilvy Njiokiktjien, then Photographer Laureate. She created the photo series The Empty Spaces They Left Behind for The New York Times in late 2014. She also photographed your father's two workrooms, one in Montesquieu Building and one in Dante. What do you think of those photos?
After a silence, 'I have less of an opinion on that than on the works of art themselves. The pictures are fine in themselves, of course.'
What feeling do those pictures give you?
'I haven't seen them recently. I find it hard to look at them.'
I think anyone who sees Njiokiktjiens photos realizes very well what is missing from them. It is hard but also beautiful and at the same time such a monument to your father.
'I guess it is.' Short silence. 'Those pictures are a reminder to me of his offices. I went there, I wanted to. I went through his things, did some selecting and tidying. I not only had to do that at my father's offices, but also at my parents' house and my sister Marit's study in Tilburg. So yes, all those empty places…'
Did you have to do that all by yourself?
'There was a lot of help. At the university, my father's colleagues did a lot of work. But all in all, it was still a lot.
'When I come to the university and talk to my father's colleagues, it is always very warm. I really appreciate how they handled the situation.'
It is now early July. In a few weeks it will be nine years since….
'It's something that always stays with you. Every birthday … And then when it's July 17 again, yes, it doesn't go unnoticed, I'm working on it.'
Is it less confrontational if you are in Denmark instead of Holland?
'I wouldn't say that. In itself I am happy in the Netherlands. In Copenhagen I have a temporary appointment, then I'll just come back to the Netherlands. Eventually we all lose people we love. After that, life goes on again.'
Willem Witteveen's artworks are on display in Cobbenhagen's Auditorium until august 28.
Translated by Language Center, Riet Bettonviel