Has Klerx: 'We need to go to campus more, we have forgotten that working is also meeting'
What and who plays at the university? You could discover it during the Night University science festival. There were scientists, special guests, and activities by student associations. Has Klerx, Studium Generale program manager, not exactly an idle person, mostly plays music himself.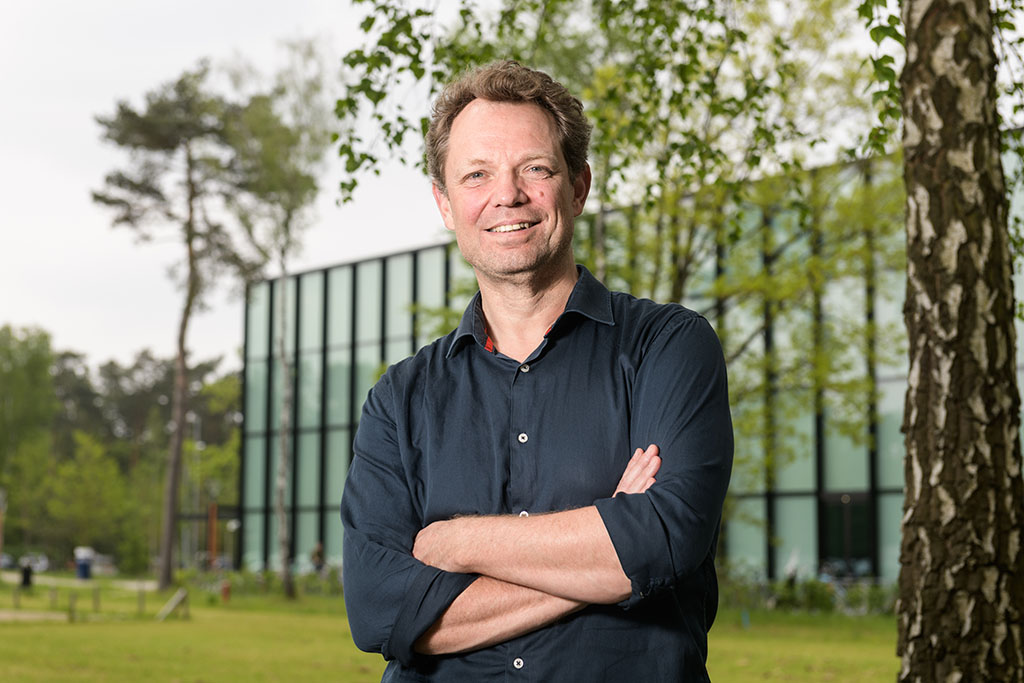 1. If you did not work at the university, what would you be doing?
'I think I would be a managing director of an art museum. I'm not an art fanatic, but I do have ideas about the direction of a museum. I come from an artistic family, my mother was a gallery owner, my father a conductor. And after all, I was trained as a business economist and policy and organizational sociologist, so it fits the bill.'
2. What are you most proud of?
'I have two wonderful children. Daughters aged 16 and 18. Or do you mean in my work? That, then, is Night University. We started that after we visited Berlin with the entire Studium Generale network in the Netherlands. Once every few years, we go abroad for inspiration. There we saw the Lange Nacht der Wissenschaften.
'In the beginning we made it a bit of a cultural variant in Tilburg, but it has developed into what it is today. It is a congenial way to get Tilburg citizens across the threshold of the university. And for students and staff, it is a fun and relaxed way to meet each other and to which they can also bring family and friends.'
3. What is a perfect night out for you?
'A bite to eat with friends or my family at my favorite little Thai restaurant and then go to a concert or to Willem II once in a while. Finish with a few beers, some nuts, and the party is complete. If things really get out of hand and there is a good DJ, I sometimes dare to go to a club. But then there has to be a really good DJ'.
4. What do few people know about you?
In the eighties and nineties, as a student, I performed as DJ on Friday nights for years in the legendary club De Spoel. As DJs we were always in a small booth at the top, where hardly anyone could see us. There will be a reunion shortly, it'll be crowded with people who want to be there. After almost 30 years, I can play music again. I just hope it doesn't drown in nostalgia. The Spoel was known as a place of progress and freedom, and I still cherish that'.
5. What book would you recommend to anyone?
'I prefer not to refer to one book; I usually find that quite dangerous. You have to enrich yourself with many different insights. A classic that recently caught my attention again: The Fountainhead by the controversial philosopher Ayn Rand. That book is about freedom and the tension between a self-centered modernist society versus a socio-conformist society.
'It's nice to ask yourself where you stand in this or would like to stand. And what you think is good for society. A couple of years ago, Toneelgroep Amsterdam made a great play about that with Ramsey Nasr as the architect Howard Roark.'
6. You have an unexpected free afternoon; how would you spend the time?
'Oh help, what am I going to do then. I guess I'll just quickly grab my gym bag and head to the gym first. Then there I can figure out what to do with the rest of the time. Maybe dig up some new music, read a book, or take a little more time to cook. Working out, I also do without a free afternoon. I go for a nice bike ride outside or to the gym for cardio. I do that about three or four times a week. Bit of maintenance.'
7. Suppose you have a time machine. What time period would you travel back to and who would you like to have coffee with?
'I am curious about the Athens of 300 BC. Having coffee with Plato, about how to live together, or how to organize a society better. I am also curious how he would look at today's society. And I would like to have a cup of coffee with Gorbachev and talk about the Russian soul and how he thought it could get on a Western track.'
8. What series do you watch to relax?
'None. I find Netflix a real waste of time, I have watched some, but it goes on and on and on. News programs like Nieuwuur and Buitenhof, I find those interesting and sometimes documentaries. Also a little soccer now and then. Netflix still feels a bit like going to a snack bar whilst you can also go to a Michelin-starred restaurant.'
9. What gives you a short fuse?
'I have trouble with people who constantly refer to the rules and to their working hours. You also have to be able to get things done, which often has to be based on trust and a bit of perseverance.'
10. What really needs to be different about the university?
'I think we need to get back to campus more. I think after the coronavirus crisis we forgot that working is also meeting. Everybody sits at home these days. I can sit quietly at home too, but if you do that you miss a lot of interaction and ideation. A university is a biotope for knowledge exchange. Not only for scientists and students but also for support staff. As Studium Generale, we try to support that idea. Also with activities like the Night University.'
11. What should you be doing (more)?
'Meeting with friends.'
12. What do you do during the vacations?
'I prefer to go to a mountain area, the Alps or the Pyrenees. I especially like outdoor activities, biking up mountains and hiking. I am not good at sitting still, I am much too restless for lying on the beach. I also sit on many boards, and if I have a moment to spare, I do some catching up if I am behind.'
13. Netflix or Spotify?
'One hundred percent Spotify! What a joy to get lost in that! During the coronavirus lockdown, I more or less rediscovered my old love of music. I had a little time for that again and was able to spend whole evenings browsing music. With that, I made playlists again: 'Has's Corona Night Radio.' There are eleven of them, I believe.'
Translated by Language Center, Riet Bettonviel