Freeke Moes is a top-level athlete and psychology student: 'There comes a time when you simply have to pass those courses'
When European and world field hockey champion Freeke Moes began her studies in psychology in 2019, she was already playing on the Dutch team. Combining top sports with a study program turns out to be mainly a matter of trial and error. Moes: 'When we are abroad with the Dutch national team, we organize study sessions in our hotel.'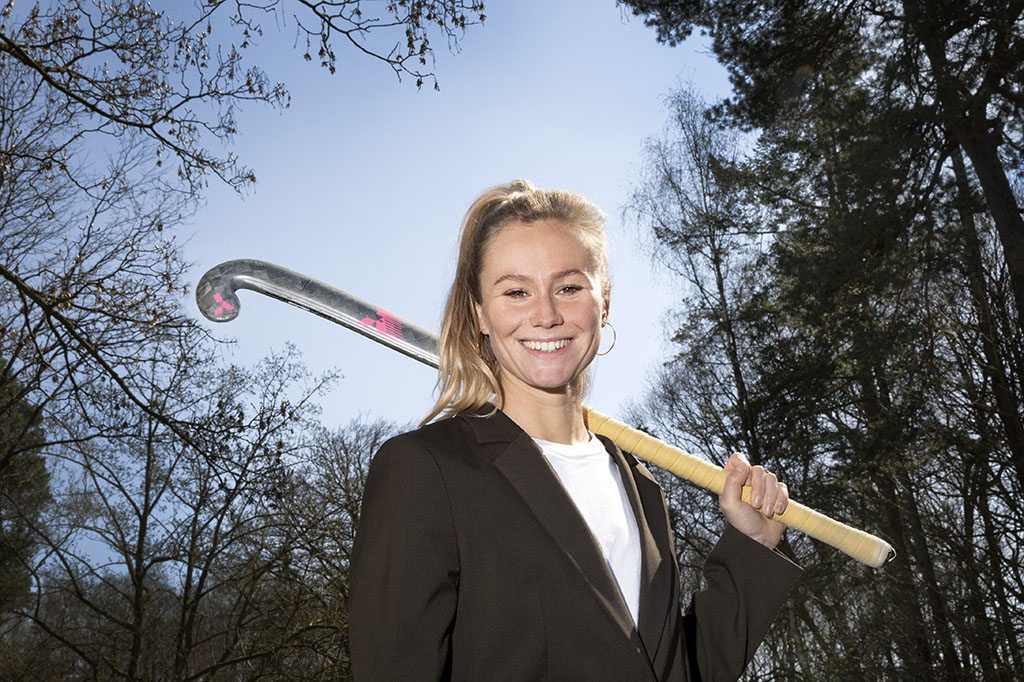 'On the way here I wondered what kind of student I actually am,' says Freeke Moes (1998) in a conference room of the university library. Smiling, she adds, 'because I want to present myself properly here.' As the conversation progresses, it becomes clear that she used to make different study choices as a young field hockey player compared to the more experienced field hockey player she is now. After all, is she a studying field hockey player or a field hockey player who studies? 'Um yes, that's a good one.'
Everything in second place for field hockey
'Before I started studying at Tilburg University, I passed my propaedeutic exam in applied psychology in Eindhoven. I wasn't into studying at all. I was doing nothing. I was completely focused on field hockey. During my first years of studying here in Tilburg I often thought: I can't take these courses, because I'll be on training camp. Oh well, I'll take those courses next year. But of course that ends at some point,' says Moes. 'There comes a time when you simply have to pass those courses.'
She is now at a distinct turning point in terms of her studies. 'Studying has become more important. Maybe also because my life is more stable now.' Moes played at several clubs in Brabant but, since 2019, has been a key player with national champion Amsterdam and with the Dutch national team, with which she became world champion in 2022 and European champion last weekend.
'When I was younger, I thought: if I don't go on the training camp now, I'll never be called up for the national team again. So I wanted to go everywhere and pushed everything aside for that. Now I can look at that with a little more perspective.'
Salary differences
Both at her club and at the Orange team, studying is encouraged, and to start thinking about a career after top-level sports. 'All my teammates are studying, or have done so,' Moes says level-headedly. 'Although field hockey is a popular sport in the Netherlands, as a player in the premier league you don't earn enough to live on. If you also play on the Dutch team, you can. But I have teammates in Amsterdam who study and work in addition to playing field hockey. Field hockey cannot be compared to men's soccer, for example.'
Moes' teammate at Amsterdam, Maria Verschoor, has been fiercely advocating equal salaries in field hockey for some time. Because despite being much more successful, field hockey women are paid significantly less than the men. Moes also advocates equal pay. 'Salary differences are not of these times. The field hockey women have been performing sky-high for years. We perform much better than the men. That is all taken for granted while, in fact, we work just as hard for it.'
At the bottom of the social ladder
A specialized agency helps Moes prepare for a social career: 'At the Dutch national team they say: when you are around thirty and stop playing field hockey, what are you going to do? I realize that I'll start at the bottom of the ladder, because I haven't had any internships or work experience. As a former top-level athlete, I may be valuable to employers in a different way, but it's still a better idea to think in a focused way about what I like and what suits me well.'
'I really enjoy my studies. My interests include sports, nutrition, team dynamics, and general well-being. All of that is reflected in psychology. There are also courses I don't like as much.' Moes pulls a sour face: 'Statistics, I find that really difficult.'
Does she also benefit from her studies on the field? 'The subject of positive psychology has to do with your mindset, among other things. But also that if you look at things in a certain way, they also turn out that way. During tense moments, such as shoot-outs, I imagine that thoughts are like clouds. They come and go. By looking at them that way, I no longer identify with my thoughts, and they become a lot lighter. So that definitely helps me during games.'
Mental issue
Tilburg University supports top-level athletes with dual careers. 'I have a supervisor with whom I look at my schedule, among other things: which courses will I be taking and which not, and what is feasible? In this way, I take concrete steps. Because if I plan unrealistically and, therefore, don't pass courses, it feels like failure. So it is also a mental issue.'
'Examinations are often a thing because they usually coincide with the periods I'm away for field hockey. It's a bit of a hassle, but we usually work it out; the university always thinks along. Depending on my plan, number of credits, and my athletic performance, the university also partially covers my tuition fees. That too is well organized.'
World champion in the lecture hall
Whereas in her sport she is part of a team, at the university she is on her own. 'Here I have to do everything individually, which is quite a responsibility. Besides, the girls I started my studies with have now finished studying. The advantage is that I can work at my own pace.'
Do her fellow students realize they are sitting next to a world champion in the lecture hall? 'No', Moes says firmly, 'I don't think field hockey is that big of a deal. Besides, I look very different in everyday life than I do on the field. And if I work in a project group and say I can't come because I have to train a lot, no one is really surprised.'
Studying in a hotel
Last December, Moes participated with the Orange team in the Hockey Pro League (annual country tournament, ed.) in Argentina. During the tournament, Moes and teammate Joosje Burg made a video for Ziggo Sport. In this video, the internationals give a tour of the players' hotel. The most striking fragment: Maria Verschoor studying. Does studying in combination with top-level sports really look like this?
'Yes, it really is like that,' Moes confirms. 'During a tournament or training camp, you have to physically rest a lot. That time is used to study. If we train in the evening, we often organize a study shift in the morning, for example from eight to noon. Then we study with a number of girls. If you then return to the Netherlands after a month, you don't immediately end up with a mountain of work. Besides, after a month, you're done talking to your teammates,' Moes says, laughing hard. 'So we encourage each other to study.'
Olympic Games
Next year the Olympics are in Paris. The Dutch ladies will then defend the gold medal they won in Tokyo (2020). Moes went along as a reserve player then, but ultimately was not part of the selection. 'I'm thinking a lot about the Games and enjoy working toward that with the team. I hope I get to go and I'm going to do everything I can to force a spot in the selection.'
Time for a mean question of conscience. Going to the Olympics or graduating? 'Then I would opt for the Olympics. No doubt in my mind. Maybe it says something about my priorities, but you only experience the Games once in a lifetime.'
Translated by Language Center, Riet Bettonviel