Exams in tents, possibly with earplugs
Tilburg University's examinations take place in two large tents due to the coronavirus measures. The outdoor location is a solution for the lack of space, but students may suffer from background noise. The university takes into account that earplugs will be needed.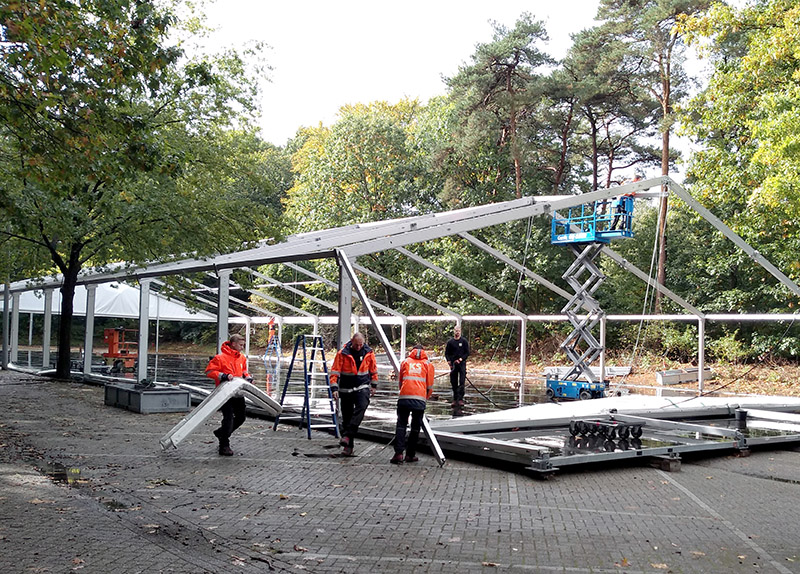 Behind the Koopmans Building, two large tents appeared last week, in which exams are administered. The Vice-President of the EB, Paulina Snijders, announces in the BD that Tilburg University sees these tents as the best solution for the lack of space caused by the coronavirus measures. In particular, the mandatory distance of one and a half meters provides little usable seating space in the university buildings.
The heated tents offer an alternative accommodation for exam candidates, some of whom also have to report on Saturdays. But, just as with previous substitute forms of exams, there are also disadvantages to the outdoor location. The question is whether students are able to concentrate properly in these tents. Do the thin partition walls of the tents keep out background noise just as well as the walls of lecture halls?
Earplugs
The Exam Organization seriously takes into account that earplugs are needed for students taking exams in a tent. "At the beginning of this week, experts will assess to what extent noise can be heard in the tent," says team leader Brigitte Bolwerk. "If there's too much noise, we'll arrange for earplugs to be available."
Even if experts judge that the noise level is okay, there are still some adjustments to be made. If students are bothered by noise en masse, they can indicate that. Bolwerk: "In that case we can organize the availability of earplugs quickly."
Translated by Language Center, Riet Bettonviel