Students give election advice in podcast: 'Faberyayo shared a post about us, wow!'
Helping young people to make a choice amongst the maze of political parties, that is the goal of the podcast KiesAdvies. More and more listeners know how to find their podcast: "So far, there have had 1300 listeners already and it's constantly increasing."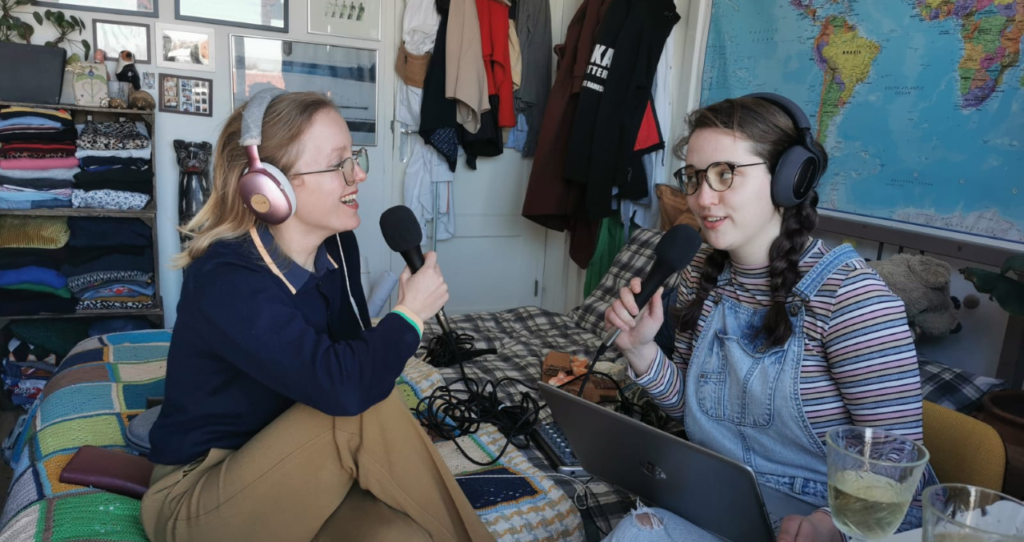 We already spoke to Iris Zoet, TiU Master's student Global Management of Social Issues, and Isa de Beer, EUR Master's student Molecular Medicine, about their podcast KiesAdvies at the end of 2020. In the podcast, they guide their peers (and themselves) through the political maze, to ultimately arrive at a good voting choice. A week before the election, it is time for an update.
How have things progressed since the last time we spoke in December?
"We have not been idle! Currently, there are thirteen episodes online about different political parties. And we made two bonus episodes. One with the Electors (members of Electoral College) about the election programs and an episode about the role of European cooperation in the coming elections.

"We also started the #stemopeen20er (Dutch only) campaign. Several young politicians on the electoral list, from Denk to CDA, introduce themselves in a video on our Instagram page. Furthermore, we have launched the free downloadable Kleine Verkiezingsbundel, with summaries of 12 election programs."
Were there highs and lows?
"Our number of followers on social media and listeners has increased exponentially, which is a highlight anyway! For example, today we already had 1300 listeners and it's constantly increasing. A post about us was shared by Faberyayo, wow! And we've been featured on websites as a recommendation among big podcast names like DAMN Honey and NRC Vandaag.
"There are no real low points, except perhaps for the enormous amount of work. Going through the election programs was a real chore; we spent a lot of time on that."
What responses are you getting?
"Mostly positive. Listeners are super happy with our election compilation and think it's cool that we also gave smaller parties a platform. We also received some critical responses, especially about the PVV episode. Many 'leftist' voters think that parties like the PVV and FvD should not be given a platform, but we like to remain politically neutral and want to reach all young people."
The last time we spoke, you yourselves had not yet decided. Do you know which party you are going to vote for? Or Isa: have you fallen in love with a party yet?
"Yes, we made up our minds! Isa has even joined a party. But since we want to continue with this podcast around the municipal elections, we prefer not to take a position regarding our own preferences."
Do you have any advice for students who do not know yet whom they want to vote for?
"In our election bundle, we described in a few 'steps' how to better determine your vote, a preview:
1. Choose three to five issues or positions that are very important to you at the moment, such as the minimum wage, the climate, or the position of self-employed people. It is not easy to agree with all the views of a party, so it is a good idea to focus on certain issues.
2. If you don't know which parties are suitable for you, do several voter's guides. These can definitely give you a direction of which parties match your views. On Sargasso.nl (Dutch only, you will find an overview of different voter's guides.
3. Then focus on the parties that appear in your voter's guides polls or that you feel good about. Go to our bundle, or look up the election programs of these parties. We have a lot of 'Ctrl+F' usage, with this you can easily search by topics.
"And if you don't like reading, the last weekend before the election, we're launching an episode with voting tips."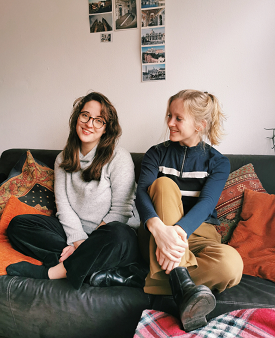 And does it matter which person your vote goes to?
"We would like to recommend everyone to look beyond the party leaders this year and use your (preferential) vote wisely. By voting for someone who is just barely in the running, you can give people with a certain background the chance to enter the House of Representatives.
"For example, someone who focuses on an important issue. You can also try to get more people of color or more women in the House of Representatives this way, or young politicians like we're trying with #stemopeen20er."
What does your election day look like?
"We'll probably go to the polls together and maybe follow the counting together. Plus a sleepover (because… curfew). Maybe we'll record another episode that night or we'll go live on Instagram. Be sure to keep an eye on our Instagram."
And will you be feeling aimless after that?
"Not that. We're going to take a break though, we need to. But we have a coalition period coming up soon, and in a year's time, the municipal elections are forthcoming."

Follow @KiesAdviesDePodcast on Instagram or listen to the podcast on Spotify, Apple Podcasts or Google Podcast.