University wants 500 student houses to be built at an accelerated pace
Five hundred student houses; that is how many have to be delivered at an accelerated pace by the start of the next academic year. That is what Tilburg University is trying to do to solve the housing crisis among students. The question is whether it is enough.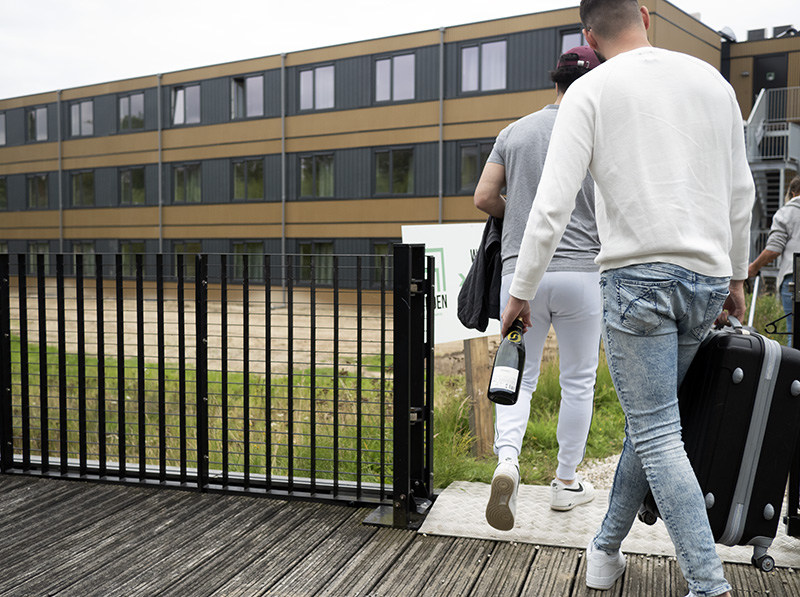 Reality is catching up with the university. Last year in November, the educational institutions and Tilburg Municipality signed a covenant. In five years, 1.900 new student houses were to be built. Barely a year later this ambition appears to be outdated. "It's not going fast enough," says Facility Services Director Paul Hoeijmans during a meeting of the Finance and Infrastructure Committee.
No fixed place of residence
The academic year started in full swing, with the campus filling up again after the relaxation of the coronavirus measures. But there was still a group of at least 117 students in mid-September who had no fixed residence. Most have been temporarily housed somewhere (see box below). The university would prefer to see the 1,900 additional student houses in place as soon as possible. "Otherwise, we will continue to put off the problem every year," says Hoeijmans.
To tackle the housing crisis, the university wants to see the number of student rooms increased by five hundred at the start of the next academic year, in September 2022. The university is willing to invest in this, says Hoeijmans, to get it done faster and to keep the rents affordable.
Affordable housing
What will the rooms cost? Noortje Zegers of student party SAM wants to know. In recent years, many relatively expensive studios have been completed. Students also want to be able to have affordable housing. That is certainly the intention, says Vice-President of the Executive Board Paulina Snijders. It's about "affordable housing. Then you end up with joint units and the efforts of housing corporations." Hoeijmans estimates that the average rent will be around 400 to 435 euros per month.
If the university continues to grow, it is questionable whether the 1,900 student houses envisaged will be enough. If that is the case, even more may have to be built. But a housing shortage is also something that first-time buyers have to deal with. Geert-Jan Peters of the party Onafhankelijken wonders whether the balance will not be lost if there are so many new student houses. According to Snijders, it is not that bad. "Sometimes you can also realize things for students that are not suitable for starters."
Temporary accommodation
Students who cannot find a room can report to the university. They try to accommodate them, in Hostel Roots or at the Beekse Bergen. It is really temporary, according to the presentation of Director Academic Services Hilde Baert during the CFI meeting. Hostel Roots is available until mid-October. The Beekse Bergen until the end of October and possibly longer, but the rooms there have no heating. Something has to be arranged for the cold months first.
Landhoeve de Nieuwe Erf in Diessen has also become a reception center. "Students can stay in a room for two, at least until the end of December," says Baert. It is possible that an extension will follow. Transfer students without a room have been approached. If a room is vacant after that, first-year students are eligible.