Obligation to wear face masks again, but no QR check in university canteens
Because of rising infection rates, the government has announced new coronavirus-related measures. For Tilburg University this means, among other things, that face masks will again be mandatory and that a coronavirus entry pass will be requested at the Sports Center.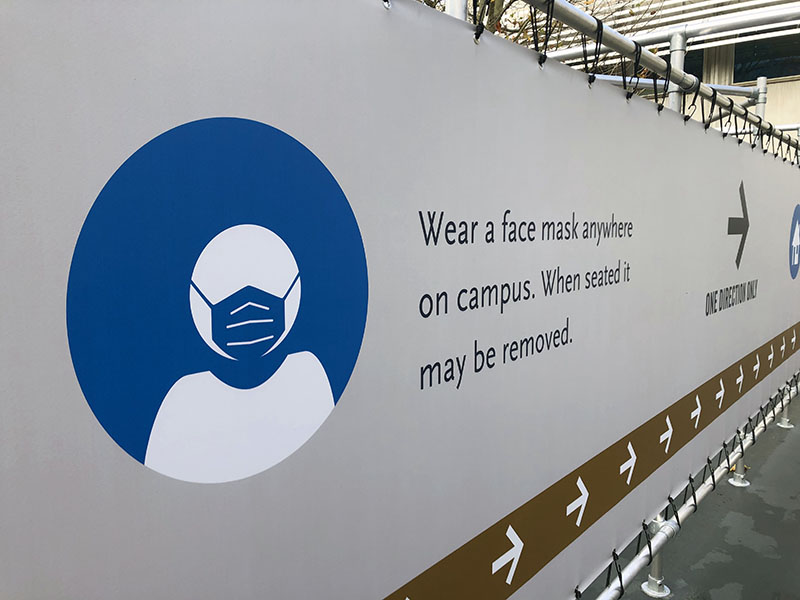 Firstly, the basic rules at the university are being tightened up again. Everyone is expected to wash their hands frequently and thoroughly, to maintain a safe distance of one and a half meters, and, in the event of complaints, to stay at home and have a test. The working from home recommendation is also being tightened up: employees are expected to work from home for at least fifty percent of their time.
Face masks
As of November 6, the requirement to wear a face mask will be reinstated. This means that people have to wear a face mask as soon as they move through the university spaces. Only when they are seated behind their desk or in the lecture hall, for example, are they allowed to take it off. This rule also applies in the shops on campus.
QR check
The number of places where a coronavirus entry pass is required to enter will be expanded. At PhD defenses, speeches, and graduation ceremonies there is no QR check. At events aimed at people from outside the university, this will be the case. From the 6th onwards, a QR check is also required at the Sports Center, after which a face mask is not obligatory.
In the catering industry, a QR check will remain in place in Grand Café Esplanade and the Faculty Club, but this check will be extended to the outdoor seating area. In the Mensa and the canteens in Cobbenhagen and CUBE, no entry pass is required. According to the university, these places do not fall under the catering regulations. However, face masks must be worn until you are seated.
Vaccination and testing
Tilburg University continues to encourage unvaccinated people to get vaccinated. They point out several GGD locations where it is possible to get vaccinated without an appointment.
Finally, the university asks unvaccinated employees and students to take a self-test each time before coming to campus. Vaccinated people are asked to do this twice a week.