An unregulated space: young people reflect on social problems
The City of Tilburg is setting up several 'unregulated spaces' in the city. In addition to the first unregulated space, the Nachtzuster (Night Nurse), a second space will open soon in collaboration with the Theatres Tilburg Concert Hall and T*agency. Aimed at young adults who want to make an impact with their knowledge and creativity.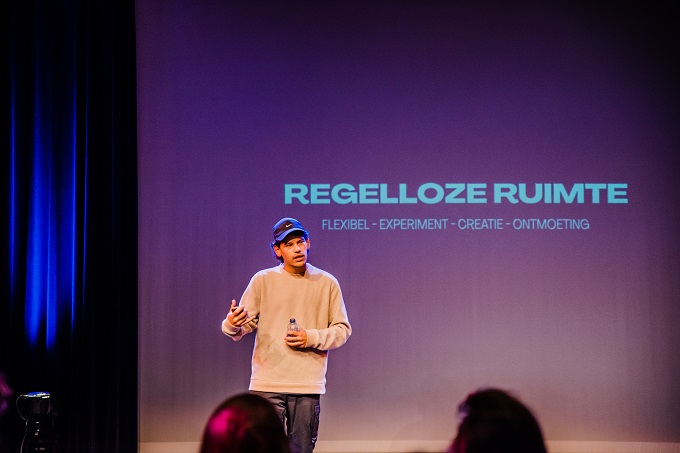 The space should give young adults the opportunity to use their creativity and curiosity on a social level. T*agency is the young adults' platform of the Theatres Tilburg Concert Hall. They want to create a community of people who are engaged with creative or socially relevant themes. The unregulated space becomes a place to go to but also to get support.
Initiator Tyrone Tjon-a-loi says of the space, "We use the lack of rules to focus on legacy of thought, opinion, and vision. There are no limits to that here, in this space you have the freedom to work with that."
Future proof
The core of this space is to make Tilburg future proof. Every few weeks, the space will alternate as to different important themes. From climate to equality and more. And the most important according to Tjon-a-loi? Young adults are central. "It's important that that group is also treated as adults and not as young people who have a nice idea. I want to approach them as serious young professionals."
According to Tjon-a-loi, young people, in particular, are concerned with social issues because it is about their future. "They run into dilemmas and want to look for answers and create impact. The stupid thing is that the Municipality is also working on almost all these themes, but somehow they never know how to find each other."
Through the unregulated space, which will be named METRO, Tjon-a-loi hopes to establish contact between the community and the young adults.
Brainstorming sessions
The space is for young adults to engage in dialogue with other interest groups and politicians about social issues. This can range from brainstorming sessions to attending a yoga session.
It is a place where people can work and share their knowledge. Tjon-a-loi considers it important that there is room to experiment but also to make mistakes. "I often see interesting solutions emerge in the creative sector, but it always takes a long time before it is accepted in politics and something is done with it."
According to Tjon-a-loi, it is much more interesting to focus on local politics. "The opportunity to create impact is much greater in that case. I see Tilburg as a big playground where you can still do and create anything. An empty canvas, with a Municipality behind it that is open to a lot."
The fact that young adults are the target group of the space does not mean that adults are not welcome. On the contrary, it is important that certain politicians and civil servants, for example, drop by to talk to the young people. Tjon-a-loi: "They come here to obtain information and not to throw information around."
The unregulated space in the Schouwburg started on November 15 with a pilot phase and will officially open at the beginning of January.