New campus poet 2022: Trijntje van de Wouw
Sociology student Trijntje van de Wouw has been elected Campus Poet Tilburg University 2022. On the annual Poetry Day, she succeeded Liberal Arts and Sciences student Ebbe Tim Ottens. Van de Wouw: 'Sometimes I incorporate an activist message in my poems, but there's always room for everyone's own interpretation.'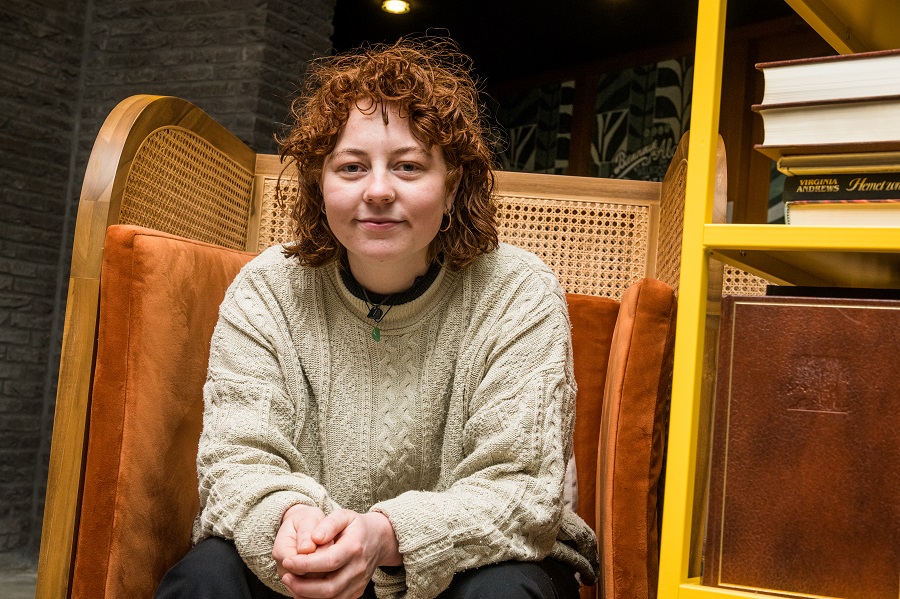 Hopefully, the new campus poet can actually be on campus a lot this year. Because of the coronavirus, for a long time, her world was no bigger than her dorm room, an experience that Van de Wouw imaginatively shapes in her poem 'CZ115 indoors'. And keen to get going, she is.
"I want to entertain and touch people with my poetry and spoken word. Questioning and naming things, preferably making the listener think," says Van de Wouw. In doing so, she also dares to write about her own life: "I want to create recognition by making myself vulnerable in my texts."
Surprising images
This time, the competition had ten talented participants, all students. In the 23-year-old Trijntje, the jury recognizes an authentic and spontaneous poet. Her poems express a creative spirit that evokes original themes and surprising images.
Her words are reinforced by the way she utters her poems, partly recognizable as spoken word. One of the judges, therefore, enthusiastically concluded, "You should watch her do it!".
Pure and activist
How would the new campus poet describe herself? Van de Wouw: "I am a poet who writes in a pure way about emotions, feelings, and the beautiful and lesser things in life. But I also like to write socially engaged texts, in which I incorporate my sociological background, often to express an activist message. Although sometimes it might take a while to find exactly where it is, in my texts there is room for everone's own interpretation."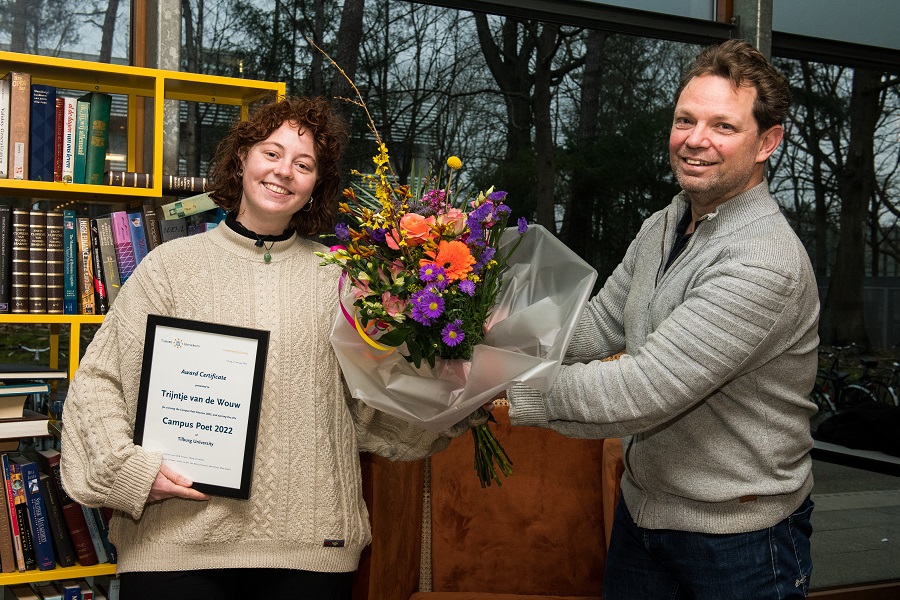 Poetry and spoken word can teach you to look at things differently, according to Van de Wouw. "Poetry gives a different perspective on a situation, both for the writer and the reader. It is an art form with no rules, and so you suddenly find the words you were looking for. With that, it also creates connection, because it can create recognition in the person reading it."
The new campus poet hopes to climb the stage soon. A sizzling poetic year awaits the Tilburg University campus.
Elections
The campus poet election is an initiative of Studium Generale and Univers. The campus poet reflects on campus life, study, science, current themes from society, emotions, and life in general. Each contestant submitted three poems and two videos for review by the jury.
The jury consisted of Suzanne van der Beek (Dept. Culture Studies), Marc Swerts (Dept. Communication and Cognition), Tadzio van Bel (student, Liberal Arts and Sciences), Bart Smout (Univers) and Has Klerx (Studium Generale, chair). The winner can count on a 500-euro stipend for her poetic efforts during the year. Her poems will be published in Univers.
Translated by Language Center, Riet Bettonviel