Ukrainian student opens University Council with speech on war
Clad in the Ukrainian flag, student Marta Dorofei addressed the University Council earlier this month. "I appreciate that we, Ukrainians, can count on the Dutch. And that you stand behind us in these difficult times."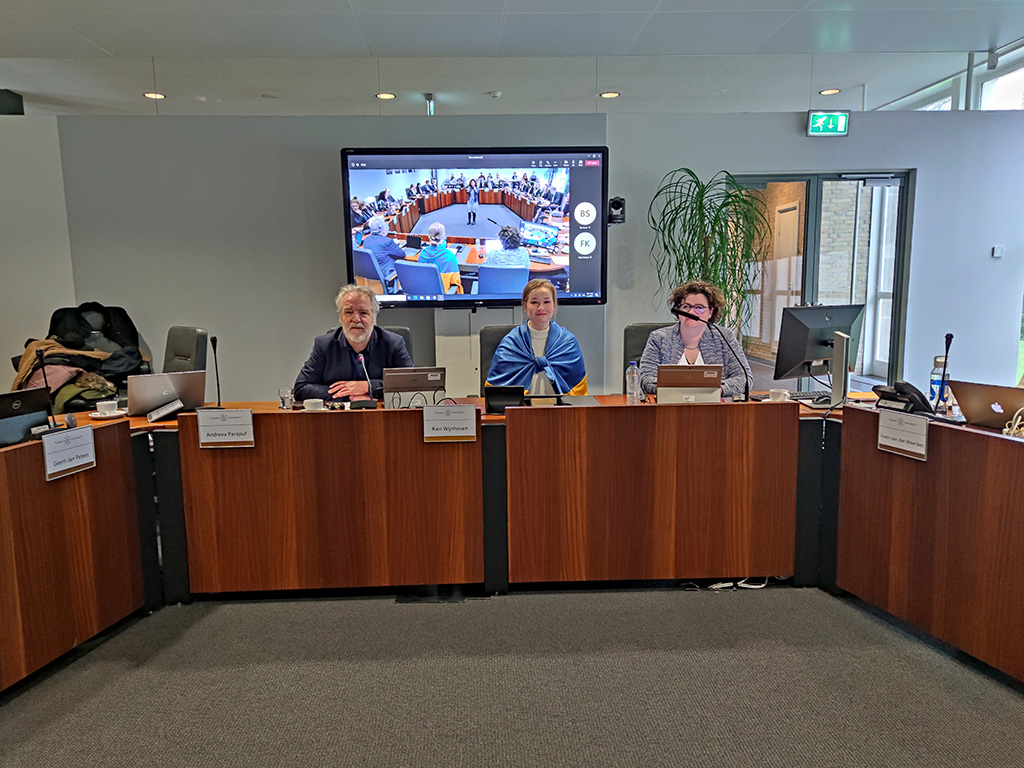 A unique event. Normally, after a brief opening address by Chair Rien Wijnhoven, the University Council proceeds to the order of the day. But earlier this month the floor was given to Marta Dorofei, exchange student from Ukraine.
Together with other students, Dorofei organized a fundraiser for emergency goods. She was allowed to briefly address the University Council. And she did so, Ukrainian flag around her shoulders, with verve.
Horrors
"As a six-year-old child, I could never have imagined that at the age of eighteen I would be speaking at the Council meeting at Tilburg University about my own country, Ukraine, as a place where a large-scale war is currently taking place." This is how Dorofei kicked off her speech.
She said her parents went to Bucha for a weekend on February 21 to celebrate their anniversary. "I got a picture of them, showing how happy they were at the time. Three days later, Russian occupiers began killing civilians."
Thankfully, Dorofei's parents are safe, but Bucha was razed to the ground. "The place where Ukrainian citizens lived, went to school, experienced crucial life events, and where my father and mother celebrated each other's presence in life was turned into a mass grave by Russian invaders. This place simply does not exist anymore."
Solidarity
The invasion also united Ukraine into a close-knit community, Dorofei concluded. A community with which many are in solidarity. "I want to mention in particular the ordinary citizens of the Netherlands, who came to donate a lot. I have no doubt that it was a sincere gesture, and we can feel their empathy and kindness."
Dorofei also thanked Rector Magnificus Wim van de Donk for the help offered in setting up the collection campaign for emergency goods. "Hard to describe how invaluabale this help was for us. Without his guidance, we would not have managed to send three trucks full of goods to Ukraine. On behalf of the Ukrainians, thank you for fully supporting the initiative."
The university has come to feel like a second home to Dorofei. She concluded her speech with the hope that she can use the knowledge and experience she gains here for the recovery of Ukraine.
Unique event
Dorofei's speech can rightly be called a unique event. Never before did the University Council invite a student to speak about a war situation.
After the speech, Dorofei was invited to attend part of the meeting as a guest. The parties present and the Executive Board thanked her for her speech. Chair Wijnhoven announced that students are always welcome at the University Council.
Translated by Language Center, Riet Bettonviel